Hardware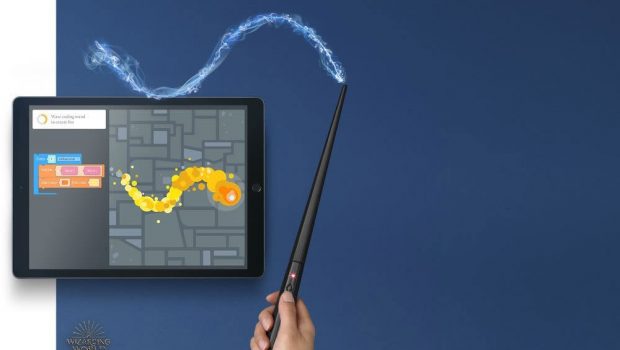 Published on December 14th, 2018 | by Admin
Harry Potter Kano Coding Kit Review
Summary: Become a master wizard with the Harry Potter Kano Coding Kit that allows you to create your own spells!
It's beginning to look like Christmas and there's magic in the air courtesy to coding kit builder Kano who have recently released their Harry Potter coding wand that's just in time for Santa! So while it channels Harry Potter and every Muggles fantasy of wielding their own magical wand but more importantly, it teaches you the basics of coding and of course unleashing a plethora of magical spells, including entertaining and educational challenges.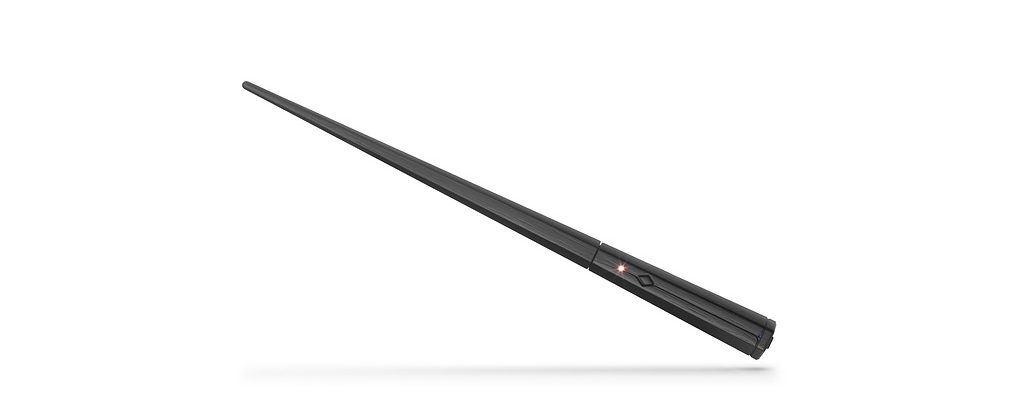 Well packed from Kano, the first thing that you may notice about this product is the quality of its presentation and how cool… no, how awesome the wand itself looks that measures around 35cm. Kano also ensure that Muggles have everything they need to start their interactive Harry Potter experience and it even comes with batteries!
Whats In The Kit
1. Coding Wand: Tip For flicking and swishing
2. Coding Wand Handle: Connect them together
3. Coding Wand brain: 9 axis, RGB LED and rumble
4. AAA Batteries x2: Up to 6 hours of constant motion
5. Button: Control your creativity
6. Book: Step-by-step guide
7. Stickers: Stick them anywhere
8. Poster: Learn the wand motions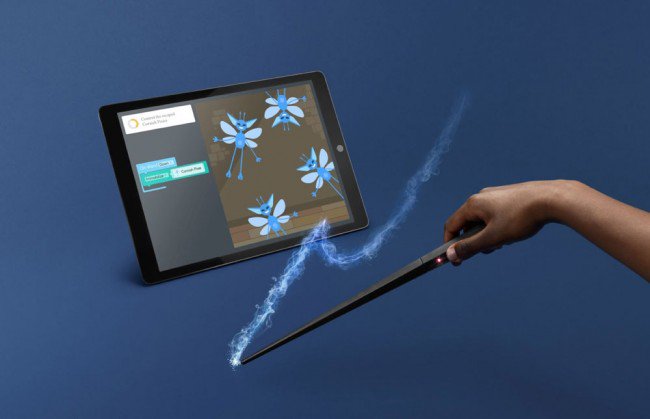 So before we can take on Lord Voldermort and his villainous accomplices, the first thing you need to do is build the wand, including adding the simple electronic components into the device and while it is made from plastic, it does have some decorations on it that makes it feel like it is from this franchise. You also need a tablet such as an iPad and must download the app in order to support your journey into the world of Harry Potter. Pairing the wand with your tablet is done through the only button on the device and it also works with Android devices, Windows 10 machines and the Mac via Bluetooth. Strangely there is no off button on the wand, so you do need to open it up and remove the batteries in order to conserve power.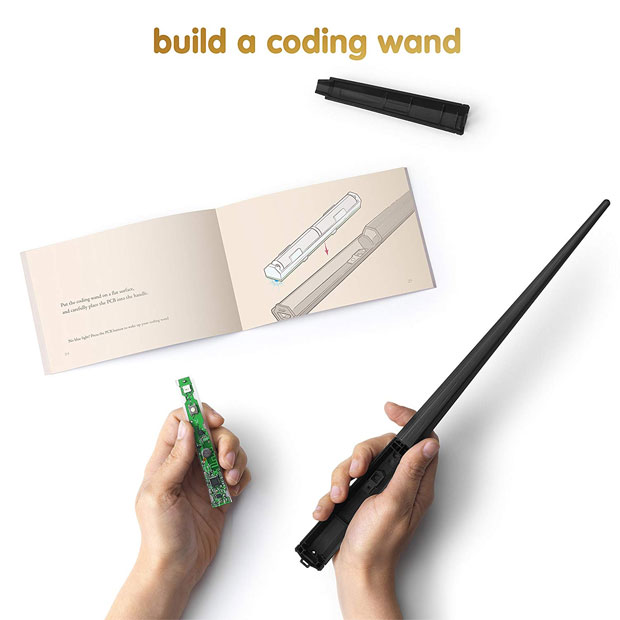 So while the wand is powered by Bluetooth LE, it also has a nine-axis accelerometer, a gyroscope plus a magnetometer that in turn monitors the movements of the user in the real-world. So if you have used the Wiimote on the Nintendo Wii or the PlayStation Move Controller before, it has similar mechanics and does need some re-calibrating at times. However at its core, the Harry Potter coding wand gives the user the ability to cast spells through simple coding and even creating their own spells. Sure, this product is aimed at children but adult Harry Potter fans will also enjoy these fun mini-games as they use this wand to interact with these challenges.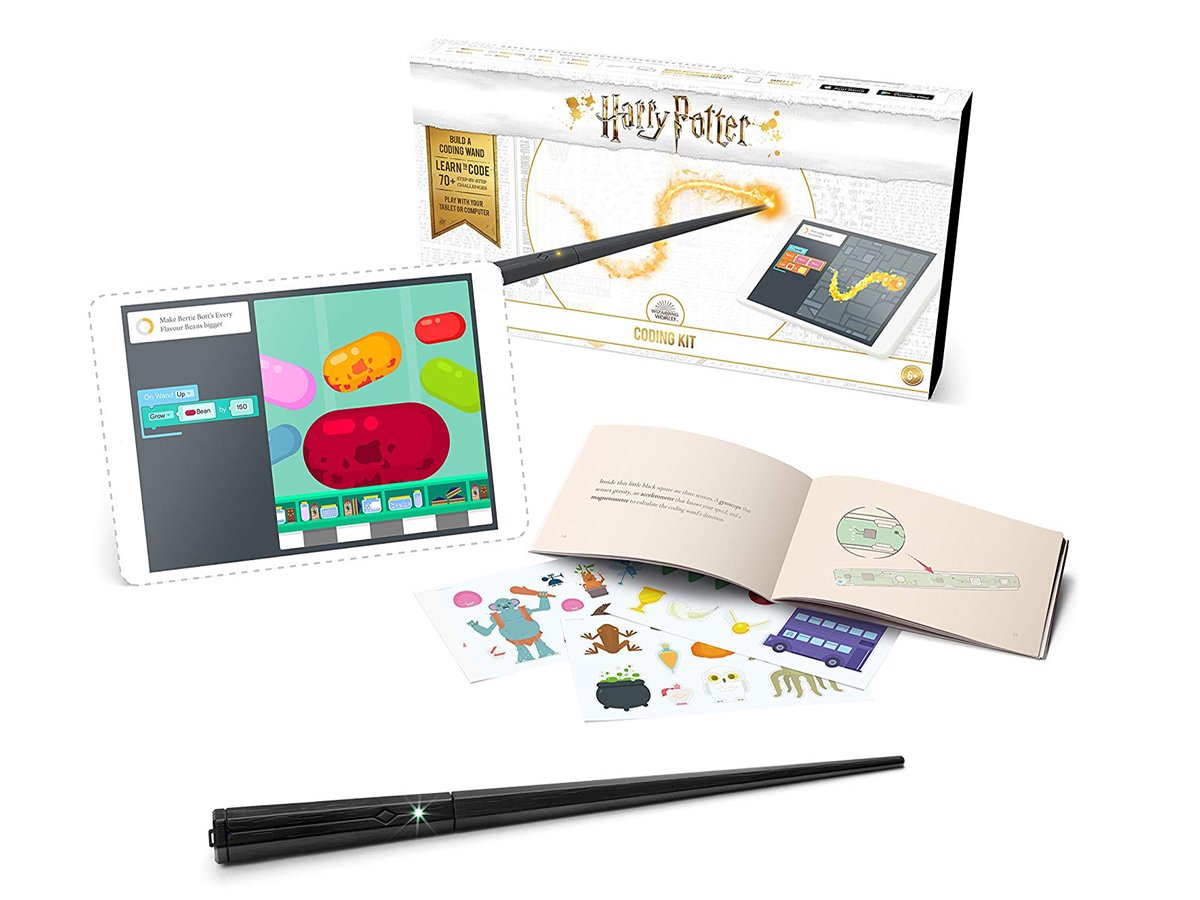 So while not in-depth coding, the Kano Harry Potter Coding Wand requires players (for exmaple) to move coloured blocks around in order to make connections which is the essence of computer programming. Thankfully there is a tutorial with the app which teaches you the basics of how the coding works in the game and using the interactive wand as you move around these blocks in order to create spells.
The app is very easy to navigate and definitely looks like something out of J.K Rowling's magical universe, including the ability of exploring key locations from the series and even changing the appearance of your avatar. So while the game is graphically nice, the music and sound really enhance the overall quality of this title. For older children (or adults), you can even go beyond the games by seeing the JavaScript code which is quite clever.
Final Thoughts?
The Harry Potter Kano Coding Kit is a very clever device that successfully combines coding with gaming and with Harry Potter to create a fun interactive experience on your tablet. Although the 70+ challenges are fun, there's plenty of other exciting elements to be found in this edutainment product from Kano which makes this the perfect Christmas present for 2018!
The Harry Potter Kano Coding Kit retails for around $150AUD (December 2018).
Check it out!