Comics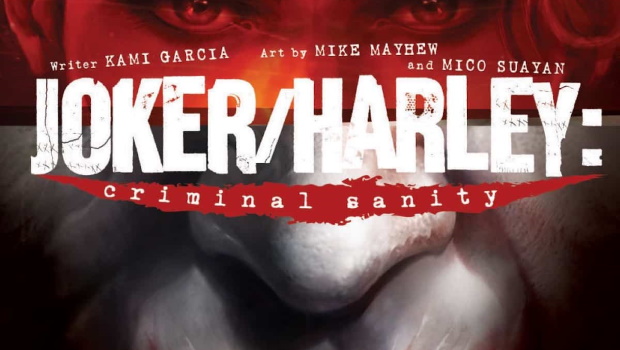 Published on October 24th, 2019 | by Chris O'Connor
Harley/Joker: Criminal Sanity #1
Summary: Dr Harley Quinn working as a forensic psychiatrist for the GCPD gets no respect and can't get over her own personal close brush with the sort of crimes she's asked to examine on a daily basis.
Harley Quinn is such an interesting character and with such an interesting "birth" into the DC universe. In Joker/Harley Criminal Sanity we get a serious take on Harley's origin. Working in forensic psychiatry for the GCPD, Dr Quinn is all to familiar with just how nasty some of the criminal elements of Gotham can be. But what really stays with Harley is the night she discovered her roommate's body marked with the signature of a notorious serial killer known as the Joker. Five years after that horrible night her roommates killer is still at large and a new spate of horrific murders have occurred throughout the city. Harley is determined to track down the killer and faces some tough questions about just how far she is willing to go and how many lines is she willing to cross to catch her criminal.
Writing
Comics are of course well known for their "new takes" on characters, rebirths, alternate universe versions etc. Sometimes they hit, sometimes they miss. This take on Harley Quinn with a far more naturalistic, "real world" feel is awesome! The grounding in reality, to the extent of mentioning some real world serial killers, really makes the story sink in more. It's harder to dismiss it as a pure fantasy and over the top because it reminds us that there have been real criminals who have exhibited these traits… the horrible things they have done beyond what we think any person is capable of doing. That touch of reality allows the story to clutch at our fears much more effectively than if it was just another exaggerated tale.
Artwork
The artwork is quite interesting here, it switches between some beautiful, highly detailed naturalistic drawings, to stylised photography that reminds me very much of the original Max Payne cut scenes. The use of stylised photos among pencil work could have been a bit jarring if the pencil work hadn't been so detailed and of exceptional quality… but the way it all blends together here is quite lovely. The photographic also is the main use of colour in the story which is otherwise in black and white (other than a "splash" here or there). The colour and photographic style is used for flashbacks and does a perfect job of making them pop out of the main story.
Final Thoughts?
I'd almost recommend this title just for the art alone which I really find quite striking. But the writing is also exceptional and it's great to have a more gritty, realistic approach to the DC universe. On a scale of real world inspiration you'd have to say there's Tim Burton's batman on the more over the top side, then there's the Christopher Nolan films on the other, being far more serious. Joker/Harley: Criminal Sanity takes it one step further and steps into an almost Forensic Investigators style. If you like your crime stories gritty and realistic… there is no question about whether you should pick up this story… go out and grab it now. If reality based comics cut a bit too close to the bone for you… you may want to give this one a miss.
Comic Details
Publisher: DC
Writer: Kami Garcia
Artist: Michael Mayhew, Mico Suayan
Cover Artist: Francesco Mattina
Genre: Superhero, Crime
Format: 32pgs, FC, Series
Release Date: 9th October, 2019