Blu-ray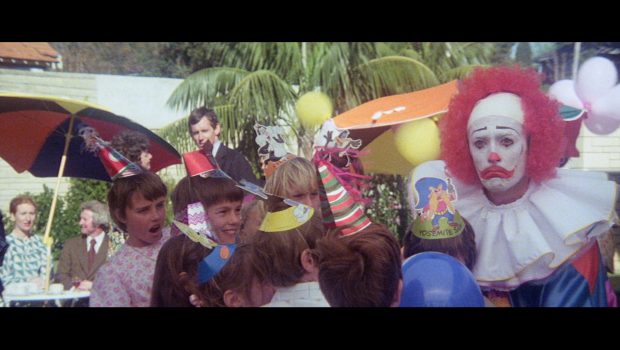 Published on April 26th, 2022 | by Tim Chuma
Harlequin (1980) (Ozploitation Classics #13) Blu-Ray, Collector's Cards & Daybill Review
Summary: Worth a look if you want to see more movies from Simon Wincer other than Phar Lap or the Cup.
In combination of the story of Rasputin and the Harlequin, the mysterious Gregory Wolfe (Robert Powell) cures the son of an up and coming senator of leukemia and quickly becomes close with the family, but behind the scenes higher powers are at work that began with the disappearance of the governor while spear fishing (an obvious reference to the disappearance of Harold Holt).
I had heard about this movie but had not seen it before as while in the Ozploitation era of movies, it came before the 10BA scheme was introduced so it was never one of the bigger films. Despite it having overseas stars it is an Australian production filmed in Western Australia with the exteriors of the senator's mansion using Alan Bond's house.
With Simon Wincer directing it is at least competently made but just doesn't make enough of itself until right near the end when it gets permission to be properly unhinged. Trying to do the "it was the other bad guy all along" twist is pretty weak and too easy a crutch to fall back on.
From what I read about the movie they originally tried to get David Bowie for the Robert Powell role, if that was the case there would be about 20 different versions of this film released already and people would still be talking about it rather it being the 13th release in a series of the "when we get around to it" movies from Umbrella Entertainment.
For the time it has quite good special effects but these days you can see the wheels turning as it seemed to be at the edge of what they could have achieve at the time. Still if you like practical effects and things shot on film then this is another thing to have a look at with this.
As well as Robert Powell, this movie also features David Hemmings and Broderick Crawford who is said to have enjoyed the type of role he was playing here. Of course I yelled "do you want to buy the Big Rancher!" at the screen every time Gus Mercurio was on.
While not an essential movie to pick up, it is still worth a look if you are trying to see movies other than Phar Lap or the Cup that Simon Wincer has directed.
Trailer:
Movie details:
Director: Simon Wincer
Screenplay: Everett De Roche
Music composed by Brian May
Producer: Antony I. Ginnane
Starring: Robert Powell, David Hemmings, Carmen Duncan, Broderick Crawford, Gus Mercurio, Alan Cassell, Mark Spain, Alyson Best, Sean Myers, Mary Simpson, Bevan Lee, Neville Teede, Mary Mackay, John Frawley, Nita Pannell, David Hough, Klaus Schultz, Peter West, Maurie Ogden, Jack Ferrari, Jeremy Sims, Toby Amoore, Sebastian Hunsley, Julia Moody, Leslie Wright, Adele Cohen, Ramsay McLean
Genre: Thriller
Country: Australia
Length: 95min
Distributor: Umbrella Entertainment
Extras:
8 collector cards
Extended "Not Quite Hollywood" interviews with director Simon Wincer, writer Everett De Roche, producer Antony I. Ginnane and actor Gus Mercurio
2004 audio commentary with Simon Wincer and Antony I. Ginnane
Archival interviews with actors Robert Powell and David Hemmings.
Archival audio interviews with Simon Wincer, associate producer Jane Scott and production designer Bernard Hides
Stills and poster gallery
Antony I. Ginnane trailer reel
Isolated music score
Original promo
Theatrical trailer