Comics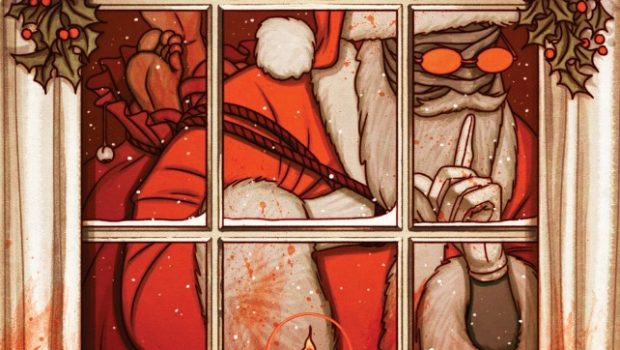 Published on September 22nd, 2023 | by Adrian Gunning
Happy Horror-Days from BOOM! Studios and STUFF OF NIGHTMARES
Horror master R.L. Stine and Bram Stoker Award-nominated artist Pius Bak (Eat The Rich), along with colorist Francesco Segala (House of Slaughter), ring in the holiday season with a frightful story of holiday fear in STUFF OF NIGHTMARES: SLAY RIDE!
The Nightmare Keeper is back with a new terrifying tale…and this time he wants to get into the spirit of the season with a story of jolly old Saint Nick. But one who decks the halls with holiday horror!
As shopping malls across the country continue to die, a down-and-out former mall Santa, Heinrick Fiddler, turns to madness as his profession has become obsolete. And this year, he's dead-set on making sure department store shopping isn't the only thing that's deceased!
"R.L. Stine has crafted a tale to haunt your nightmares this holiday season," said editor Sophie Philips-Roberts. "Be sure to not skip Slay Ride on your holiday shopping list, or our demented Santa just might get you!"
"I'm very thrilled to be working together with R. L. Stine and to be bringing some horror for upcoming holiday season with this christmas one-shot of Stuff of Nightmares." said Bak.
STUFF OF NIGHTMARES: SLAY RIDE #1 has a main cover by Francesco Francavilla (Night of the Ghoul), with variants by Jenny Frison (BRZRKR: Fallen Empire), Miguel Mercado (Go Go Power Rangers), Jae Lee & June Chung (The Dark Tower), and Zu Orzu (Grim).
About R.L. Stine:
R.L. Stine is one of the best-selling children's authors in history. Goosebumps, which recently celebrated its 30th anniversary, has more than 400 million books in print in 32 languages.
The Goosebumps series made R.L. Stine a worldwide publishing celebrity (and Jeopardy answer). His other popular children's book series include Fear Street, (recently revived as a feature film trilogy), The Garbage Pail Kids, Mostly Ghostly, The Nightmare Room, and Rotten School. Other titles include: It's The First Day of School Forever, A Midsummer Night's Scream, Young Scrooge, Stinetinglers, and three picture books, with Marc Brown—The Little Shop of Monsters, Mary McScary, and Why Did the Monster Cross the Road? (July 4, 2023).
The Goosebumps TV series was the number-one children's show in America for three years. The episodes can still be seen on Netflix. More recently, Stine.'s anthology TV series, R.L. Stine's The Haunting Hour, won the Emmy Award three years in a row as Best Children's Show. His newest Disney+ TV series is Just Beyond, based on his graphic novels for BOOM! Studios. Two Goosebumps feature films starring Jack Black as R.L. Stine were released in 2015 and 2018. The first film became the #1 film in America. The Fear Street movies all reached #1 on Netflix. Stine lives in New York City with his wife Jane, an editor and publisher. You can connect with him on Twitter @RL_Stine, as well as on Instagram and Facebook. For more information, visit rlstine.com.