Films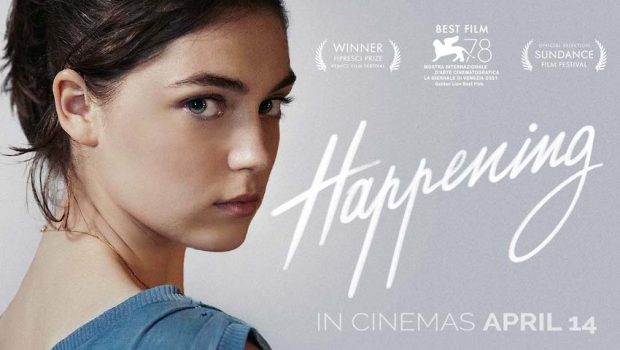 Published on April 15th, 2022 | by Tim Chuma
Happening (2021) Review
Summary: While a bit punishing to watch it is worthwhile if you are up to the challenge. None of the histronics that happen in a lot of these types of stories so you can tell this is based on real life.
Based on the novel by Annie Ernaux written about her own experiences in the 1960s and not talked about until 40 years later. Anamaria Vartolomei plays Annie a 23 year old literature student who discovers she is pregnant at a time when abortion is illegal in France and even helping someone can get you hard jail time.
You can tell this is based on real life experience as there is not the histrionics that infest other dramatic movies on the topic. There are no screaming rows with parents or partners. Annie does have a disagreement with the father but her attitude is "if you're not going to help me I will help myself". As always happens in these situations it is women who help each other while the people who are meant to help make it worse. One of the doctors Anne goes to see actually gives her medicine to make the foetus stronger. Even the "friendly" doctor says he cannot get involved and tells her she had been lied to by the other doctor.
As I have seen mentioned elsewhere this is very naturalistic and feels like a documentary at times. There is hardly music in it at all except for when you would normally hear it in real life or at key moments. The people in this are based on real people but Anne's parents, the professor and her friends all feel like real people and not overplayed.
One of those movies that I would put in the worthy category rather than actually fun to watch. You need to be in the right frame of mind and prepared to think about it afterwards. I have not read the book it was based on but would be more likely to after watching this movie.
I did used to watch a lot more of these sorts of movies before going into genre films. This film should do well on the arthouse circuit as there are always people who will go see these big issue movies or ones that are award winning such as this movie as it won the Golden Lion in 2021 and the César Award for Most Promising actress Anamaria Vartolomei amongst others.
There is no getting away from what this movie is about they do show it all and the aftermath. I did have to pause the movie before these scenes and go do something else for a bit so it might be good to watch on streaming when it comes out so you can have a rest after some parts of it. If you are seeing it at the cinema have a drink beforehand and maybe a few after.
I would go to see more movies Anamaria Vartolomei was in after this and also Louise Orry-Diquéro who played Brigette as she was rockin'.
As I said this is a confronting movie but a worthy one and if you are up to the challenge then I would recommend going to see it.
Trailer
.
Movie details:
Director: Audrey Diwan
Screenplay: Marcia Romano, Audrey Diwan
Based on the novel by Annie Ernaux
Starring: Anamaria Vartolomei, Kacey Mottet Klein, Luàna Bajrami, Louise Orry-Diquéro, Louise Chevillotte, Pio Marmaï, Sandrine Bonnaire, Leonor Oberson, Anna Mouglalis, Cyril Metzger, Eric Verdin, Madeleine Baudot, Alice de Lencquesaing, Fabrizio Rongione
Country: France
Language: French
Genre: Drama, Historical
Length: 1hr 37min
Advisory: Nudity, sex scenes, graphic abortion scenes
Awards: 13 wins and 16 nominations