Events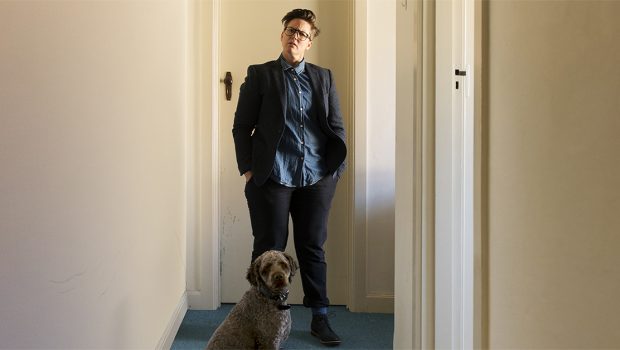 Published on March 25th, 2019 | by Admin
Hannah Gadsby announces new Australian dates as part of DOUGLAS world tour
With her Melbourne International Comedy Festival season already sold out and the US tour on its way, Hannah Gadsby is looking forward to bringing her new show back home to Australia in December.
Douglas will be the highly anticipated follow up to her tenth solo show Nanette. It did alright.
Nanette played around Australia and the UK for eighteen months – taking out the top prizes at the Melbourne and Edinburgh festivals before sitting down in New York and dropping a Netflix special filmed at the Sydney Opera House last June that started a global conversation which continues six months later.
While Nanette was a random barista, Douglas is a very specific dog, and the only thing they have in common is they've inspired Hannah to put pen to paper and turn out a show you couldn't possibly expect.
Hannah found her voice with Nanette and with Douglas she plans to use it. The stand-up stage has been Hannah's home for more than a decade, and the last couple of years have given her a few very new ideas to think and talk about in her world tour.
HANNAH GADSBY – DOUGLAS WORLD TOUR DATES
28 March – 7 April – Melbourne Comedy Festival – Arts Centre Melbourne
April 29 – May 3 – San Francisco, CA – Palace of Fine Arts 
May 10 & 11 – San Diego, CA – Balboa Theatre 
May 15 – 18 – Portland, OR – Newmark Theatre 
May 22 – Denver, CO – Paramount Theatre 
May 30 & June 1 – Austin, TX – Paramount Theatre 
June 2 – Houston, TX – Jones Hall for the Performing Arts 
June 8 & 9 – Seattle, WA – Moore Theatre 
June 12 – 14 – Minneapolis, MN – Pantages Theatre 
June 16 – Chicago, IL – Chicago Theater 
June 23 – Philadelphia, PA – Merriam Theater 
June 25 – 27 – Washington, DC – Kennedy Center 
June 29 – 30 – Nashville, TN – James K Polk Theater 
July 12 & 13 – Los Angeles, CA – Theatre at The Ace Hotel
Dec 7 – Melbourne – Palais Theatre Melbourne (NEW)
Dec 11 & 12 – Hobart – Theatre Royal (NEW)
Dec 14 – Canberra – Canberra Theatre Centre (NEW)
Dec 17 – 21 – Sydney – Sydney Opera House (NEW)
Tickets on sale 9am, Friday 29 March
hannahgadsby.com.au