Collectibles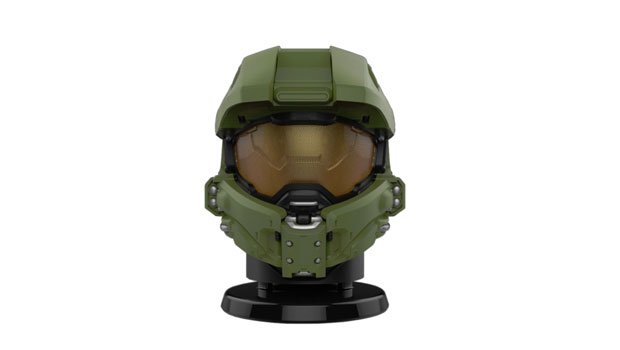 Published on November 10th, 2017 | by James Wright
HALO MASTER CHIEF BLUETOOTH SPEAKER REVIEW
Summary: The Halo Master Chief Bluetooth Speaker is indeed a master of Bluetooth and collectibles!
The Chief is back thanks to AC Worldwide who successfully give fans a life size replica of the helmet worn by video game hero Master Chief from the excellent Halo series and apart from looking fantastic, it also doubles as a Bluetooth speaker and even the ability to take calls thanks to the in-built microphone. If this helmet feels a little familiar, that's because this item is the first from AC Worldwide and although the overall quality is a little less than its other licensed products (very slightly), it's still a mightily impressive piece of technology that would look fantastic in any home or office. Given that, it is also a thoroughly impressive collectible.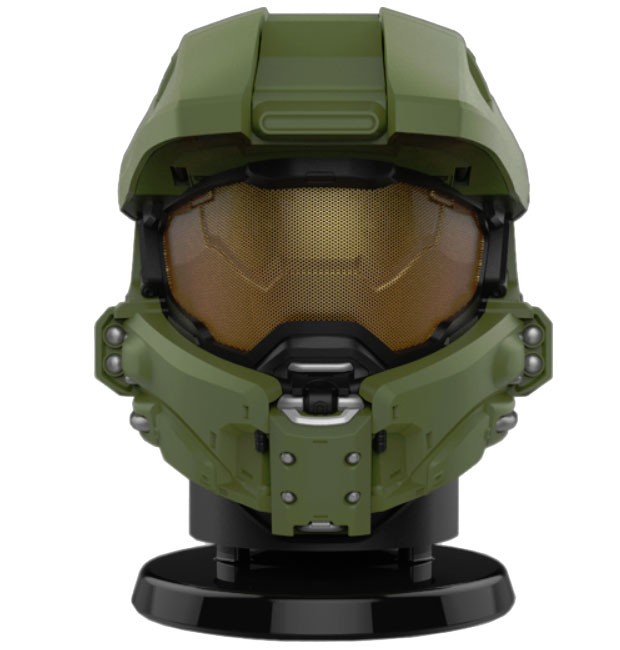 The Halo Master Chief Bluetooth Speaker is a very well packed product from AC Worldwide and it even comes with white gloves for moving it around or packing it away plus it comes with a cloth bag for additional protection while in storage. Although it does have an internal battery, the product does come with a universal power adapter that works in the UK, EU, USA and Australia. If you live in other countries, you will need to purchase an adapter. Furthermore, the device has a Power LED and when the batteries are becoming low, the power light at the rear will change colour from green (70 – 100%) to orange (20 – 70%) and then red (0 – 20%).
Out of the box, the first thing that we noticed about the Halo Master Chief Bluetooth Speaker is the attention to detail that successfully recreates a real-world incarnation of the Chief's helmet that made this gamer squeal with glee as I opened it up and paired it with my phone. Besides Bluetooth navigiation, it can be controlled via the controls on the base of the helmet and it has an auxiliary-in connection for other audio devices plus a USB 5v Charger and it supports Near Field Communication (NFC).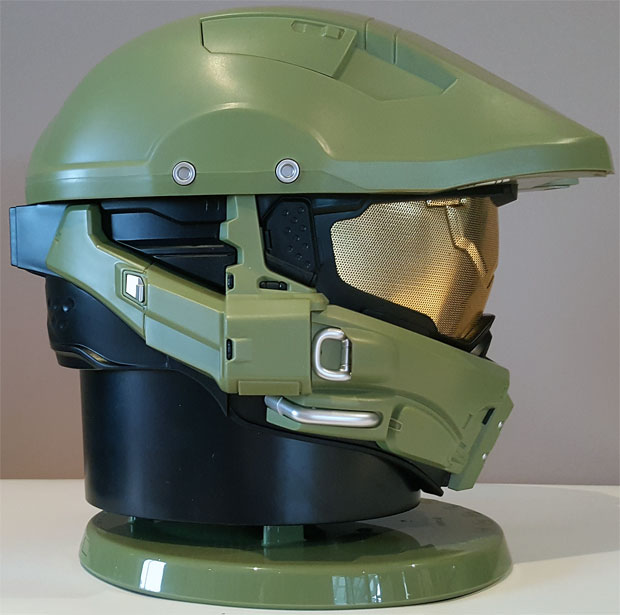 In terms of controls and prompts for the user, the Halo Master Chief Bluetooth Speaker has the following;
1.       Power on/off switch
2.       Bass Down/Up
3.       Track back/forward
4.       Volume Down/Up
5.       Incoming call answer/hang-up
6.       Pair Bluetooth
7.       AUS Mode
For those owners of devices with NFC technology, you only need to have these devices next to the speaker in order to start playing and a very cool addition to this speaker system is that you can pair two of these devices to the same smartphone. This means you could have two Master Chief helmets or a Master Chief helmet plus a Darth Vader one. Pairing is also very easy and once you have found the Master Chief helmet on your device, you press connect and presto, you have established an ongoing connection and it even says the iconic phrase 'I have a job to do' once done.
The product even has a sub woofer and although you can't compete with true standalone speakers, the Halo Master Chief Bluetooth Speaker does produce some decent audio, good levels and even some volume when needed. By pairing two speakers together, it does add the 'stereo' aspect to your world but even with one speaker, it definitely does the job well.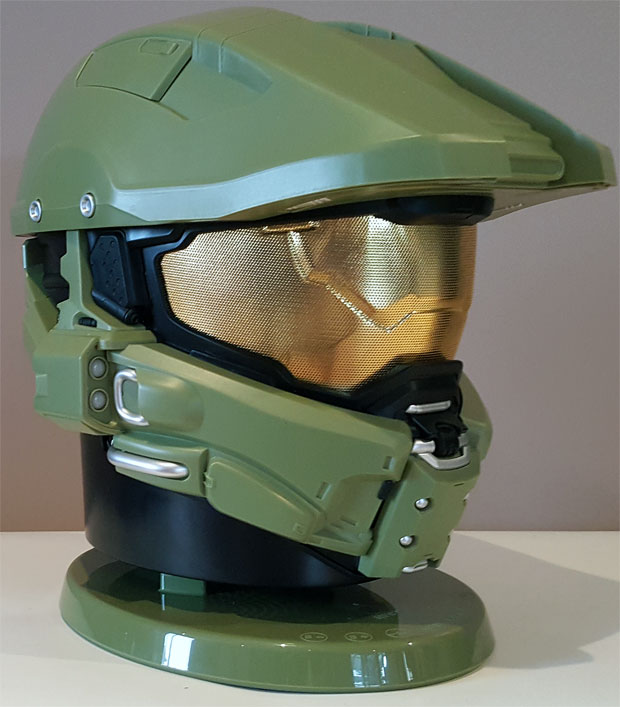 Lastly, the detail gone into this helmet is amazing and it really brings this video game character to life with the extraordinary attention to detail that will definitely make your family and friends quite jealous when they see this product sitting in your home. It also makes the perfect showpiece and if you're looking for something cool yet very usable, this product should really be on your radar!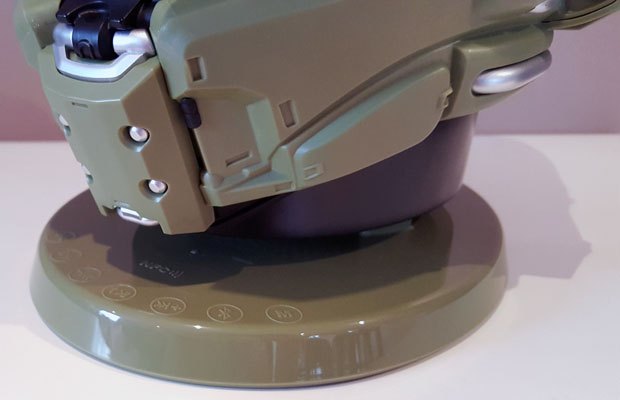 Final Thoughts?
The Halo Master Chief Bluetooth Speaker is quite a flawless product from AC Worldwide that not only serves as a good speaker but more importantly, it is a true collectible that has been designed by a gamer for gamers!
Highly Recommended!
Technical Specifications
Output Speakers: 2x3W – 32mm 4
Frequency Response: 20HZ -20KHZ
DC input: 9v, 2.5h
Output Powerful Ported Subwoofer: 10W – 102mm 2.3
Battery: 8.4V, 2200mAh
Battery time: 4-5 hours
Battery Charge Time: 2-3 hours
Bluetooth Version: CSR 4.0
Bluetooth v 4.0
HFP v1.6 wideband speech (HD voice ready)
HSP v1.2
A2DP v1.2
AVRCP v1.4
DI v1.3
Support for smartphone (apps)
Review Gallery
For more information, please visit https://acworldwide.cool/content/masterchief/