Games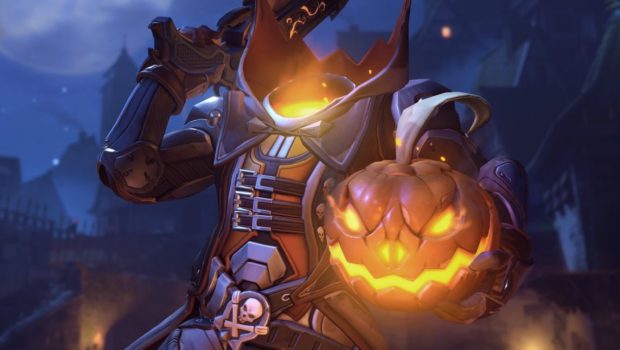 Published on October 12th, 2016 | by Admin
Halloween Terror Sets in as Overwatch Passes 20 Million Players!
The fright for the future has begun, heroes, and for the next three weeks, we're celebrating the spookiest time of the year in true Overwatch fashion–with a brand new seasonal event! Explore the haunted streets of Hollywood, expand your collection of themed holiday items, and relive a chilling tale in our first-ever PvE brawl: Junkenstein's Revenge!
Welcome to Overwatch Halloween Terror… muhuahahaha!
We're also thrilled to share the news that Overwatch has crossed a new milestone—20 million players—making this special holiday treat all the sweeter. *
TRICK OR TREAT – Loot Boxes
Starting today, all in-game Loot Boxes have been replaced with special glowing jack-o'-lanterns, and they're filled to the brim with over 100 new cosmetic treats! As with our previous events, any Loot Box you earn or purchase from now until the event concludes will contain at least one item from our Halloween 2016 collection—including profile icons, sprays, victory poses, emotes, highlight intros, skins, and more!
While the content of each Halloween Loot Box is random, you can unlock a variety of these creepy customisation options with credits in the Hero Gallery throughout the event's duration.
BEWARE DR. JUNKENSTEIN'S MONSTER – New Brawl
During the Overwatch Halloween Terror, you'll also be able to participate in our first-ever co-op PvE brawl: Junkenstein's Revenge. Team up with three other players and face off against a host of eerie enemies, including Dr. Junkenstein himself, Junkenstein's Monster, the Reaper, a mysterious witch, and host of shambling zomnics.
As told in the "Junkenstein" comic, this terrifying tale follows Dr. Jamison Junkenstein, an inventor and scientist who was once employed by the Lord of Adlersbrunn. Players will choose from the Alchemist (Ana), the Archer (Hanzo), the Gunslinger (McCree), or the Soldier (Soldier: 76) and defend Adlersbrunn castle's doors against Dr. Junkenstein's onslaught. Heroes will need to work together and develop strategies to withstand wave after wave of zomnic attacks. Will you be able to keep your cool when Junkenstein's Monster appears?
Overwatch's Halloween Terror is live RIGHT NOW on PC, PlayStation 4, and Xbox One, so grab your largest candy bag, put on some spine-chilling music, and get ready to test your mettle against Junkenstein's metal minions.
Happy Overwatch Halloween Terror!
*Based on internal company records and reports from key distribution partners