Hardware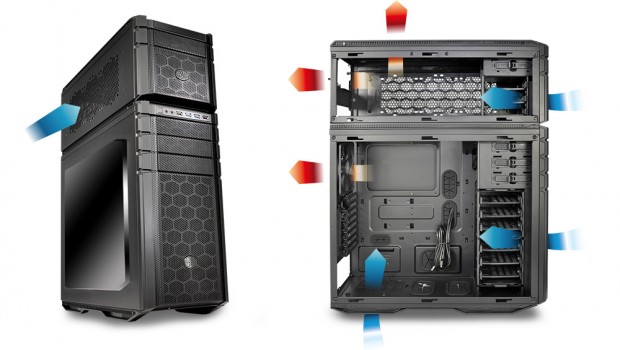 Published on January 22nd, 2014 | by Admin
HAF Stacker 935 Review
Summary: If you want a case with lots of cooling capabilities and the ability to stack additional computer systems together than look no further than the HAF Stacker 935 !
HAF Stacker 935
Developer: Cooler Master
Product: Computer Case
Price:
Revier: James Wright
Review Date: Jan 2014
The HAF Stacker 935 from Cooler Master merges the High Air Flow and Stacker cases from this company together in order to create this amazingly large case for computer enthusiasts, gamers and all sorts of PC users. The space inside the case is quite impressive which allows for a variety of additional components and more than ample space for cooling.
The case itself comes with 2 fans, a 140mm and a 92mm plus all the screws, cable ties and other accessories needed to attach your motherboards and components. There is a user manual with the case but we found the YouTube videos from Cooler Master much easier to follow.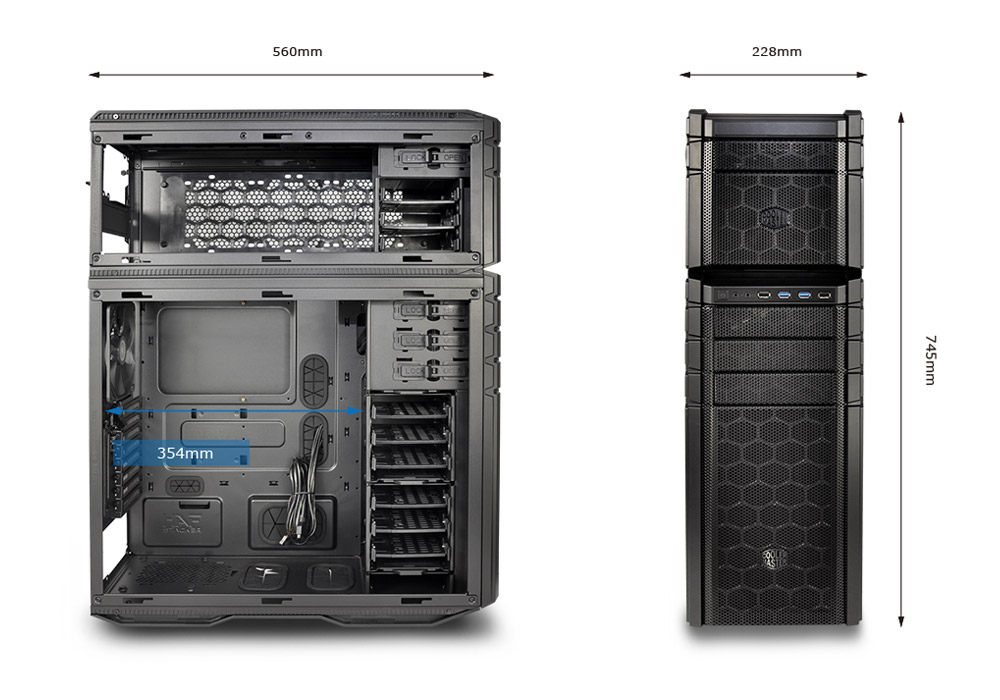 In essence, the HAF Stacker 935 is a mid-tower case with the ability to combine another mini-ITX case to have two computer systems in one case.
Features:
World's first "mod-tower" with stacking functionality for limitless utility
Stack extra 915F or 915R for dual/triple system or additional water cooling and storage
Dust filtered intakes and sliding filter frames
Intuitive design for flexible and easy installations
Greater storage expandability with transferrable drive cages between chassis
Full window version (tinted)
Modular I/O functionality for future-proof connectivity
 Multiple removable dust filters (top, front, bottom, side panel) for improved system maintenance
Made from steel, mesh and polymer, the first you thing you will notice about the HAF Stacker 935 is how large and spacious the case is. We installed a test motherboard and its components inside both cases and had no issues at all. The smaller case is a little crammed but Cooler Master ensure that everything is in the right place.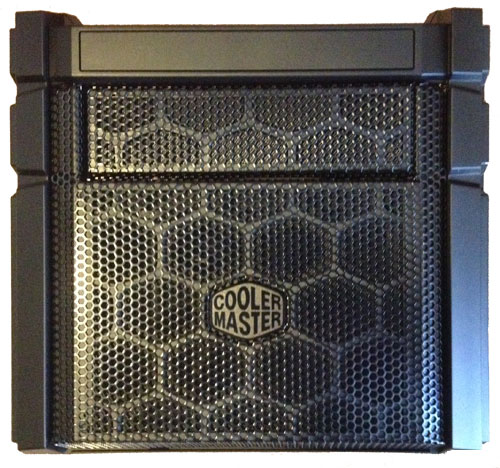 I also love the honeycomb design on the case and the tinted side window which allows you to look inside the HAF Stacker 935. This looks really cool when all your PC lights are on.
Check out the storage space below!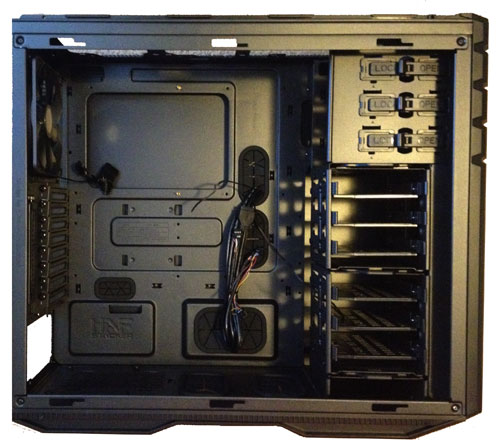 Another interesting fact is that you can combine three systems into one if you purchase an additional 915F or 915R case from Cooler Master. Alternatively you can just jam pack the main case with cooling. Given that, there is more than enough space to install an internal water cooled system into the HAF Stacker 935.
Stacking is also really simple and you just slide the case onto the other and then secure the case with the included screws. To see how easy it is, check out this video from Cooler Master;
Specifications
Model
HAF-935-KWN1
Color
Black / Black
Material
Bezel: Mesh/Polymer; Case body: Steel SGCC-t0.7
Dimension
235 x 719 x 578 mm / 9.25 x 28.8 x 22.75 inch
Weight
15.6 kg / 34.5 lbs (Net Weight)
M/B Type
EATX, ATX, microATX, Mini-ITX (915R)
5.25″ Drive Bay
3 + 1 (915R)
3.5″ Drive Bay
9 (3 x modular cage)
SSD Bays
9 (converted), 1 (MB tray) + 3 (915R)
I/O Panel
USB 3.0 x 2, USB x 2, Audio
Expansion Slots
8 + 1 and 2 (915R)
Cooling System
Top: 120mm x 2Front: 120mm x 2 / 92mm x 1 (included)Rear: 140mm (included) / 120mm x 1Side: 120mm x 6, 140mm x 4 (915R)

Radiators: 360mm x 2 / 280mm x 2 (Side); 140mm / 120mm x 1 (Rear

Power Supply
Standard ATX PS2 x 2
Rear / Bottom Mounted
Maximum Compatibility
VGA card length: 354mm / 13.9 inch; 360mm / 14.17 inchCPU cooler height: 180mm / 7 inch; 80mm / 3.15 inch
Warranty
2 years
UPC Code
884102025228
Final Thoughts?
The HAF Stacker 935 definitely takes modular cases to the next level, especially with how easy Cooler Master have made it to stack. It's also a well designed product that is quite sturdy and everything is labelled to make things easier for the end user. The only issue with the case is the lack of LED lights on the case (e.g. no hard drive and power) plus no reset button. Also when all the components are connected, including computer parts the case does start getting heavy.
Needless to say, if you want a case with lots of cooling capabilities and the ability to stack additional computer systems together than look no further than the HAF Stacker 935 from Cooler Master!