Comics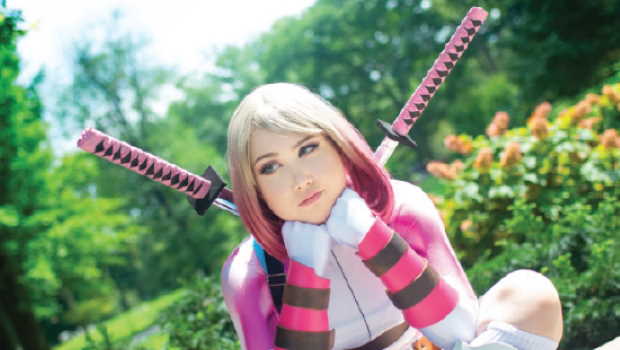 Published on January 4th, 2020 | by Chris O'Connor
Gwenpool Strikes Back #5 Comic Review
Summary: Gwenpool: The Voyage home. Is this the end or is it a new beginning? Honestly, with all Gwen has done with her own timeline, reality, comic... who can tell? Just enjoy!
There and back again, a Gwenpool story. She's heading home, or is she? Gwenpool's origins are revealed and her life is laid bare, is this the end or is it the beginning of a beautiful friendship new comic series?
Writing
Leah has done a fantastic job of keeping the humour and the seriousness the whole way through. Mixing ups and downs in just the right balance to allow us to really feel for Gwen, but at the same time have a lot of chuckles along the way. There's a lovely moment of understanding that Gwen comes to in this issue and the end is just perfect, sweet and cheeky, the kind of ending that makes you instantly wish for more but also very appreciative of what you've just gone through. It's been a heck of a ride the whole way through!
Artwork
Much like the consistency of the story telling, the art work has maintained a high level of quality. There's a great mix of realism and comical feel to the pages that draws you in but doesn't let you get too worried about the "dangers" present at certain points. But arguably, most important of all is the emotional arch that Gwen goes through. This series has been a lot of highs and lows but this issue alone contains a pretty big rollercoaster of the feels and thanks to David's lovely art work we can see it all on Gwen's face. Sure that means you may share an empathetic/sympathetic tear, but another panel or two on and you may well find a big ol' smile across your face again.
Final Thoughts
I love Deadpool, no that's not a typo or faux pas, but there's a chance I love Gwenpool more. I'm almost at the point where I could imagine one of the future Deadpool movies having Gwenpool show up, even just briefly. She's got the 4th wall breaking skills, but with just that little bit more charm. Her antics, even when questionable, seem far more good natured and I really hope to see a lot more of her in the future!
Grab this issue and if you haven't grabbed the rest… get them all together and read through from start to finish… then maybe read through again (in an endless loop).
Comic Details
Publisher: Marvel
Writer: Leah Williams
Artist: David Baldeon
Genre: Humour, Superhero
Format: 23pgs, FC, Mini-series
Release Date: 18th December, 2019