Films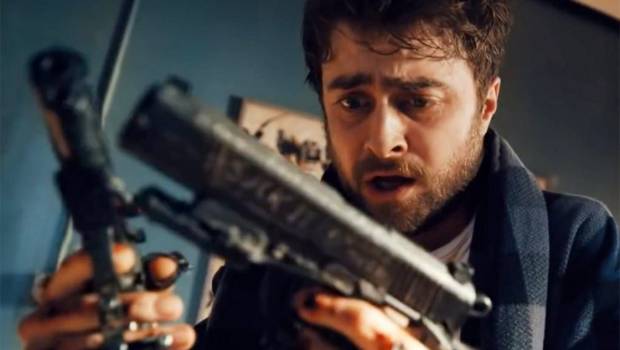 Published on February 28th, 2020 | by Carina Nilma
Guns Akimbo – Film Review
Reviewed by Carina Nilma on the 26th of February 2020
Madman Entertainment presents a film by Jason Lei Howden
Written by Jason Lei Howden
Produced by Alexander Borgers and Will Clarke
Starring Daniel Radcliffe, Samara Weaving, Ned Dennehy, Rhys Darby, Grant Bowler, and Natasha Liu Bordizzo
Music by Enis Rotthoff
Cinematography by Stefan Ciupek
Edited by Luke Haigh and Zaz Montana
Running Time 95 minutes
Rating MA15+
Release Date the 28th of February 2020
With a nifty title, Daniel Radcliffe as the lead, and a very intense and wacky trailer, Guns Akimbo has a lot of potential. If you're able to ignore some of the controversial press surrounding writer and director Jason Lei Howden (Deathgasm, 2015), you may draw a wry laugh over its attempts to discuss cyber-bullying and internet toxicity. However, Akimbo squanders these little nuggets by being less than the sum of its parts.
The plot is about Miles Harris (Radcliffe) who lives alone and works a dead-end job for a mobile phone video game company where he's bullied by his boss. His main form of entertainment is entering Internet forums and trolling the trolls. One of the cesspools is 'Skizm', a website that livestreams 'kill or be killed' deathmatches between criminals and psychos.
Miles thinks of himself as a hero, but also knows he is a loser who pines over his ex‑girlfriend, Nova (Natasha Liu Bordizzo). After a drunken night of key smashing in the Skizm forum, Miles stirs the ire of the organisation's facial tattooed leader, Riktor (Ned Dennehy). As punishment, Miles has guns bolted to his hands and is pit in a deathmatch against the current reigning champion, Nix (Samara Weaving).
The film tries combining the frenetic action of a 'shoot-em-up' video game with the comedic absurdity of pitting a nerd against a crazed killer in an underground fight club. However, the execution fails. Thematically, it's trying to satirise cyberbullying and doxxing behaviour. Yet  instead of making a statement about its dark implications, it merely depicts reality TV viewers as obnoxious assholes and thinks that's enough. We all know that trying to troll the Internet's trolls is a pointless endeavour.
While hyper violent, Guns Akimbo lacks the style or finesse needed to be visually interesting. Action movies with a high body count, such as John Wick (2014), make the stunt choreography aesthetically pleasing. Comparatively, Akimbo is shambolic. The camera movement is hyperactive as it switches from fast forward to slow motion and there is far too much fake blood splattered everywhere.
For a film that seems so self-aware of its audience, the dialogue is cringing and falls flat. At one-point, Riktor shouts how Skizm will be, 'the Starbucks of murder, the McDonalds of massacre, the Burger King of badness. On another occasion, Miles says, 'you see in real life watching your ex pistol whip some guys teeth out, gives you PTSD not a raging lady boner'. Well yeah, obviously.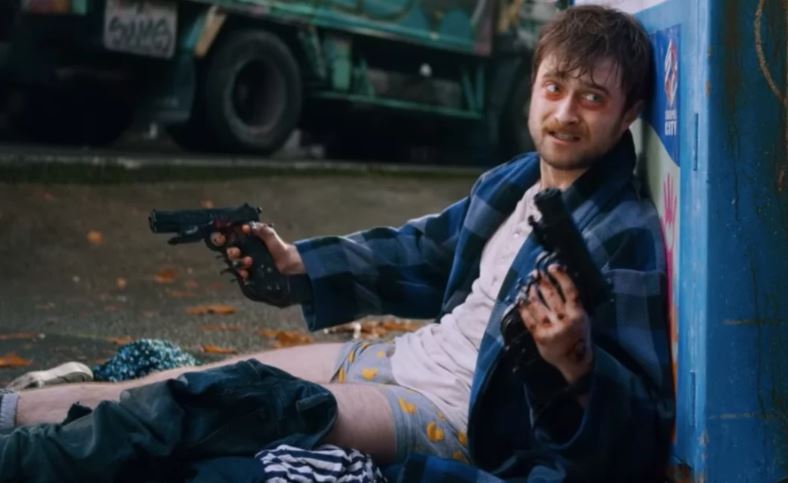 Radcliffe initially plays Miles as meek and puts in a great physical performance. Miles takes out his disdain for the world's trolls by reporting them. However, the tables turn when he is thrown into real life peril. There's a lot of running, hiding, and trying to manoeuvre his way around whilst having guns bolted to his hands. Yet the psychological motives of the character's actions only scratch the surface.
Similarly, the physical comedy gags of completing simple tasks, such as using the toilet or eating food while being unable to use his hands, wear thin. It is bizarre how quickly Miles adapts to his scenario from being afraid of killing to accepting his fate and having to blow away bad guys.
Australian actress Samara Weaving plays a crazed killer, but unlike her role in the clever horror‑thriller Ready Or Not (2019), she has all the advantages here with weapons galore and being seemingly invincibility to bullets. We briefly learn about Nix's backstory and how seeing her mother and sister die traumatically drove her crazy. It would be enough to make us sympathise with her if it wasn't rushed.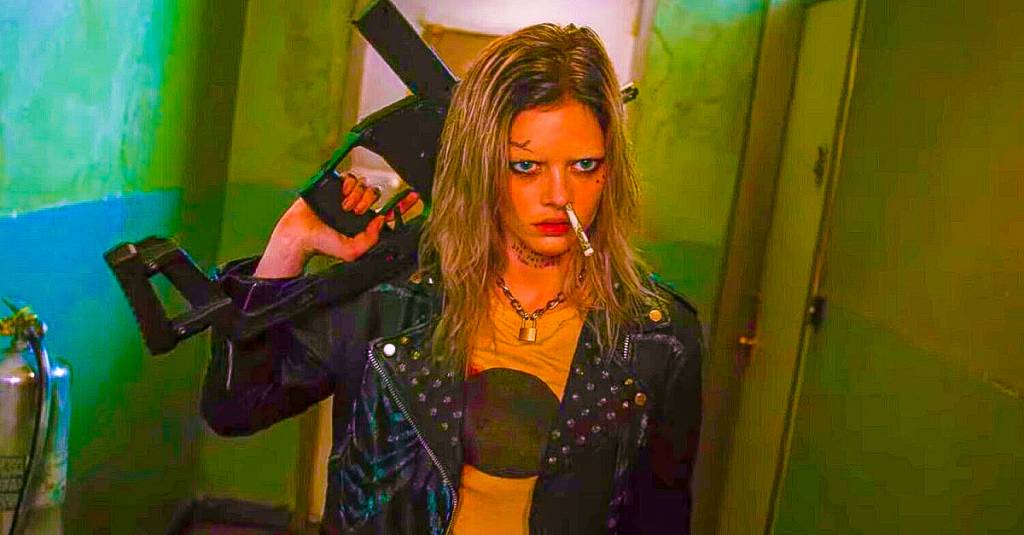 Guns Akimbo could have been a clever black-comedy, a visually-pleasing action film, and a satirical examination of people living in the dark corners of the Internet. Instead, it throws at us frantic shoot-outs, cocaine-fuelled power-ups, and flashy displays showing us how many bullets Miles has left in his guns. For a film that is only 95 minutes, it is painfully slow and repetitive. It is briefly redeemed by some fun albeit bizarre performances from its main cast.
Summary: Guns Akimbo could have been a clever black-comedy. Instead, it is painfully slow and repetitive.