PS4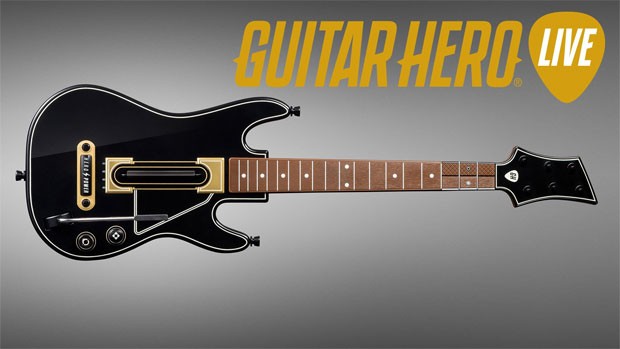 Published on November 1st, 2015 | by Jeff O'Neil
Guitar Hero Live PS4 Review
Summary: It's good to have this franchise back and Guitar Hero Live successfully tweaks the gameplay by giving gamers a more fulfilling experience
After several years in the gaming wilderness, the franchise that turned humble mortals like you and I into true rock gods has finally returned and is available on all next-gen consoles that include the PS4 (reviewed), XBox One and the Wii U. There's even a tablet version!
So for those who have played the previous Guitar Hero games before, the first thing that you will probably notice about Live is the updated interface and tweaked gameplay mechanics plus it tries to turn you into the star with footage of actual crowds and band members. It's like a first person perspective from a guitarist. Sure, this seems a little cheesy at first but hey, this game is all about illusion and developers Freestyle Games definitely succeed in not only making you play this controller like a "real" guitar but the audience and band is quite interactive.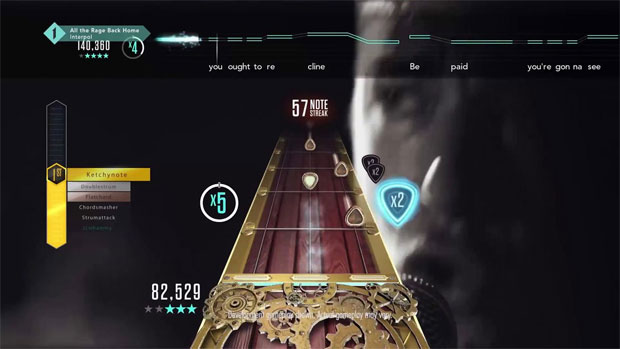 So when you play like a rock god, the crowd will go ballistic but play poorly and you'll soon find yourself wanting to leave the stage unless you can pull out a miracle riff or two! The full motion video used to portray the crowd is quite cleverly done as it's not just static but moves around to your fans who also get aggressive if you play bad, they will start to boo you off stage. Even your band will get annoyed if you start to mess up those notes and seeing them explode is amusing. It's quite a clever piece of smoke and mirrors and really helps get you immersed in the world of music and playing as a world-class guitarist.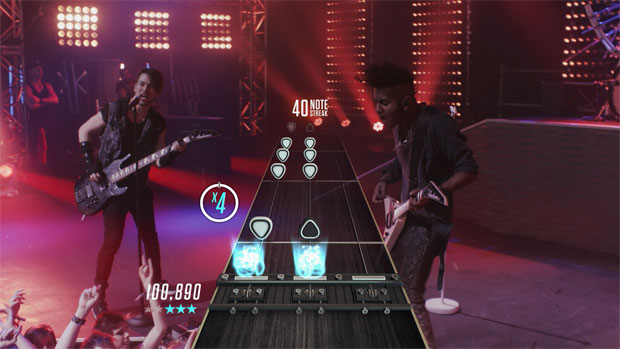 Then you have the guitar itself that feels like a traditional Guitar Hero controller but its received a much needed overhaul to make the game more challenging by including a tier system of frets which definitely makes it feel more like a real guitar because of how you position your fingers. Basically the buttons are positioned into two rows of three and as a result, you need to relearn the game but all the video game clichés are still included in the game to help boost your score and use that whammy like a pro. For newcomers, you can just use the bottom frets only and as you progress, you can raise the difficulty.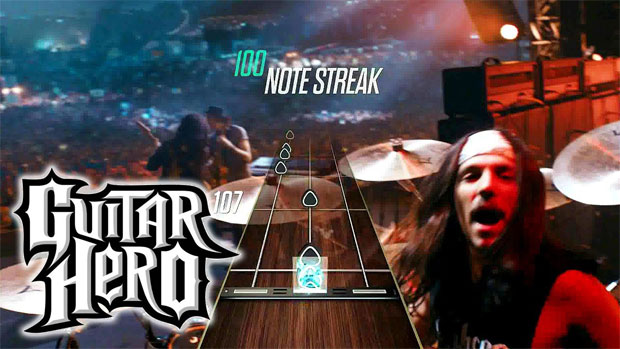 In terms of gameplay, Guitar Hero Live boasts two main modes that includes Live (obviously) and TV which is dubbed as the "World's first playable music video network". The Live mode is basically a campaign mode which requires you transform into a guitarist as you play through a variety of tracks in order to become the best band in the world. This mode has a set track list (42) and is similar to the previous games which is quite enjoyable and is great to learn the ins and outs of the title. I enjoyed it but its replay value if a little limited.
Then you have the TV mode which basically gives the gamer a plethora of online channels which basically allows you to play along with a variety of different songs from all sorts of genres, eras and timing. As you succeed, you are awarded additional bonuses to help with your playing and given the amount of content available, it's quite a daunting yet an enjoyable gaming mode. "Hero" power is also available and my moving the guitar up, it starts the bonuses!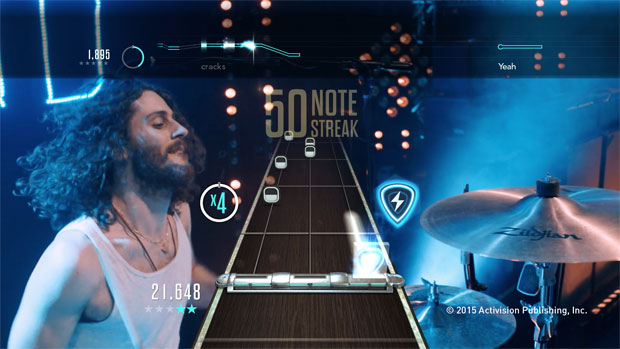 Lastly the title does feature local multiplayer that boasts two guitars and a microphone. Vocals are similar to past games and unfortunately don't come close to Sony's excellent Singstar series. However the online multiplayer for the "TV" mode is a great way to challenge other folks from around the world in order to get those high scores. This even keeps your ranking which is fun when you challenge other gamers.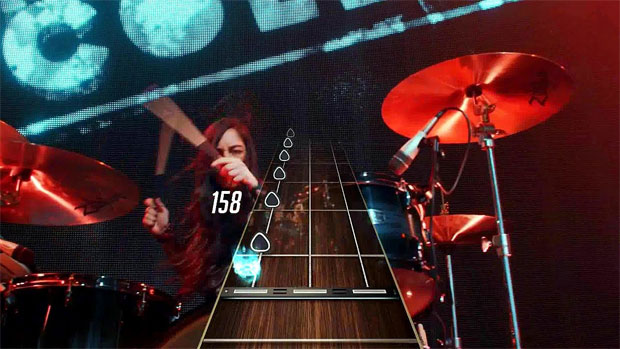 You can also purchase additional songs for this streaming mode via the party pass but if you put in the hard yards, you can just play what's available for now and there's plenty of free tracks. For the campaign mode and like previous Guitar Hero games, Live features a stellar tracklist that includes artists from all eras such as Queen (We are the Champions), Rage Against the Machine (Bulls on Parade) to Angus & Julia Stone (A Heartbreak).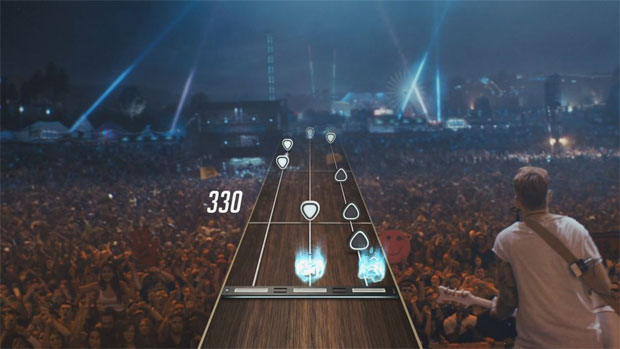 The great thing about the tracks included in both the campaign and "stream" version is the diversity as the music really gives the player some wicked choices and more importantly, some awesome bands and singers to jam with.
Track List:
36 CRAZYFISTS – ALSO AM I
AFI – GIRL'S NOT GREY
ALICE IN CHAINS – STONE
ALT-J – LEFT HAND FREE
ALTER BRIDGE – CRY OF ACHILLES
AMERICAN AUTHORS – BEST DAY OF MY LIFE
ANGUS & JULIA STONE – A HEARTBREAK
ANTHRAX – GOT THE TIME
ARCHITECTS – GRAVEDIGGER
ASKING ALEXANDRIA – THE FINAL EPISODE (LET'S CHANGE THE CHANNEL)
AUDIOSLAVE – COCHISE
THE AVETT BROTHERS – ANOTHER IS WAITING
BAND OF SKULLS – ASLEEP AT THE WHEEL
BEARTOOTH – I HAVE A PROBLEM
BIFFY CLYRO – SOUNDS LIKE BALLOONS
THE BLACK KEYS – GOLD ON THE CEILING
BLACK VEIL BRIDES – IN THE END
BLINK 182 – THE ROCK SHOW
BLITZ KIDS – SOMETIMES
BOB DYLAN – THUNDER ON THE MOUNTAIN
BOSTON – MORE THAN A FEELING
BRING ME THE HORIZON – SHADOW MOSES
BROKEN BELLS – LEAVE IT ALONE
BRUNO MARS – THE LAZY SONG
BULLET FOR MY VALENTINE – TEMPER TEMPER
CALVIN HARRIS – FEEL SO CLOSE
CARRIE UNDERWOOD – BEFORE HE CHEATS
CATFISH AND THE BOTTLEMEN – KATHLEEN
CHARLI XCX – FAMOUS
CHEVELLE – THE CLINCHER
COURTNEY BARNETT – PEDESTRIAN AT BEST
CYPRESS HILL FT. TOM MORELLO – RISE UP
A DAY TO REMEMBER – RIGHT BACK AT IT AGAIN
DEAP VALLY – LIES
DEFTONES – DIAMOND EYES
DISTURBED – DOWN WITH THE SICKNESS
DREAM THEATER – THE LOOKING GLASS
DUM DUM GIRLS – RIMBAUD EYES
ECHOSMITH – COOL KIDS
ED SHEERAN – SING
FAITH NO MORE – EPIC
FALL OUT BOY – MY SONGS KNOW WHAT YOU DID IN THE DARK (LIGHT EM UP)
FOSTER THE PEOPLE – COMING OF AGE
GARY CLARK JR. – DON'T OWE YOU A THANG
GERARD WAY – NO SHOWS
GREEN DAY – NUCLEAR FAMILY
GREEN DAY – AMERICAN IDIOT
HAIM – THE WIRE
HALESTORM – LOVE BITES (SO DO I)
IGGY POP – LUST FOR LIFE
IN FLAMES – DELIVER US
INCUBUS – DRIVE
JAKE BUGG – WHAT DOESN'T KILL YOU
JAMES BAY – HOLD BACK THE RIVER
JET – ARE YOU GONNA BE MY GIRL?
JUDAS PRIEST – BREAKING THE LAW
KASABIAN – CLUB FOOT
THE KILLERS – WHEN YOU WERE YOUNG
KILLSWITCH ENGAGE – IN DUE TIME
KINGS OF LEON – SEX ON FIRE
KONGOS – COME WITH ME NOW
KORN – FREAK ON A LEASH
LAMB OF GOD – GHOST WALKING
LIVING COLOUR – CULT OF PERSONALITY
THE LUMINEERS – HO HEY
MARILYN MANSON – DISPOSABLE TEENS
MARMOZETS – MOVE, SHAKE, HIDE
MASTODON – HIGH ROAD
MEGADETH – HANGAR 18
MGMT – TIME TO PRETEND
THE MOWGLI'S – SAN FRANCISCO
MY CHEMICAL ROMANCE – NA NA NA
NEON TREES – EVERYBODY TALKS
NEW POLITICS – HARLEM
OF MICE & MEN – BONES EXPOSED
ONEREPUBLIC – COUNTING STARS
ORIANTHI – ACCORDING TO YOU
PANIC! AT THE DISCO – GIRLS/GIRLS/BOYS
PANTERA – COWBOYS FROM HELL
PARAMORE – NOW
PASSENGER – LET HER GO
PASSION PIT – TAKE A WALK
PAT BENATAR – HIT ME WITH YOUR BEST SHOT (LIVE)
PEARL JAM – MIND YOUR MANNERS
PEARL JAM – SIRENS
PIERCE THE VEIL – KING FOR A DAY FEAT. KELLIN QUINN
THE PRETTY RECKLESS – GOING TO HELL
QUEEN – TIE YOUR MOTHER DOWN
QUEEN – WE ARE THE CHAMPIONS
RAGE AGAINST THE MACHINE – BULLS ON PARADE
RAGE AGAINST THE MACHINE – GUERRILLA RADIO
RATT – ROUND AND ROUND
RED HOT CHILI PEPPERS – HIGHER GROUND
RISE AGAINST – TRAGEDY + TIME
RIVAL SONS – KEEP ON SWINGING
THE ROLLING STONES – PAINT IT BLACK
ROYAL BLOOD – COME ON OVER
ROYAL BLOOD – LITTLE MONSTER
RUSH – LIMELIGHT
SKRILLEX – BANGARANG
SLEIGH BELLS – BITTER RIVALS
SLIPKNOT – BEFORE I FORGET
SOUNDGARDEN – BEEN AWAY TOO LONG
THE STROKES – UNDER COVER OF DARKNESS
SURFER BLOOD – DEMON DANCE
SURVIVOR – EYE OF THE TIGER
SYSTEM OF A DOWN – CHOP SUEY!
TENACIOUS D – TRIBUTE
TONIGHT ALIVE – THE OCEAN
TRIVIUM – STRIFE
TV ON THE RADIO – LAZERRAY
THE VINES – METAL ZONE
VISTA CHINO – SWEET REMAIN
THE WAR ON DRUGS – UNDER THE PRESSURE
WARRANT – CHERRY PIE
WAVVES – DEMON TO LEAN ON
WEEZER – BUDDY HOLLY
WHITE ZOMBIE – THUNDER KISS '65
WOLF ALICE – MOANING LISA SMILE
WOLFMOTHER – SUNDIAL
YOU ME AT SIX – LIVED A LIE
ZZ TOP – I GOTSTA GET PAID
Final Thoughts?
It's good to have this franchise back and Guitar Hero Live successfully tweaks the gameplay by giving gamers a more fulfilling experience that is closer to playing a real guitar then the previous last-gen console versions. More importantly, the guitar works well and if you're familiar with the previous game, you will need to re-learn the mechanics again but once you put the time and effort into this, you'll soon become a rock god. The only slight gripe I have with this release is the campaign mode is a little cheesy but thankfully the streaming "TV" mode which boasts some awesome music plus video clips really puts some unpredictability into the game and more than makes up for this clichéd oversight.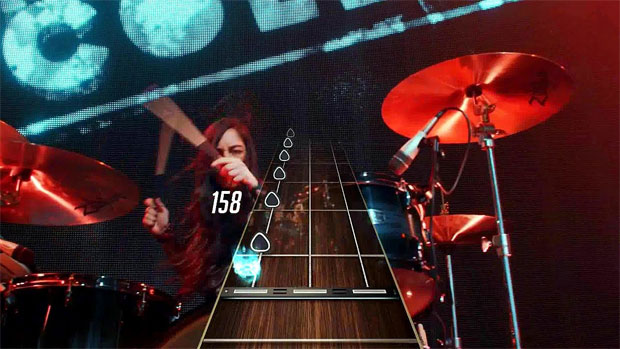 Key Features
GH LIVE – YOU are the rock star
Playing music in front of a real crowd is like no other experience. With the new GH Live first-person view, YOU'LL take center stage like never before.
GHTV – All playable, all the time
GHTV is a continuous broadcast of music videos where you and your guitar controller are the star. Hundreds of videos will be available at launch spanning all different genres of music, with new videos continually added to the line-up. You'll be able to discover and play new songs all the time.
THE GUITAR CONTROLLER – Easier to play, harder to master
The guitar controller was redesigned for the best gameplay across all skill levels. The new 2×3 button layout makes it easier to play with only three buttons, or, on veteran, it mirrors what it's like to play chord shapes with all six buttons, making the game easier for beginners and harder for experts.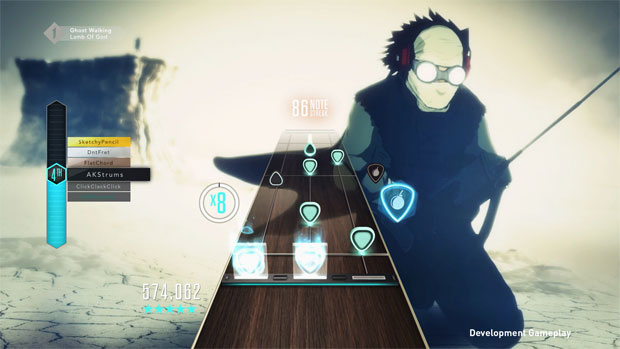 Game Details
Title – Guitar Hero Live
Primary Format – Games – Playstation 4
Developer – Freestyle Games
Publisher – Activision
Game Genre – Music
Rating – M