Games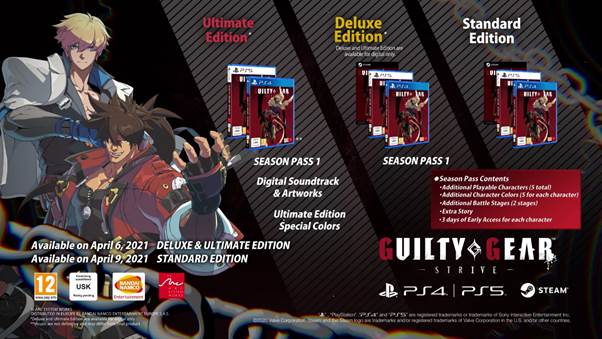 Published on February 15th, 2021 | by Alex Novus
Guilty Gear -Strive- is available for Digital pre-order on PlayStation 4, PlayStation 5 and PC
Pre-orders for Guilty Gear -Strive- are available now on the PlayStation Store and are available now on PC. The latest episode in the critically acclaimed Guilty Gear franchise, Guilty Gear™ -Strive- will be available on April 9 2021, on Playstation 4, Playstation 5 and PC Digital. The game will be available in Early Access* on April 6, 2021 for the players that pre-order either the Deluxe or Ultimate Edition.
Players will be able to choose between the Standard, Deluxe and Ultimate edition. The Ultimate Edition is only available on PlayStation 4 and PlayStation 5. Physical pre-orders for the Standard Edition are still available at participating retailers.
The Deluxe edition adds Season Pass 1 that will include 5 characters, 2 stages, an extra color pack for the characters, as well as a Side Story that will be available in 2021, after the game's release.
Players pre-ordering the Ultimate edition of Guilty Gear™ -Strive- will receive, in addition to the early access and season pass, a digital artbook, digital soundtrack and an additional character color pack.
Everyone will be able to try the Open Beta of the game from February 19, 4:00 am CET to 21 4:00 pm CET on PlayStation 4 and PlayStation 5.
An online registration platform is currently available allowing players to sign up in order to be play the Open Beta on February 18, starting at 4:00 am CET. The registration can be made here, while the offer lasts, as the number of Open Beta early access codes is limited.
For more information about Guilty Gear™ -Strive- other titles from BANDAI NAMCO Entertainment Europe, please visit our website or follow us on Facebook or Twitter, or subscribe to our YouTube channel.
*Early Access will have 13 out of 15 characters playable. For the Story mode, only the prologue will be available before the release. During the Early Access, online modes will not be available.