Comics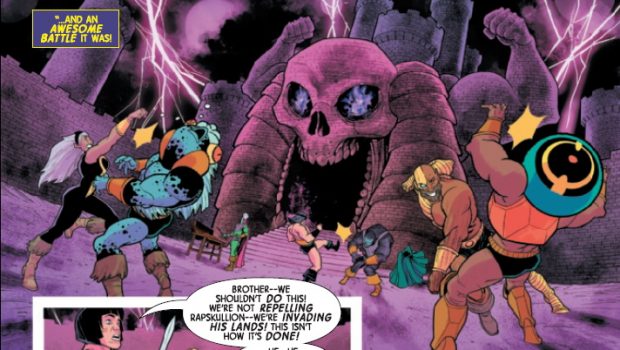 Published on August 8th, 2021 | by Tim Chuma
Guardians Of The Galaxy Annual #1 (2021) Review
Summary: A fun introduction to this series, reminds me of the spirit of the movies and there is not any confusing backstory to work out at this point.
This series is a retelling of the Guardians of the Galaxy timeline but with different characters and events. In this one we learn the origin story of the Prince of Power and how a chance encounter with what he thought was a jelly bean but was actually an Infinity Stone turned into a supreme being. It did not help with him being smart however so he is now without a planet.
I enjoyed the send up for He-man in this and it seems to fit in the with James Gunn version of Guardians of the Galaxy so the rest of this series should be quite fun.
A lot of interesting artwork and fun character designs. Rapskullion stands in for Skeletor and Muscla is Eternia. There are lots of fights and action in this one and also a bonus story about Nick Fury going out on his own after SHEILD is shut down.
I would recommend this one if you are already a fan of the series or are just starting this one new as you will not have to know everything that went before.
Comic details:
Writer: Al Ewing, Jed Mackay
Penciler: Juan Ferreyra, F Flaviano
Cover Artist: Natacha Bustos, Mike Mckone
Publisher: Marvel
Published: August 04, 2021