Films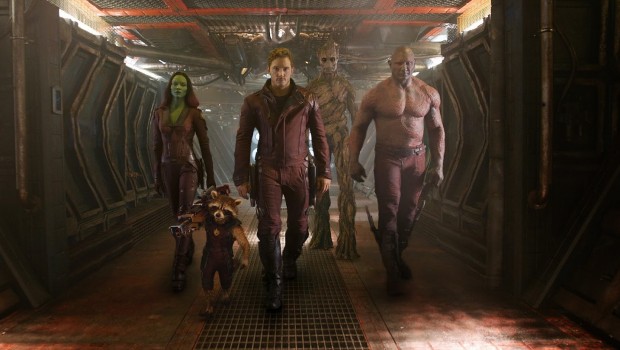 Published on July 30th, 2014 | by Damien Straker
Guardians of the Galaxy (3D) – Film Review
Reviewed by Damien Straker on July 30th, 2014
Disney presents a film by James Gunn
Produced by Kevin Feige
Written by James Gunn and Nicole Perlman, based on the comic book by Dan Abnett and Andy Lanning
Starring: Chris Pratt, Zoe Saldana, Dave Bautista, Vin Diesel, Bradley Cooper and Lee Pace
Music by Tyler Bates
Cinematography: Ben Davis
Editing by Craig Wood, Fred Raskin and Hughes Winborne
Running Time: 122 minutes
Rating: M
Release Date: August 7th, 2014
Guardians of the Galaxy is unoriginal, insubstantial and most significantly, it's not funny. Once touted as their riskiest film to date, it is artistically and politically as conservative a film as Marvel Studios has ever made. The disappointment of the space adventure is that it is little more than a retread of a pedestrian formula, the numbingly predictable scaffolding of the comic book and superhero genre, hidden under the disguise of a broad comedy. The film's jokey banter, self-referential tone and pop culture references are smoke and mirrors used strategically to distract us from what is a threadbare narrative of unimaginative climaxes. When the film pauses briefly between action sequences lifted from Star Wars and the digital imagery of video games like Mass Effect it is to pursue an ideological viewpoint that doesn't inspire or rewrite the blockbuster but merely redecorates it. The film's values for family and nostalgia are not to be mistaken for depth or thematic goals but compulsory staples of Marvel's production line, the intention of which is to preserve the genre's wide commercial appeal while drastically limiting the variety of what mainstream Hollywood chooses to explore.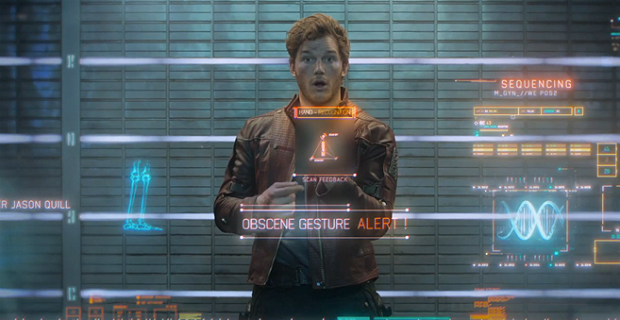 The film is an adaptation of Dan Abnett and Andy Lanning's comic book with James Gunn directing and co-writing the script with Nicole Perlman. It opens in 1988 with a young boy named Peter Quill listening to a cassette tape in a hospital. His father is absent and his mother is on her deathbed. Under insanely melodramatic circumstances, she passes away right before he can take her hand. After he steps outside the hospital he is abducted by an alien spaceship. The film is extremely vague about what happened next and what his reaction was to being taken away as a child. Instead, the story forwards twenty-six years later to when Peter (played by Chris Pratt) is now a trained smuggler and explorer of alien worlds. He is also still carrying the same cassette player with him, allowing him to play many of the film's retro tunes. Peter stumbles upon a magical orb of power, which he learns is too dangerous for him to sell. It is wanted by a powerful samurai-like villain named Ronan the Accuser (Lee Pace). Also in pursuit of the orb are a number of different misfits including an alien named Gamora (Zoe Saldana), a fast-talking, aggressive raccoon aptly named Rocket Raccoon (voiced by Bradley Cooper) and his anthropomorphic tree friend Groot (the voice of Vin Diesel) and a muscular warrior named Drax (Dave Bautista). Each of these characters has different reasons for wanting the orb or for stopping their enemy Ronan as they become the guardians and protectors of this space world.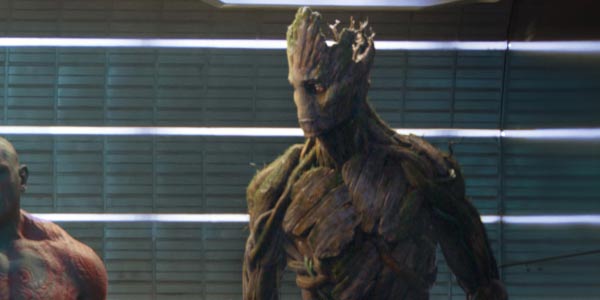 What Guardians extracts from this plot is not to parody the superhero genre like Gunn's previous film Super but to continue Hollywood's two most formulaic and overused ideological goals: individualism and the restoration of the family unit. Although the guardians are touted as being misfits and losers this is not a character study. The guardians are more like action figurines, distinguished by their bizarre appearances, catch phrases and one-liners, while their suit gadgets and weapons become a cliché expression of how individual talents can save the world. Initially setting the film in the 1980s is also crucial to understanding Marvel's ideological complacency. This time period means that much of the film is encompassed in Reaganesque values, who in his terms in office stressed the importance of sustaining the American family. The guardians reflect this ideology because a number of them are tormented by comic book clichés like avenging their families who died at Ronan's hand. Dead parents syndrome is abound. Similarly, the guardians become integral in resolving Peter's desire for a new family, which is climaxed by possibly the most unintentionally Freudian moment in a superhero film. An extended hand from one character to Peter recalls memories of his mother. But Peter Quill's transformation from a womanising man-child, into a more caring, selfless family man, is not a change at all. His arc is merely synonymous with Hollywood's narrow and formulaic ideological aims about the goodness found in people when conforming to Western and Christian values like the family unit.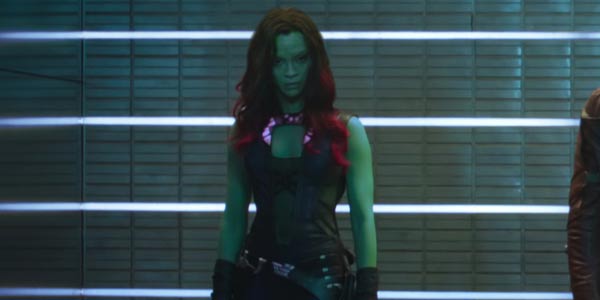 The reason Marvel has employed an immobile, nostalgic lead character is because they want the adult audience to have a synonymous emotional reaction. As they are unwilling to change the formula of these films, the studio risks losing its adult audience as they grow older. As such, everything here is geared towards the past and makes no promises for future directions of this genre. The director and his writer know this because in a deliberate move to make adults comfortable with being adolescent again they resort to including "mature" references and jokes about The Maltese Falcon, Jackson Pollock and a soundtrack comprised of hit tunes from the 1970s. In the end these are superficial additions, aimed to nudge the nostalgic ribs of the adult audience and to deter us from how dreary this action-comedy formula has become. The narrative in Guardians is terribly slight, running out of steam before the end and padded extensively with tension-free set pieces where characters are rarely hurt. Much of the exposition involving the film's forgettable villains is confusing and rushed, especially for people like myself who haven't read the comics. It is also unfathomable that after this many films in Marvel's universe they are still relying on something as derivative as a MacGuffin device to rigidly string action sequences together. The most telling moment throughout the whole film though is at the story's apex, when Peter confronts one of his enemies and says that he is distracting him. It is a moment of metafiction because comedic elements like this are simply papering over what has become formulaic and all too predictable from Marvel.
Summary: Once touted as their riskiest film to date, it is artistically and politically as conservative a film as Marvel Studios has ever made.