Games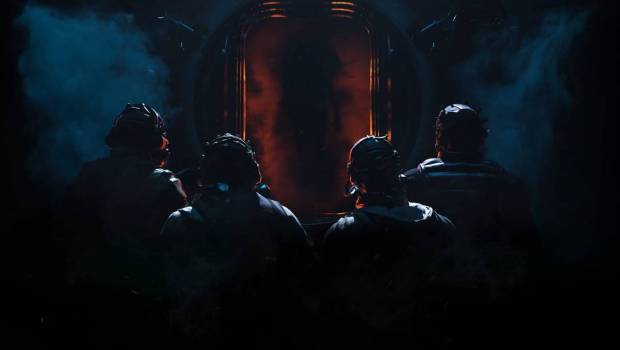 Published on December 10th, 2021 | by Adrian Gunning
GTFO surprise launches Version 1.0 live during The Game Awards –showcasing a remarkable upgrade from Early Access
Swedish game developer 10 Chambers – formed by industry veterans known for PAYDAY: The Heist and PAYDAY 2 – has been working on their first title as a studio since 2015; GTFO, a 4-player hardcore co-op FPS. First revealed at The Game Awards 2017 and then released as Early Access in 2019, the studio today shocked everyone by surprise-releasing Version 1.0 of the game with a trailer live during The Game Awards 2021. Described as "Left 4 Dead meets Aliens," it has gained notoriety for being challenging and requiring hardcore cooperation and communication.
The trailer shows how four prisoners – kept captive by a mysterious entity called "The Warden" – move stealthily throughout a vast underground complex, carefully lightening up the darkness with their flashlights. The monsters react to light and motions – and waking them up is a bad idea in GTFO. Resources are scarce, especially ammunition. The trailer is narrated not by a confident, action-packed voice, but a voice oozing of anxiety, scared, and just wanting to get the f**k out of where he is.
"After being in development since 2015 and in Early Access since 2019, GTFO is finally ready for Version 1.0. The last year, we've been polishing everything we already have in the game while adding new features", says Ulf Andersson, Creative Director of GTFO. "We have worked hard to welcome new players while at the same time challenging our hardcore audience. I believe you will find GTFO a challenging but enjoyable experience thanks to our updated expeditions and our new combat buddies, the bots. If you played GTFO during Early Access, you should notice a huge difference in quality and see how the improvements make the extremely challenging parts more fun to tackle."
Version 1.0 comes with an extensive list of updates: player bots, customizable characters, checkpoints, improved matchmaking, updates to rendering, a refined animation system, and much more. GTFO uses a unique content-delivery system called The Rundown, where it is regularly updated with new content (maps, scenarios, enemies, etc.) – that replaces the old experience never to be playable again. This way, 10 Chambers keeps throwing new exciting challenges at their community, with a game that is always progressing. They've delivered seven content drops of varying sizes during the Early Access phase, and the system will continue with GTFO in Version 1.0.
"We have exhilarating Rundown drops planned for 2022, where we want to continue to challenge our players with the unexpected. With version 1.0, we are just starting to bend the limits of what GTFO can be, and I don't want to spoil anything but play the game – you will understand what I mean. Our list of ideas for new horrors, puzzles, and tools is extensive, so I am genuinely excited for the coming years of GTFO", says Hjalmar Vikström, Game Design Director at 10 Chambers.
Alongside new features and improved visuals, GTFO is now also localized to the following languages: Russian, French, Italian, German, Spanish, Chinese (Simplified), Japanese, Korean, Polish, Portuguese (Brazilian), Chinese (Traditional). GTFO is available now on Steam.
GTFO is available on Steam for $39,99, but to celebrate the Version 1.0 launch, it is now 25% off!