PC Games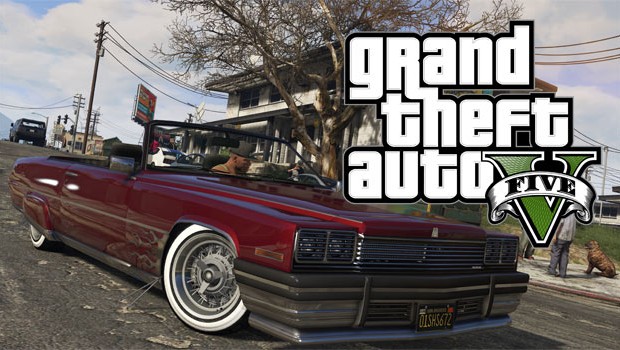 Published on May 11th, 2015 | by Joshua Wright
GTA V PC REVIEW
Summary: Ultimately you will get everything you expected from GTA 5 for PC; a tremendous game with many months of playability and the potential to only get better
It's finally, finally happened – Grand Theft Auto 5 has arrived on PC. Almost two years after the original console versions dropped, Rockstar have delivered what they're calling the definitive version of their already classic open world crime epic. So, was it worth the wait?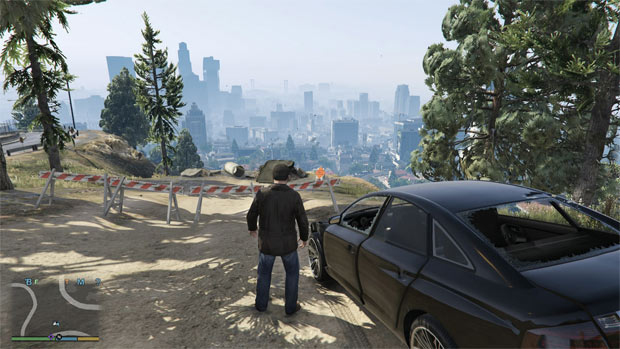 Well, of course it was. GTA 5 is an awesome game, we've known that for two years already. What PC owners are really pouting about is that it's taken this long for said awesomeness to double-down on their platform. As a proud, thirty year member of the PC Master-race, I can attest to this. I'd stubbornly refused to even feign interest in GTA 5 prior to this release, certain that any of its greatness could be achieved far greater on the PC. And I was right.
If you've been living under a rock the past two years, in GTA 5 you play not one, but three characters; a retired east-coast bank robber, a young street hustler, and a loopy caravan-dwelling psychopath. Swapping freely between the three, you'll soon find yourself entangled in all sorts of frightening and deranged elements of the Los Santos criminal underworld, the U.S. government and the entertainment industry. As the highly elaborate, brilliantly acted and often hilarious story unfolds, its missions will always surprise.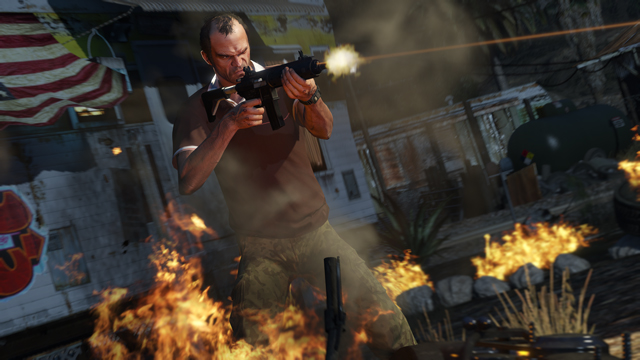 A welcome change from the more dour tone of GTA 4, Los Santos's open world is a playground where you'll pull of everything from petty thefts to massive heists, assassinations, muggings, bashings, shoot-outs, the list goes on and on and on. The GTA 5 sandbox is perhaps the most engaging ever created, with enough diverse activities and environments to keep you in the game for ages, long after the main campaign is over. The fact you can play online tennis in a GTA game; go tenpin bowling; skydive; participate in cycling; even ride rollercoasters; it's simply mind-blowing the amount of stuff you can do. It truly is a virtual world.
But enough gushing. If you want to know more about the nitty-gritty of GTA 5, check out our original review here (https://www.impulsegamer.com/grand-theft-auto-v-review/) because the game itself has not changed. What has is the power the PC brings to it. First and most evident is the graphical upgrade. Here the PC is a tireless champion, already outpacing its next-gen console competitors. Running at resolutions of (if your rig is worthy) up to 4k and beyond, as well as 60 frames per second.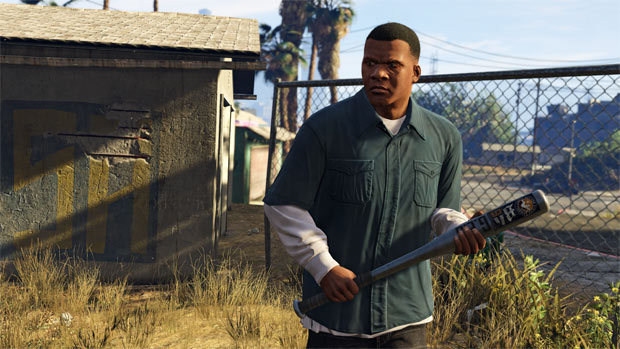 The game also presents a range of PC-specific customization options, including configurable settings for texture quality, shaders, tessellation, anti-aliasing and more, as well as support and customisation for mouse and keyboard controls. In their press release, Rockstar state this as something to be excited about, but really, they're options that come standard with nearly all PC games.
Rockstar try a bit harder by including additional options like a population density slider for cars and pedestrians, as well as dual and triple monitor support, and 3D compatibility, but it's no real biggie. Dare I say, I went from Shadows of Mordor to Far Cry 4 to GTA 5 – the graphics are great, but they're not that great. Unless you've got yourself a $1000 graphics card, Far Cry's are better. So are Shadow of Mordors'. So there. Sorry, Rockstar. It's the world itself that's the appeal in GTA 5, not how amazing the water reflections look.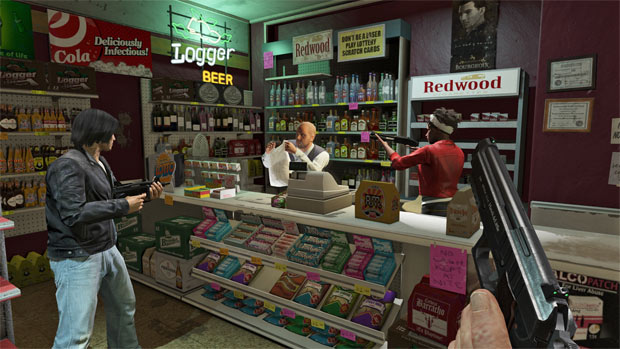 You have the option to play in first or third person, something GTA has never offered before. Usually games which include this do so half-heartedly (I'm looking at you Skyrim), and driving in first person is tricky with no peripheral version (unless you're a decadent three-monitor user). However the first person on-foot has been engineered with love and care, and gives a more FPS feel to the game. It should come in handy too, especially for online play.
As to the multiplayer element; GTA 5 for PC also includes Grand Theft Auto Online, with support for up to 30 players. It has all the existing gameplay upgrades and content released since the first console launches of GTA, including the Heist and Adversary modes. More good news is that existing players on PS3, PS4, Xbox 360 and Xbox One are able to transfer their Grand Theft Auto Online characters and progression straight over to PC. Another highlight of the PC version is that online is free and far superior than anything the XBox One or PlayStation 4 can offer, especially when it comes to heists with a group a friends. It's like committing a real crime!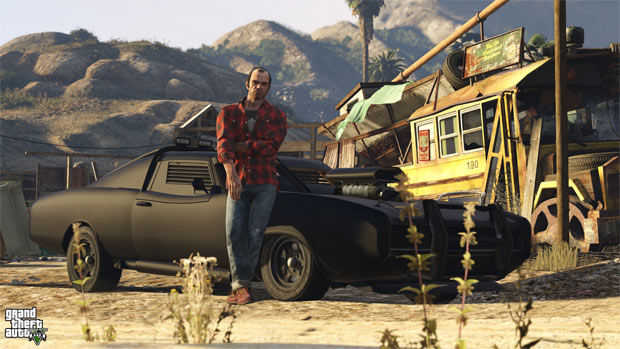 Grand Theft Auto 5 for PC also brings the debut of the Rockstar Editor, a suite of creative tools to capture, edit and share game footage from both the single and multiplayer game. The Rockstar Editor's Director Mode allows players to set their own scenes using story characters, pedestrians, and even animals to create their own narratives.
There's a dizzying amount of camera options for the budding Spielberg, along with editing effects, motion controls, and filters. You can add music using songs from GTA 5 radio stations, and your own audio or text for sound and dialog. This all seems very interesting, but also requires a great deal of creativity and effort. I'm guessing less than 1% of PC players will be excited to explore this feature, but hey, if you're into it, go crazy. Okay… I did get a little sucked into this element but don't tell anyone.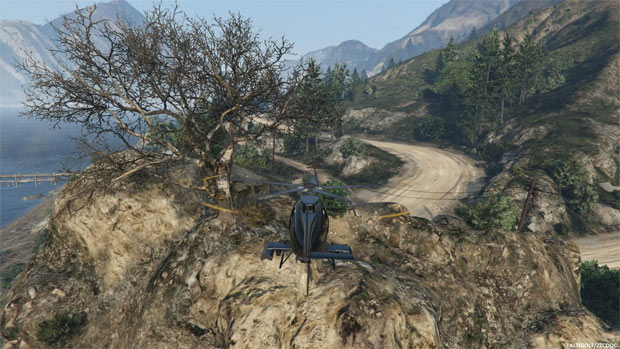 GTA 5 PC boasts two new, exclusive radio stations; The Lab FM with several suitably hip and forgettable collaborators, and the other more interesting, Self Radio. This channel hosts player-created custom soundtracks. Both are nice new features, but ones few players would miss if they'd never been included.
Finally of course, (and the reason all games should be released on PC) there are the mods to look forward to. At this early stage, the modding community has only started on GTA 5, but already we are seeing some crazy, creative stuff. The ability to play as any animal; flying whales, guns that shoot out cars, hopefully it will go on and on and get crazier and crazier. I'm hoping to see some truly engaging mods, as like in the Skyrim modding community.
If I had the skills? A Batman mod. Or no, a Superman mod! A Flash mod! There is so much potential here. For the console versions, it's all on Rockstar to keep GTA 5 fresh with new content and support. But on PC, the power is with the people. It makes me weep for what might have been that Rockstar never bought the awesome Red Dead Redemption to PC. A game now relegated to history as the last-gen consoles slowly fade away. On PC, a game with a strong community behind it will only grow and grow, and be potentially kept alive long after its creators have moved on. This I can definitely see this happening for GTA 5.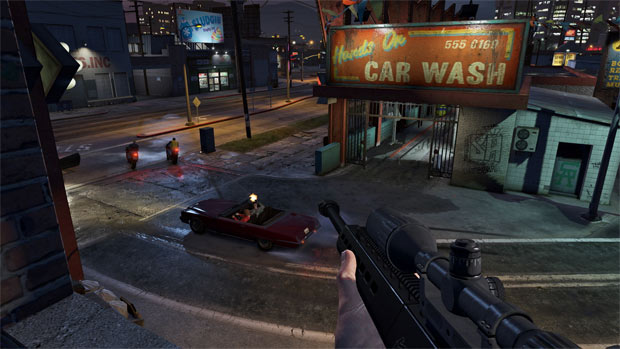 Final Thoughts?
Ultimately you will get everything you expected from GTA 5 for PC; a tremendous game with many months of playability and the potential to only get better. If you own a kick-ass PC you should buy it. If not, take the $1500 you were going to spend on that poseur Mac, and buy yourself a kick-ass PC.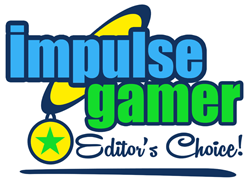 GAME DETAILS
GRAND THEFT AUTO V
Primary Format – Games – PC Gaming
Game Genre – Action & Adventure
Rating – R18+
Game Developer – Rockstar North
Game Publisher – Rockstar Games 
Grand Theft Auto V for PC features a range of major visual and technical upgrades to make Los Santos and Blaine County more immersive than ever. In addition to vastly increased draw distances, Grand Theft Auto V for PC runs at 60FPS in 1080p, with the ability to display visuals in 4K resolution. Players will experience a range of additions and improvements including:
New weapons, vehicles and activities
Additional wildlife
Denser traffic
New foliage system
Enhanced damage and weather effects, and much more
All these features are enhanced by stunning resolution, dramatic improvements to lighting, shadows, and textures, and a smooth frame-rate.
The PC versions of GTA V Grand Theft Auto V and Grand Theft Auto Online will also feature First Person Mode, giving players the chance to explore the incredibly detailed world of Los Santos and Blaine County in an entirely new way.
Grand Theft Auto V for PC also includes the new Rockstar Editor, which gives players a full suite of editing tools to create and publish gameplay clips direct to both Social Club and YouTube.
Grand Theft Auto V also comes with Grand Theft Auto Online, the dynamic and ever-evolving Grand Theft Auto universe. Enhancements to Grand Theft Auto Online for PC will include an increased player count, with online play for up to 30 players. All existing gameplay upgrades and Rockstar-developed content created since the original release of Grand Theft Auto Online will also be available for PC, with much more to come.
EXCLUSIVE CONTENT FOR RETURNING PLAYERS
To reward loyal Grand Theft Auto V fans for playing on PC and experiencing a newer, more detailed version of Los Santos and Blaine County, Rockstar Games has an array of exclusive items specifically for these players returning from PlayStation®3 and Xbox 360 – with each of them connected to activities designed for them to experience the game's massive world in new and exciting ways.  For more info about gaining access to exclusive content for returning players, please visit rockstargames.com/V/bonuscontent.
TRANSFER YOUR EXISTING GTA ONLINE CHARACTER
Existing players on PlayStation®3, PlayStation®4, Xbox 360 and Xbox One will be able to transfer their Grand Theft Auto Online characters and progression to PC.
For more information, please visit rockstargames.com/gtaonline/charactertransfer.