PS4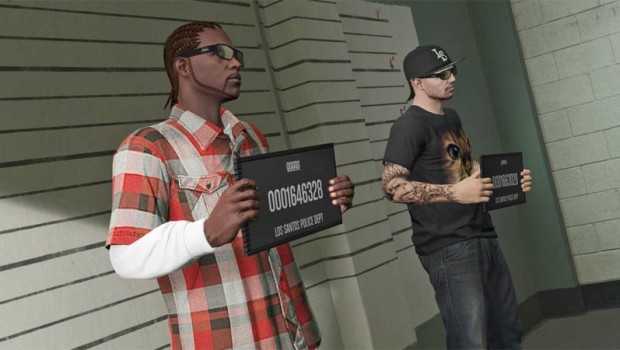 Published on December 1st, 2014 | by Admin
GTA V (Grand Theft Auto 5) PS4 REVIEW
Summary: GTA 5 is a masterpiece
GTA V
Format – Playstation 4
Game Genre – Action & Adventure
Rating – R18+
Game Developer – Rockstar North
Game Publisher – Rockstar Games
Reviewer – James Coles
Unless you've been living on Mars with your eyes closed and fingers in your ears for the last 12 months then you should know all about GTA 5 already. Quite simply, one of, if not, the greatest open-world games of all time has returned with a remastered edition for the next generation of consoles courtesy of Rockstar North. The addictiveness of the GTA series has always existed. Rockstar created a monster with the first instalment of GTA back in 1997, and since then, each new release has set the bar higher. Never before has the American dream seemed as real as it does than when you're visiting the city of Los Santos. San Andreas returns graphically polished, and with the inclusion of a first-person mode which makes playing GTA 5 a completely new experience to enjoy.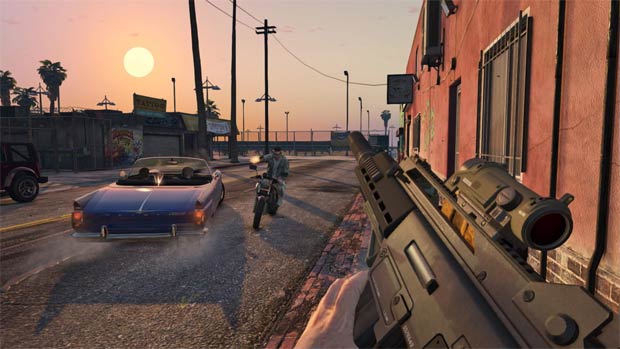 The sun soaked beaches of Los Santos, through to the towering skyscrapers and rolling hills that cover this huge open world are all essentially the same as they were on the last gen but now have a sharper, sleeker execution. The three main protagonists return to your control and switching through each of them as the story progresses is still a complete joy to do. Even if you've played through GTA 5 already, re-visiting these complex yet intriguing characters is still as pleasing and gripping as before.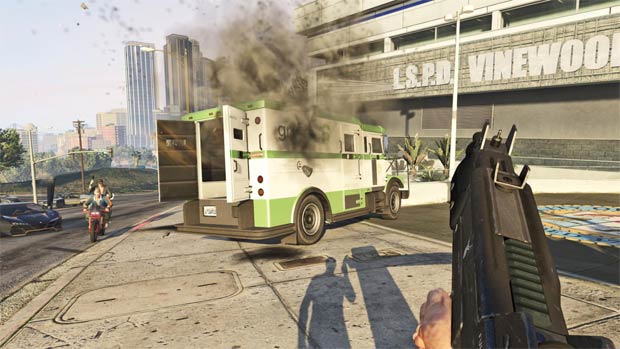 GTA 5 is a technical achievement surpassed by no other. The city of Los Santos is a playground that is funny, shocking, nasty and unpredictable. It is whatever you want it to be which is why GTA 5 is still the pinnacle of open-world gaming. NPC's that populate every stretch of the massive city all seem to have their own personalities which adds to the realism of this urban jungle. Los Santos oozes a lavish style from every pore. The characters you meet throughout the story are memorable and as such, the game absorbs you into it.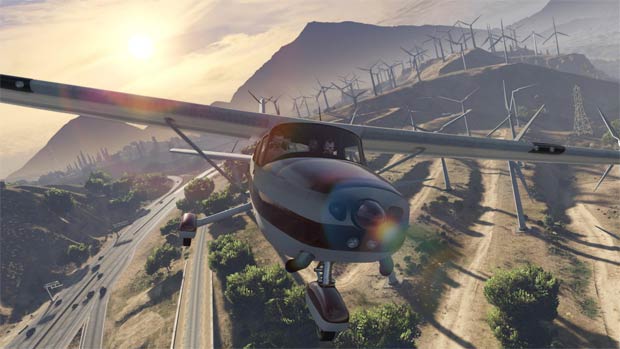 From the beginning and Franklin's want to be gangster lifestyle, until he meets Mike, a depressed ex-con who's own American Dream has begun to go stale, to the psychotic yet thoroughly entertaining Trevor, GTA 5 is not only the best open-world game out there, it also boasts one of the best stories seen in video gaming. Of course, with any open-world game that's worth its salt, the freedom of choice is essential. GTA 5 gives you that freedom by metaphorically giving you the key to the city, and letting you decide how much hell you want to raise.
So if you have the last gen version, is GTA 5 worth buying?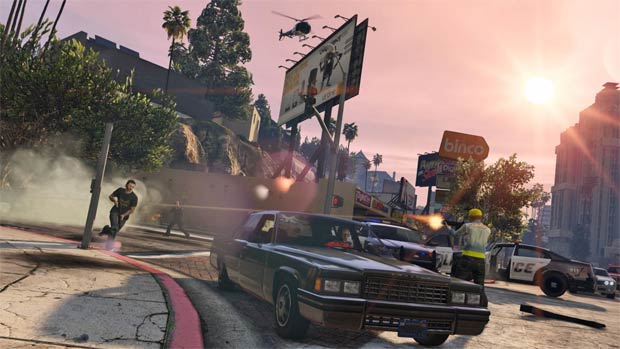 As you would expect, GTA 5 on the PS4 is visually stunning, with a noticeable improvement over its PS3 predecessor. The sound is clearer, yet the biggest audio change comes in the form of over 100 new songs added to the radio stations for your musical pleasure. Listening to All Saints 'pure shores' while hurtling down the highway will never get old but the inclusion of the new tracks is a welcome addition. Pre-ordering GTA 5 would have poured $1 million dollars of in-game cash into your account, which you would be free to spend in any form you wish.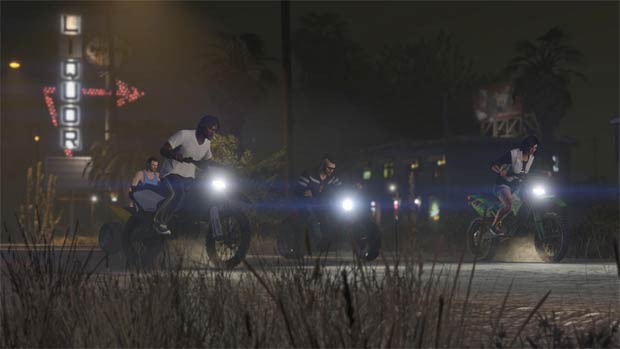 Upgraded weather effects are apparent and produced sleekly as is the new wildlife and vegetation which populates the areas away from the city. Light pollution is accomplished well and looks fantastic at night when you are exploring the county's vast dust wastelands of trailer parks and gas stations.  If you are returning to Los Santos from the last gen, you will have some new weapons to unleash and extra vehicles to play with. There are also extra side missions for each character that if completed, give you access to some interesting rewards.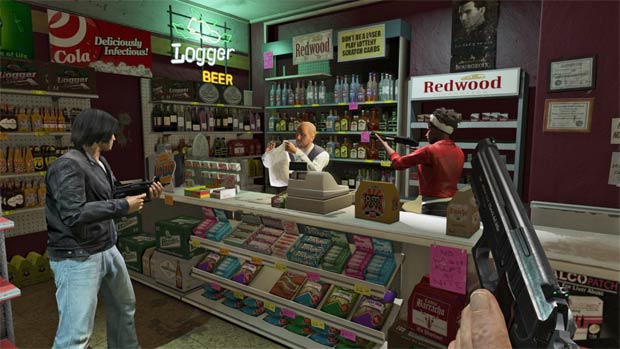 You can also transfer your GTA 5 online character from the last gen, including your weapons, cars and properties. With the PS4's DualShock 4 controller, you can use the touch pad to change from third-person to first-person view and voice calls and messages are now played through the controller's speaker. Playing GTA 5 in first-person mode certainly adds a new outlook to the game and has been developed extremely well. I found that while playing I kept GTA 5 in its original, familiar setting of third-person due to personal preference. Petrol heads however will certainly appreciate driving in GTA 5, as in first-person mode, each car has its interior designed superbly, capturing speedometers, fuel gauges and dashboard's with a tremendous sense of realism.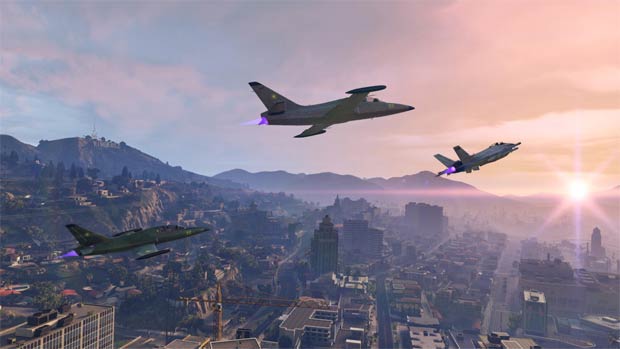 Final Thoughts?
GTA 5 is still one of the best games money can buy and with the added features of the latest edition, it is worth upgrading your last gen copy. Even though GTA 5 was developed and made for the last gen, this re-release has instantly catapulted to one of the best games you can buy for the PS4. Much like The Last of Us, it's another PS3 game that although it has had a few tweaks for the PS4 release, it puts to shame many other PS4 titles and is still one of the greatest games of all time. It's a brilliant, entertaining adventure that is worth repeating over and over again, you'll never get tired of chasing the American Dream in Los Santos.
GTA 5 is a masterpiece.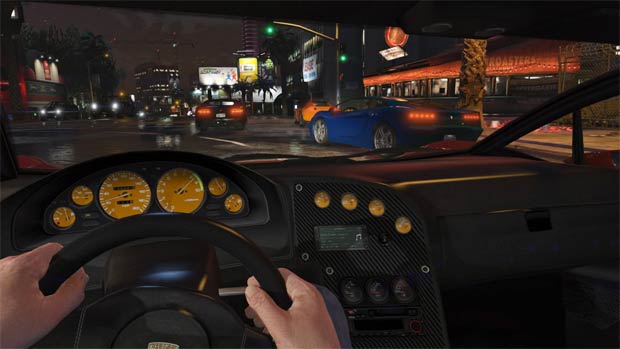 Features
Grand Theft Auto V for PlayStation®4 and Xbox One features a range of major visual and technical upgrades to make Los Santos and Blaine County more immersive than ever. In addition to increased draw distances and 1080p resolution at 30FPS, players will experience a range of additions and improvements including:
• New weapons, vehicles and activities
• Additional wildlife
• Denser traffic
• New foliage system
• Enhanced damage and weather effects, and much more
Grand Theft Auto V for PlayStation®4 and Xbox One features the all-new First Person Mode, giving players the chance to explore the incredibly detailed world of Los Santos and Blaine County in an entirely new way across both Story Mode and Grand Theft Auto Online.