Comics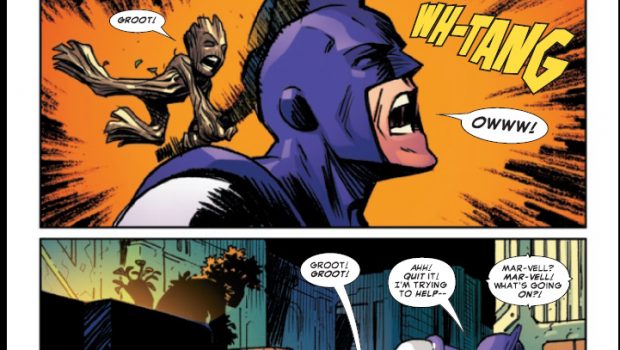 Published on May 9th, 2023 | by Tim Chuma
Groot #1 Review (2023)
Summary: If you are a fan of Groot then this one is well worth your time even if most of the other characters actually do the talking.
When young Groot's planet is attacked by invaders he has to team up with Private Mar-vell of the space patrol to get to the bottom of what happened to his planet. After some action with the Chainsaws that are harvesting another planet they deal with them and go to find what has happened to his home planet.
I was wondering how they were going to do this one as "I AM GROOT" is the only thing Groot ever says. It seems they have a stand-in to move the plot along or it would be a bit strange to have Groot having the only dialogue. I am not saying it would be bad it would be hard to tell the story that way.
The Groot in this story is just a sapling and it would be many years before he even meets Rocket Raccoon let alone the Guardians of the Galaxy.
Groot is the favourite character of a lot of people so it will be interesting to see how they go with this story.
Comic details:
Writer: Dan Abnett
Penciler: Damian Couceiro
Cover Artist: Lee Garbett
Publisher: Marvel
Published: May 03, 2023