Comics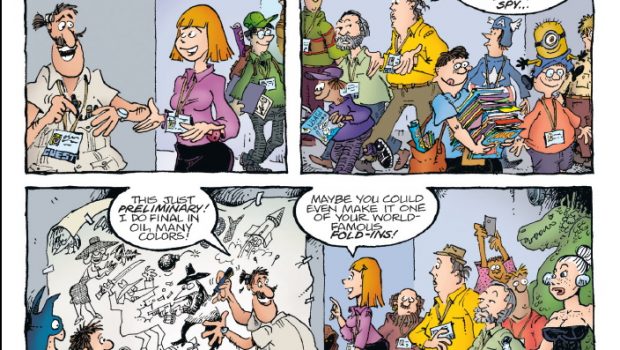 Published on July 18th, 2021 | by Tim Chuma
GROO MEETS TARZAN #1 (2021) REVIEW
Summary: Will have to see how the two different art styles for the characters interact but this is worth checking out if you are a fan of this artist.
4
Which way to the cheese dip?
The team behind Groo the Wanderer travels to the hypothetical 2021 Comic Con (which was cancelled in real life) as the creator prepares to work on the new Groo Meets Tarzan story. At the same time Tarzan has a new investigation looking for slave traders and Groo is looking for cheese dip as always.
The creator is a big fan of Tarzan and has always wanted to work on the comic. There is a running gag in the book about people thinking the artist worked on Spy vs Spy (it was Antonio Prohías) and his work at MAD magazine.
Tarzan and Groo the Adventurer both have very different art styles and the former is very serious while the latter is more comedic. I am not sure how they are going to work together as I have read comics in the past when it switches from one art style to another from one page to the next and it gets confusing. It will go one way or another I think for the crossover scenes.
Rufferto, Groo the Wanderer's sidekick also gets their own back page strip which was fun.
I had never actually read any of the Groo the Wanderer comics before but the artwork seems very familiar from MAD, I recognised it even before I knew who the cartoonist was.
I would recommend this one if you are a fan of both comics and this artist as it seems like a fun crossover and they are popular at the moment.
Comic details:
Writer: Mark Evanier, Sergio Aragones
Artist: Sergio Aragones, Thomas Yeates
Letterer: Stan Sakai
Colourist: Tom Luth
Cover Artist: Sergio Aragones, Thomas Yeates
Genre: Fantasy, Action/Adventure
Publisher: Dark Horse Comics
Publication Date: July 28, 2021