Comics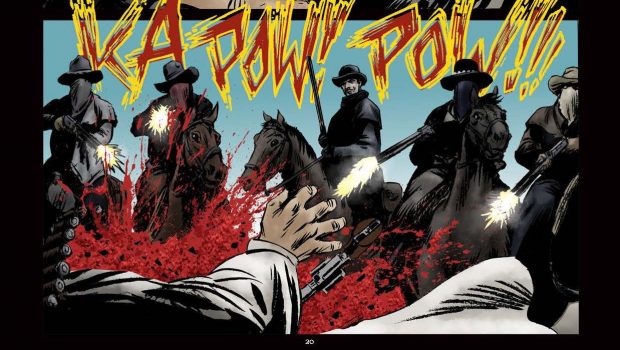 Published on May 8th, 2022 | by Tim Chuma
Gringo Loco: Dead Late And A Dollar Short Review (2022)
Summary: Worth having a look at as the genere of horror western does not really have that much representation in comics.
Bounty hunters come to collect the body of a hanged stranger, only to find he is not dead and the town sheriff is refusing to give him up as the judge did say "hanged by the neck until dead". The bounty hunters respond with bullets as does the stranger which ends badly for some of the townsfolk caught in the crossfire. The stranger says he has to chase after the bounty hunters or they will back to burn the town down and does so.
This was an interesting setting for a comic as you do not often see many horror western themed comics or even horror western themed movies apart from a few more recent ones. The main character does not seem to be a zombie as much as they are undead as they still have a brain and rationality.
The art style suited the story and felt like it was from one of the pulp stories that inspired this publication. There is meant to be another story that this is published in the same volume as but I did not get it for review.
Well worth a look if you can find it and hopefully it will be better if you can read the other story included in the double header.
Comic details:
Writing/Colouring/Lettering: Phil Mucci
Artist: Vicente Alcázar
Cover Art: Dave Kendall, Vicente Alcázar, Phil Mucci
Publisher: Diabolik Films
Published: 11th May 2022