Games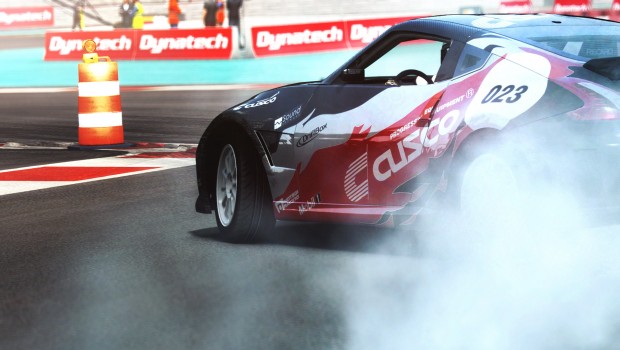 Published on June 13th, 2014 | by admin
GRID Autosport Tuner Discipline Video
SYDNEY 13th June 2014 – Today Codemasters® revealed a new video showcasing the Tuner discipline, one of the five unique styles of racing set to star in the game's new world of professional motorsport!
In the video, gameplay footage of GRID Autosport's Tuner discipline shows custom tuned cars breaking traction and getting sideways in front of cheering crowds as they compete in competitions including Drift events and Time Attack events. The video also features insight from drivers from the Lassa Tyres Drift Team, who compete in the professional British Drift Championship. They explain how to succeed and what it feels like to participate in these spectacular events, including Simon Perry who comments, "you feel as you drift around, you know where the edge of your limits are," and Jody Fletcher who adds, "it's not all about who comes first, it's showing your driving style, it's being flamboyant in the car. You've got to control the car, the car doesn't control you." 
GRID Autosport's Tuner events feature series dedicated to single-purpose, modified and tuned vehicles. Players will show their control and flair in head-to-head Drift events where gamers score points for the quality of their drifts and chaining drifts together. These events are not about being the quickest but demonstrating mastery over a vehicle in its most unstable state. Gamers will also put tuned vehicles to the test in races and set their fastest lap in multi-car Time Attack events. To bring alive the authentic experience of racing and drifting in these style of events, Codemasters has consulted extensively with real-world professional drivers.
GRID Autosport features a range of cars and series in the Tuner category. In the drift category, players will test their skills in stunning contemporary and classic cars including the Mitsubishi Lancer Evolution X Team Orange, the Mazda RX-7 (FD3S) Drift Tuned and  the Nissan 1993 (S13) Daijiro Yoshihara 240SX. In races or Time Attack events, players will race modified editions of modern icons like the Honda S2000, Ford Mustang Boss 302 and Chevrolet Camaro SS, and race classics like the Dodge Charger R/T and Plymouth AAR Cuda. Tuner events and championships feature in both career mode and online on GRID Autosport's circuits, including prepared routes at Yas Marina Circuit, Hockenheim and Brands Hatch, plus a bespoke Drift Arena at the game's custom Autosport Raceway environment.
In GRID Autosport's huge career, gamers will specialise in their favourite racing discipline or conquer them all; players will feel the aggression of the pack in Touring Cars, race into the night in Endurance events, race Open-Wheel cars with precision, show car control in Tuner events and react on the fly in Street races. Each unique category features series dedicated to different classes, including Touring Cars, Hypercars, Endurance GT Cars, Prototypes, Single-Seaters, Super Modified vehicles, Drift cars and many, many more. Bursting with content, GRID Autosport features over 100 routes across 22 incredible locations and the world's most exciting contemporary and classic high-performance racing cars to collect, tune and upgrade.
GRID Autosport is set to ship on June 24th in the USA and release on June 26th across Australia & New Zealand for the Xbox 360 games and entertainment system from Microsoft, Windows PC and for the PLAYSTATION®3 computer entertainment system. A limited edition of GRID Autosport featuring exclusive additional content including the Mercedes-Benz SLS AMG Coupé Black Series, GRID Autosport Black Edition, is also available to pre-order from select retailers. Fans can keep up with all the latest updates straight from the studio by speeding over to http://www.gridgame.com and www.facebook.com/gridgame or follow the team at www.twitter.com/gridgame.