Comics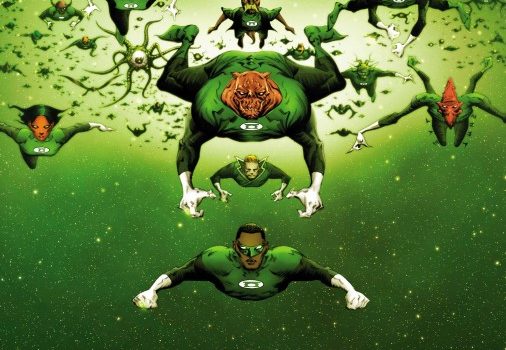 Published on January 14th, 2019 | by Andrew Bistak
Green Lantern #3 Review (2019)
Summary: Green Lantern #3 brings Hal Jordan face to face with none other than God himself!
Grant Morrison's unique look into the Green Lantern mythos continues as Earth's first Green Lantern (Alan Scott isn't around yet but maybe after Doomsday clock finishes) comes face to face with God himself. Of course, we all know that it wouldn't be GOD himself and for some reason this issue reminded of Star Trek's Undiscovered Country and more importantly, why does God need a starship or for this issue, why does God need planet Earth?
The main theme of this story are the Slave Lords who auction entire planets to the highest bidder, including more nefarious plans by evil Controller Mu. Needless to say this intergalactic auction has gained the attention of the Green Lantern Corps with Hal going in with all bravado to bust up this illegal hive. However when a god-like entity known as The Shepherd who looks like a certain Christian god successfully wins the auction, our intergalactic cop goes head to head with this entity in classic Hal Jordan fashion as fists come flying.
Needless to say it was a fun issue and an interesting take on another part of the DCU that contained some clever dialogue and interesting world-building, including fun character interaction. Sure it was a little cheesy here and there but even with this element, Morrison definitely adds multiple layers to his story which are generally not picked up from just one read. Complementing the words of Morrison is the wonderful art of Liam Sharp who successfully makes this comic BOOM with some stunning art that is bursting with some great attention to detail and more importantly, he draws a mean Green Lantern.
Final Thoughts?
Grant Morrison and Liam Sharp continue their interesting and entertaining run on Green Lantern who both add a plethora of DC Easter Eggs that makes the story jam packed with delicious outer space goodness which also channels that innocent silver age feel of the 60's. All in all, another interesting issue as Hal Jordan goes face to face with God and gets closer to the mystery of Commander Mu and his villainous plan.
Gallery