Comics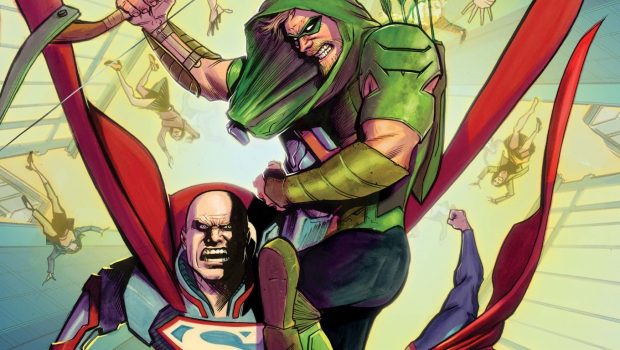 Published on August 3rd, 2017 | by Andrew Bistak
Green Arrow #28 Review
Summary: Green Arrow #28 gets my pick of the week and 5 Arrows our of 5!
The hard travelling heroe returns as Oliver Queen (aka Green Arrow) makes his way to Metropolis in order to challenge Lex Luthor who he believes is involved in the Clandestine organisation known as the Ninth Circle. However as aggressive as Oliver is towards this billionaire, Lex denies any involvement with the circle and politely gets his own back as Green Arrow, noting that his favourite literacy character is Sherlock Holmes.
Lex is also used to help put some perspective on Oliver's story, adding that Cyrus Broderick and the Ninth Circle took over Queen Industries and framed our archer for the murder of his secretary. With that said, Oliver gives Lex a warning that the Ninth Circle are also coming after him. Does Lex take his warning? Of course not!
"You're the fattest cat of them all, Lex. Of course you're doing business with them."
– Green Arrow
Elsewhere in Metropolis, something very peculiar is happening as a large number of citizens start jumping from Lexcorp buildings. We learn that those employees of Lexcorp are being publicly shamed due to a tremendous cyber-attack that has unleashed all their personal secrets. The art of Juan Ferreyra really captures the panic through Metropolis.
"Superman! If you can hear me, the emerald idiot was right"
– Lex Luthor
So while Superman continues saving Lexcorp employees, Green Arrow joins him as Lex attempts to thwart the cyber-attack against his company as he turns their hate into messages of hope and love. Sure it's a little cliche but it's a fun one! There's also a cool moment between Clark and Ollie as Supes gives the Emerald Archer a great pep talk with some fun dialogue.
"Thanks, America's dad,"
– Green Arrow
Meanwhile in Star City, Black Canary confronts Henry Fyff and politely informs him to hack one of the tablets from a lieutenant of the Underground Men in order to take down their human trafficking auctioneer. Even though we only get a few pages of Star City, writer Benjamin Percy successfully keeps this plot going well. The issue concludes with Oliver driving his motorbike to the DCU's most wanted destination… Gotham City.
Final Thoughts?
Part 3 Hard Travelling hero is definite my favourite issue so far and it was great seeing Ollie go up against Lex Luthor which was kind of unexpected. Furthermore, writer Benjamin Percy creates a very compelling chapter of this arc with some engaging dialogue and interesting plot moments, particularly with the mass suicide of Lex employees. Complementing the story is the ever so perfect art of Juan Ferreyra who captures the essence of all the characters and I love how he's given Metropolis this almost heavenly glow.
Green Arrow #28 gets my pick of the week and 5 Arrows our of 5! 
Talent
Art by: Juan Ferreyra
Cover by: Otto Schmidt
Variant cover by: Mike Grell
Written by: Benjamin Percy
Specs
Series: GREEN ARROW 2016
U.S. Price: 2.99
On Sale Date: Aug 2 2017
Volume/Issue #: 28
Color/B&W: Color
Trim Size: Comic
Page Count: 32
Gallery