Comics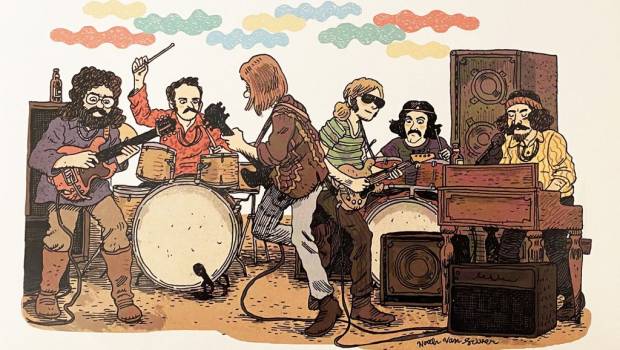 Published on August 2nd, 2020 | by Tim Chuma
Grateful Dead: Origins (2020) Review
Summary: The early years of this famous band in their own words and those around them. Great if you do not know much about the band.
I know the Grateful Dead have a lot of fans that follow them around to shows and are famous for their drug taking but not that much else about them. This book covers the first five years as a band starting off as the Warlocks and their early days with the Acid Test and their time living at Haight-Ashbury and becoming the champions of the hippie scene.
This book is being released as two different editions, a special anniversary edition with an LP and extra features and a standard edition.
The story is written by the band so you would expect it to be at least based on reality. I know a little bit about that time period but not that much about the details. I know a lot of people are big fans of 60s psychedelic music and would get more out of this book.
There is quite a lot explained about the band's history and I even learned something about Jerry Garcia that I did not know myself despite hearing about him for years. I would have thought him only having four fingers on his hand would be talked about more?
While this is aimed more at the fans, I still think people who have a passing interest in the time period or music would get something out of it. There is already a lot published about this band and tons of bootlegs of their shows but this does feel different as it is from the band themselves.
The artwork is well done in the book and helps tell the story well. They did try and show some of the effects of drug use but did not go over the top. I did enjoy the style of the artwork and how the people were drawn.
Final Thoughts?
I would recommend this if you wanted to find out more about the early years of this band and wanted something different than just reading a book or watching a documentary.
Comic details:
Writers: Chris Miskiewicz, Grateful Dead
Artist: Noah Van Sciver
Page count: 152
Genre: Biography
Publication date: July 7, 2020