Films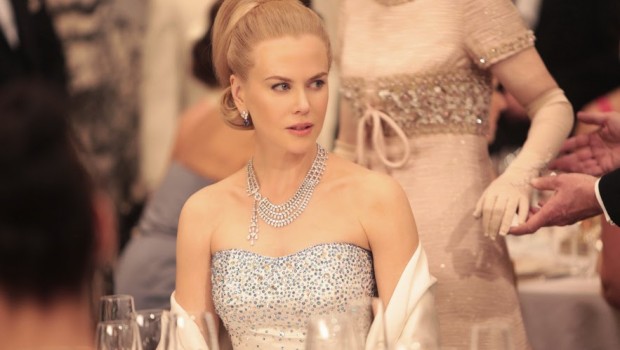 Published on June 5th, 2014 | by Damien Straker
Grace of Monaco – Film Review
Reviewed by Damien Straker on June 5th, 2014
eOne presents a film by Olivier Dahan
Written by Arash Amel
Starring: Nicole Kidman, Tim Roth, Frank Langella and Roger Ashton-Griffiths
Cinematography: Eric Gautier
Editing by Olivier Gajan
Running Time: 103 minutes
Rating: M
Release Date: June 5th, 2014
By playing loosely with history and replacing facts with a generic character arc, this film about the life of Hollywood starlet Grace Kelly and her relationship with Prince Rainier III of Monaco sinks. Is the film as terrible as you've heard? It isn't but that doesn't stop it from being artificial and outright boring at times. The reputation of this film by director Olivier Dahan has snowballed since it was in production. Hollywood producer Harvey Weinstein wanted to recut the film to add more exposition and context to the film's political background. This was to the displeasure of the director who has described that version as a "pile of s**t". The film was also heavily booed at the Cannes Film Festival and was lucky to be given a US release at all. There have been films released this year that have fewer ideas than this one and worse films will follow too. Yet unforgivably, it fails to utilise the talents of Nicole Kidman and Tim Roth as Grace and Prince Rainier and by being a fictional version of real events, as an opening title tells us, it has no useful purpose for anyone who is interested in the true story. Dahan has said this isn't a biopic because he hates them but why did he have to reshape this particular story?
The film's script by novice screenwriter Arash Amel, who has written just one other feature, lacks early clarity and resorts to a generic character arc to find its shape. The early scenes in the script involving Rainier's political struggle, where he is fighting with Charles de Gaulle over French citizens in Monaco avoiding taxes, are dull and convoluted. Without knowing any background information to this historical conflict, the film is confusing and unenlightening about this historical context. According to The New York Times, in real life this tension was resolved by Rainier agreeing that the people in Monaco would eventually have to pay taxes once he signed a treaty. This wasn't interesting for Dahan and Amel who attribute Grace to resolving the conflict herself. One truth covered here is that she did refuse Hitchcock's offer for the lead role in Marnie to remain as the Princess of Monaco. But the source of tension, removing herself from her artistry and passion, leads into a transformation as derivative as any underdog story. Grace is told that being the princess will be her "greatest role" yet and her character arc is defined by cheesy training-like montages as she practices her royal etiquette and expressions. The form of this narrative is highly artificial in the transformation of its central character and near comical in the way it thrashes violently between a moody, shadowy political thriller to a lighter "ugly duckling" tale.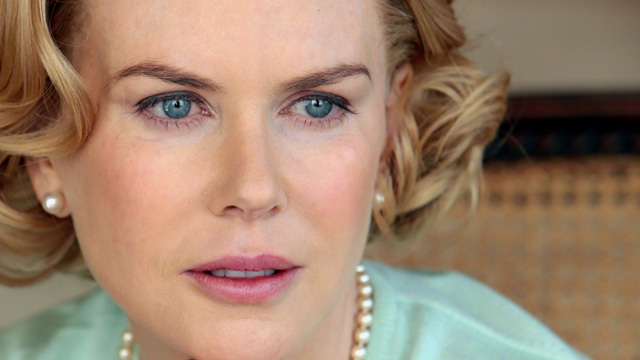 The casting is another disappointment for Dahan when his lead actress has few expressions to share with the audience. Nicole Kidman is committed and does share some resemblance to the princess, even though she is older than Kelly was at the time. But her voice has never been her strongest facet and she doesn't fully mimic Kelly's accent. It is also problematic that in those moments where the camera is fixated tightly on her face and screams for variation that her forehead doesn't move as freely as her eyes or smile. Tim Roth is normally an eccentric and charismatic actor but here he is bland and heavy-handed as the prince who stands over Grace and is pinpointed as hindering any chance of her returning to Hollywood. Frank Langella as Father Francis Tucker, Grace's mentor, and Roger Ashton-Griffiths as a gruff Hitchcock are only serviceable in small roles. On top of not drawing the best from the actors Dahan's stylistic work is inconsistent. The film has a dull air about it which he tries to rectify by over-stylising shots and entire scenes with high colour saturation, including white and gold tones. These colour motifs are to assert Kelly's belief that her life is like a fairy tale. Yet some shots, like a long shot of Kelly standing at the top of the stairs with a red and white sash that matches the carpet and stairs, seem self-consciously artsy instead of adhering to an authentic period look.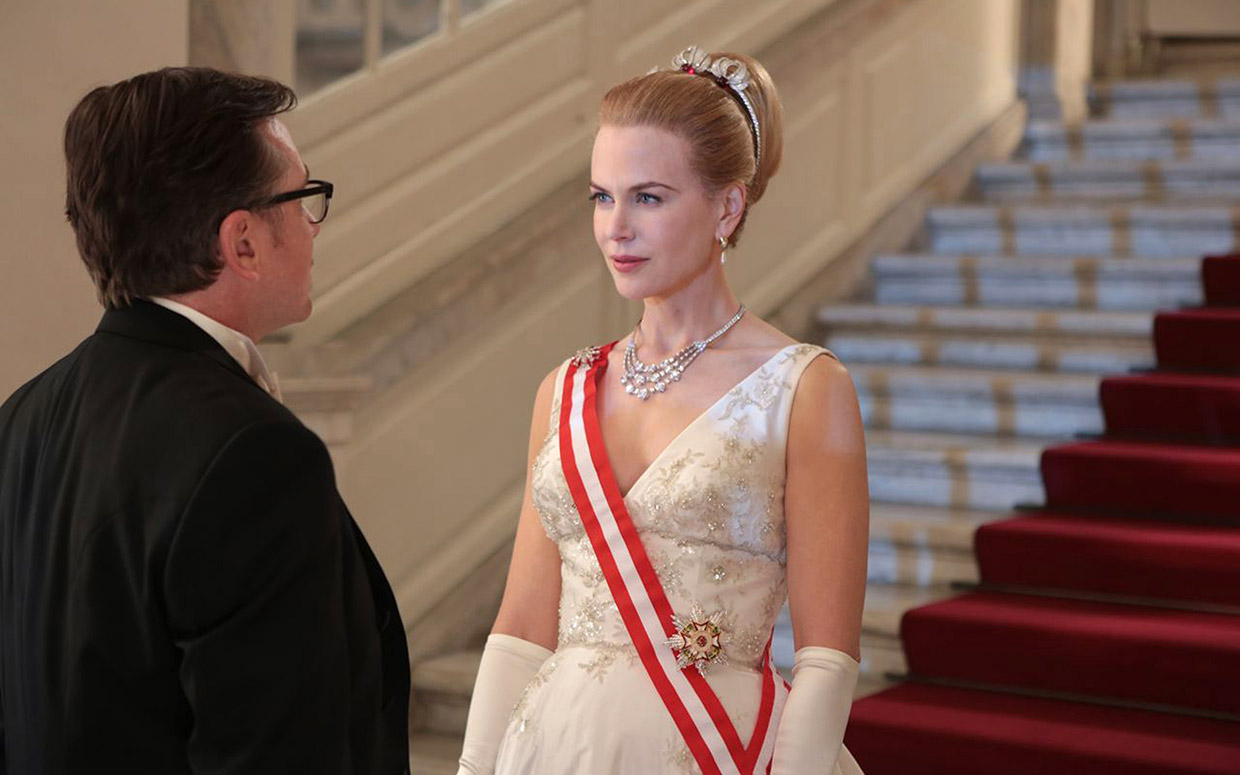 It is easy to be cynical about the film and suggest that it is merely a vanity piece film for Nicole Kidman to be cast as a classic Hollywood actress and princess. Perhaps there is an unfortunate reality to this but I also think that as a story about an actress whose career was overshadowed by a loveless marriage, Kidman experienced parallels and a personal resonance with her own relationships through the film. In The Sydney Morning Herald, Dahan referred to many similarities between the personal lives of Kelly and Kidman but was coy to express what exactly they were. Similarly, if there was more honesty and emotion upfront in this film and less artificiality in the style and story structure this could have been a far more human and open look at a damaging relationship. It is a missed opportunity rather than an aimless failure.
Summary: It is a missed opportunity rather than an aimless failure.