Games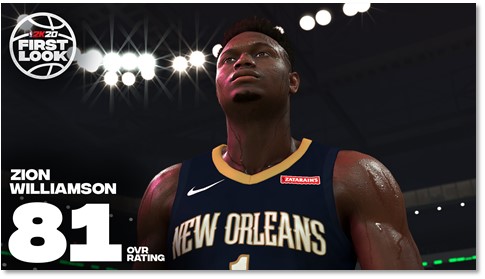 Published on July 31st, 2019 | by Admin
Got Next! NBA® 2K Partners with #1 NBA Draft Pick Zion Williamson
New Orleans Pelicans Superstar Becomes the "Next" Great Talent to Join the 2K Roster
2K has announced that Zion Williamson, the first overall selection in the 2019 NBA Draft, has officially signed a multiyear partnership with NBA 2K. The agreement will include Williamson's integration into various game initiatives, consumer events, brand creative, and social activations. Williamson, who is the highest-rated rookie in NBA 2K since 2011, will make his video game debut in NBA® 2K20 when it launches on September 6, 2019.
"I'm excited to officially join Team 2K and be a part of this global phenomenon, where people around the world can play as me. I'm ready to put my imprint on basketball culture and be a part of the team that represents what's next in the sport."
Williamson joins an elite group of NBA athletes that have represented NBA 2K over the past two decades alongside Kevin Durant, Stephen Curry, James Harden, Shaquille O'Neal, LeBron James, Giannis Antetokounmpo, and NBA 2K20 cover stars Anthony Davis and Dwyane Wade.
"Zion represents the best of the NBA's up and coming talent and we are excited to welcome him to Team 2K," said Jason Argent, Senior Vice President of Basketball Operations at NBA 2K. "For more than 20 years, NBA 2K has identified and worked with the best basketball talent in the world. It's been incredible to witness what Zion can do on the court and we're excited to grow with him throughout his career."
Fans will be able to play as Zion Williamson for the first time when NBA 2K20 is released worldwide on September 6, 2019.