Events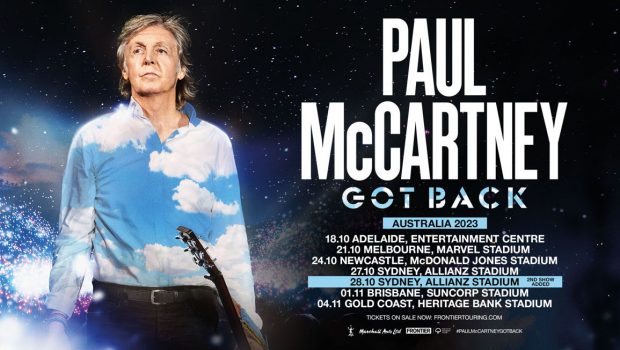 Published on October 23rd, 2023 | by Adrian Gunning
GOT BACK AUSTRALIA TOUR – OCTOBER/NOVEMBER 2023 WINNER ANNOUNCED FOR #GOTBACKTOSCHOOL COMPETITION + NEWCASTLE MURAL
Two cities down, and the reviews are in: Paul McCartney's phenomenal Got Back 2023 Australian tour is wowing fans and critics alike, audiences thrilled by the Beatles' legend live on stage:
'Paul McCartney delivers the greatest rock 'n' roll show on Earth' – Rolling Stone
'A stirring, spellbinding affair … It's almost unfair how deeply satisfying McCartney's concerts are. Packed with hits by the Beatles and beyond, attempting to pick faults is like searching for the corner of a sphere' – The Australian
'Stadium singalong with Paul McCartney is cathartic and magical' – The Age
'The set list also included the explosive Live And Let Die, Let Em In, Love Me Do, Blackbird, Jet, Band on the Run, Let It Be, Getting Better, Helter Skelter and Hey Jude. It combined epic and influential pop and rock, and state-of-the art production with every trick, treat, bell, whistle and sky rocket' – Herald Sun
'Can the audience take much more? Can it get any better than that? Of course it can. It's Paul McCartney' – Stack Magazine
'Few musicians know how to captivate a crowd like McCartney' – The Advertiser
In news today, Frontier Touring is pleased to announce the winner of our #GotBackToSchool competition! Over 40 independent music classes from across Australia submitted a cover of their favourite Paul McCartney song, and were judged by a panel of music industry professionals, for their chance to win an exclusive group photo with the global music icon, plus attendance at his soundcheck and tickets to his Gold Coast performance at Heritage Bank Stadium on Saturday 4 November.
Taking out of the prize is Woombye, QLD school Suncoast Christian College, for their cover of 'Maybe I'm Amazed' – watch it here. Says McCartney, who viewed the winning entry: "I'm really amazed by the fact that these kids have learned my song and perform it so well. Thanks guys. Look forward to seeing you at my show!"
Says Year 11 singer/pianist Jacob Wiener, "We are all so excited and thankful to Paul McCartney for this once in a lifetime opportunity! It is so inspiring that legends of the music world are invested into our generation of music students through promotions such as this. We chose the song 'Maybe I'm Amazed' as we felt it was a great representation of Paul's outstanding solo career after The Beatles. We love playing music at Suncoast whenever we can, but this opportunity will certainly be remembered as a special one."
Newcastle and Sydney fans: it's your turn this week! With Brisbane and the Gold Coast first week of Nov. Ahead of this Wednesday's Newcastle show, local artist Mitch Revs created this incredible mural on the city's Hunter Street, featuring some of Paul's best-loved songs. Check it out here.
Don't miss these incredible performances. Don't delay: with two shows already sold out and completed, very final tickets are on sale now!
________________________________________
PAUL MCCARTNEY – GOT BACK
AUSTRALIA
OCTOBER/NOVEMBER 2023
Presented by Frontier Touring
________________________________________
Final tickets via www.frontiertouring.com/paulmccartney