Books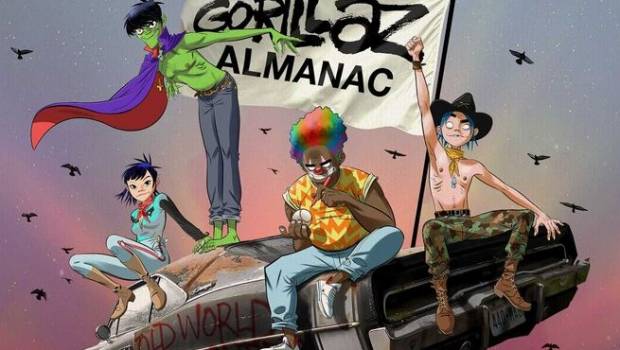 Published on November 30th, 2020 | by Tim Chuma
Gorillaz Almanac (2020) Review
Summary: More aimed at fans of the band but worth a look if you want something different or a lot of different things in a book to keep you occupied.
Popular animated only band Gorillaz produce their almanac, something that was very popular back in the day for bands, TV shows and other popular properties but not so much these days when people want a constant stream of "content" and not so much one big thing at the end of the year.
Although it says "by Gorillaz" there seem to be a lot of people who worked on it and there is a lot of variety and different things to look at over the 136 pages. Each of the members of the band have their own sections although some of the celebrity cameos seem obviously made up which is part of the joke.
Some versions of this also come with the band's latest album and there is also a deluxe version and "super deluxe" (sold out) which is probably best left for the superfans. This is also related to the Song Machine project the band has been working on this year with a lot of guest contributors.
A large chunk of the book is "20 years of Gorillaz" which just seems to be various publicity materials so would be more of interest to the fans.
Some of the written sections are very long and are meant to be read in the voice of the band members they were produced by. Reminded me of the Dr Who Annual I used to have and also the Mr Bean diary that put events from the show on the calendar for the year.
There is a bit of a guide to 2020 in this but as they say themselves due to publishing lead times they wrote it quite a few months ago so it would be out of date by now.
I do like the format of these types of books and always try to look for them in opp shops and second hand book stores as they cram a lot of stuff into them. You can read a little bit at a time and have the whole next year to read it until the next year's edition comes out.
I would recommend this to fans of the band and also if you want something interesting to read over the Christmas/New Year period and into the next year.
Book details:
By: Gorillaz
ISBN: 9781940878423
Format: Hardcover
Language: English
Pages: 136
Published: 18th November 2020
Country of Publication: US
Dimensions (cm): 26.0 x 16.8
Australian publisher: Simon and Schuster
CD available as stand-alone from: Warner Music