Hardware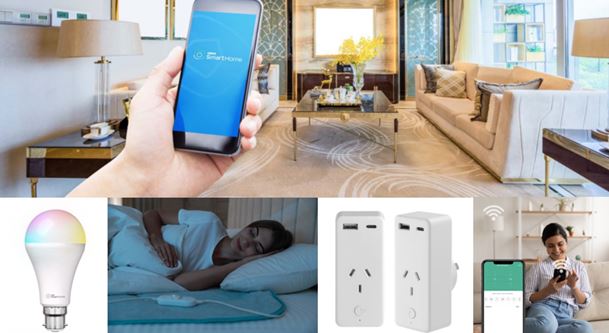 Published on June 1st, 2023 | by Alex Novus
Goodbye Darkness My Old Friend – how Smart Home life hacks from just $10 can give you peace of mind this Winter
With today marking the official first day of our coldest season, we wanted to remind you of some super affordable smart home / life hacks as a reminder of what is possible to everyone for as little as $10!
As the daylight hours get shorter, and the temperatures plunge, Australian technology company LASER puts its 35 years of experience in affordable technology to deliver a wide range of smart home products that are super easy to setup, can work independently or as part of a broader smart home of connected devices to make your Winter as warm and safe as possible.
Want to turn on your electric blanket before you get home or head to bed? – the $29 Smart Plug can turn many products into smart products instantly. Imagine automating your heater, electric blanket or other appliances, allowing you to switch them on or off via your smartphone!
Arriving home in the dark? – from just $10, you can pickup a smart light bulb, and turn your lights on before you get home to give you more security and peace of mind.
Keen to level up indoor entertaining? – from just $29, Strip Lights can sync changing colours to your music, or add an extra accent to feature places in your home.
Want to ensure you home is secure while you escape to warmer pastures? – from $49 Smart Security Cameras can be placed at key points around your home for peace-of-mind whether home or away!
Furthermore, the ability to automate schedules and control your lighting and appliances remotely also means more control over your energy use. The latest Power Plugs from LASER SmartHome feature power monitoring so you can see how much energy your appliances are using, making an investment in smart home products good for your hip pocket in more ways than one.
Laser SmartHome Range | From $10 | Laser Co & Big W | Imagery
Laser SmartHome's range features an array of lighting options, smart security and smart power solutions for every Australian household! Including smart bulbs that offer a wide range of colour customisation and scheduling options or smart power solutions including a Smart Wi-Fi Plug and Power Board which can make any appliance into a smart appliance. The Laser range of outdoor and indoor cameras offer utility and convenience as well as peace of mind. Ready to set up and go, the range can be placed in any room and integrated through the Laser SmartHome app. The range is ideal for every Aussie family to automate their lives!
A starter selection includes:
Laser Smart Wi-Fi Plug with Dual USB and Power Monitoring | RRP $29.95 | Laser
And more…