Events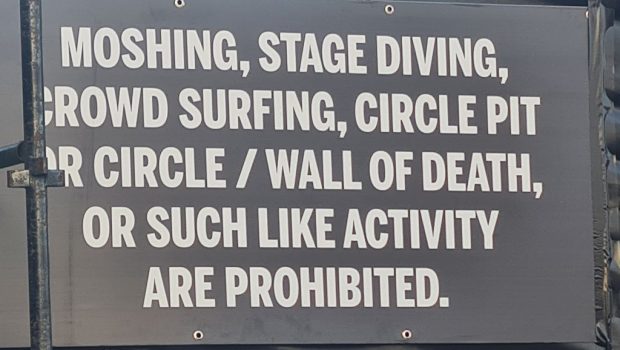 Published on December 4th, 2022 | by Tim Chuma
Good Things 2022 – Melbourne Review
Summary: A potentially good festival spoiled by a promoter with visions of dollar bills in their eyes. I am done with this sort of bullshit.
Flemington Racecourse, Friday 2nd December 2022
Bands I saw (at least in part):
Millencolin, Cosmic Psychos, Lacuna Coil, You Am I, Gojira, TISM, Blood Command (got to sit down), Regurgitator
2000 was the last Big Day Out I went to back at the Showgrounds when it did indeed still have the grand pavilion and grandstand. It had kept going for a few more years after that but I never really wanted to go much as I was going out all the time to see bands and didn't need some special event or indeed follow a lot of the overseas headliners.
For over 10 years I went out to see live music over 100 times per year and take photos of almost every gig. The only festival I went to was the Queenscliff Music Festival (11 years) down the coast which was a lot of people I knew already. The other two big events of the year were the Community Cup (16 years) and RRR BBQ Day (17 years). I knew people who went to Meredith and then Golden Plains but I was never one much for camping.
Back in 1995 I went to still the greatest line-up for a festival called Summersault, which had, get this Beastie Boys, Beck, Bikini Kill, Bindi, Budd, Caustic Soda, DJ Shadow, Foo Fighters, Jawbreaker, Money Mark, Pavement, Rancid, Sonic Youth, The Amps, The Breeders, Trigger and diolene. It has spoiled me for pretty much anything else. I can use the excuse I don't need to go see the Foo Fighters as "I saw them already".
Big Day Out 1997 was also great in that they said it was going to be the "last one" and let everyone bring their camera in. Every photo came out blurry but it was still a good day.
As has been discussed on Josh Earl's excellent "100% Hits" podcast the 1990s were the last time a lot of different music was popular in the charts together which led to a lot more diversity on radio station which carried over to festivals.
Festivals these days seem to be a lot more niche or else have headliners I have never heard of or were never really into in the first place. Good Things had had a couple of festivals before the pandemic but I either did not have the money or did not feel like the bands made it worth going. It was the same with Soundwave for me as early in the year I usually wasn't on contract and did not have the money to go.
What changed this year for me to actually go to this festival? What changed in the past two years don't you mean? I finally had actual long-term employment and could afford to go. Also TISM reforming for supposedly the last ever time in 19 years. I did not go to any of the "secret" warm-up shows as I already had stuff on but they sold out easily.
There were at least of couple of other bands I would not mind seeing like Cosmic Psychos, Regurgitator and You Am I being a late edition to the roster. Also I figured this would most likely be the last time I would put up with going to one of these events as I need to sit down these days in between taking photos and have been having trouble with my leg recently.
Do I have a point to this? I am getting there, don't worry about that. What happened with this festival is that the people running it got visions of dollar bills in their eyes and decided to screw people for money. How you do that is you cut corners. Festival gates open 12pm. First train from Flinders St to the venue is 11.30am. First band starts at 12.30pm and 20,000+ people are trying to crush cattle-class onto the trains. Fail. I get to North Melbourne station where I was told I could get on and I could not. Ended up having to go to Flinders St Station and still had to wait. I had missed the first 5 bands before I got there.
There was meant to be sunscreen "readily available" so attendees were discouraged from brining it. By the time I managed to find I had already been out in the sun long enough to be burnt. Was sitting on some random chair out the front of the medical tent with no signage. Also tied to the fence by the main stages with no signs.
Having taken so long to get in I decided to get lunch straight away, wasn't really anyone I wanted to see until the Cosmic Psychos. $20 per main menu item if you don't mind. Granted, I did spend more than that at Out on the Weekend but they also had $4 scones and jam and a place to sit down from the CWA. Also there was no set prices on anything, one cheeky place decided to raise their cans of soft drink to $6 as people wanted them.
More than likely contributing to my dehydration was $13.50 for a pissant can of "seltzer" or whatever it was. The only option for non-alcoholic from the bar was Red Bull. Sure there was free water in bulk plastic pallet things that went warm.
I watched some of the Cosmic Psychos but then my legs started hurting and I had to go find somewhere to sit down. The only place out of the sun also was where you couldn't see or hear the band on that stage or indeed at all if you went far back from right near the front. The people on the embankment under the trees for stages 3 and 4 had the right idea. If I had sat on the ground I would not be getting up. Was people right up against the fence for the main stages trying to get shade also.
There was a big top with chairs, tables and shade, but that was designated to be the metal karaoke tent so not so good if you wanted to chill out.
I had gotten gel inserts for my shoes just for this day due to having some trouble recently but it was just too long a day on my feet. I did try to get up the front for You Am I but had to go leave to sit down again and then came back towards the end.
Talking of the seating arrangement, one enterprising group of friends lifted an entire wooden picnic table from under the noses of security near stage 5 and carried it across site to the main stages right near one of the big screens where they managed to keep their spot for 4 bands.
Being that You Am I finished half and hour before TISM I took up a spot closer to the front off to the side and got to see Gojira do the last half of their set. Very energetic and technical if you like that sort of thing. Was not expecting all the confetti.
Have to hand it to the endurance of those goths and metal heads who came to show off their gear and walk around like it was a fashion parade all day. You could play the Mos Eisley cantina music in your head just walking around I swear. I have never been fashionable so can't really comment on this. The Hawaiian shirt phase was just taking the piss, I never meant to get into it that much.
DRW Entertainment is partially responsible for getting TISM popular enough again for them to front up at a festival. Their TISM re-releases over the past couple of years along with merch have gone quite well but are now starting to shit me. I don't need to get Great Truckin' Songs of the Renaissance for a third time (someone gifted me about 100 1990s albums of Australian bands a while back).
Damian Cowell ex TISM had been vocal in his opposition to the band reforming. Even did an entire comedy festival show about why it would be a bad idea for them to do Eurovision. He did not even publicly admit he was even in the band until he had been in Root! And the DC3. Damian Cowell's Disco Machine even does a TISM/Kylie mashup as one of their songs.
What happened in the past few years with the re-releases and some of the ex-band members doing TISM covers nights may have changed some minds. I do enjoy the Disco Machine stuff and was on board for the concept album and the weekly zoom single drops during the lockdowns.
As for the "secret" shows they were not really that secret if you were on the DRW Entertainment mailing list or in the Annual TISM BBQ group on Facebook. I did think the first one seemed like an odd random gig for that line-up and was at home when the announcement was made at the Croxton. It was full within half an hour. For the other two gigs I knew they were on in plenty of time but already had stuff on I had planned months in advance plus something I was getting paid to do.
I never made it to the Midnight Oil reunion tours but did get the new albums. This is with people I actually know playing with the band on their tour. If I wanted to throw $100 in the bin and watch them backwards through binoculars I could do that at home. I had never seen Midnight Oil back in the day and so did not have the connection with them. Same as with Wedding Parties Anything since Mick plays the same songs and I like the new ones. With Rob Snarski I have seen him more solo than with the Blackeyed Susans at this point.
With TISM when I got to see them they were towards the end of their run. I did go to the big grand final eve shows and the "save our TISM" gig, a show of theirs on my birthday and the Community Cup show. I wasn't super into them like some of the fans were but did like going to see them. Passed on the final ever appearance at Rainbow Serpent as I am not big into those dance festivals.
I pretty much already knew the set list and what the "walk on" song was going to be. The band had dressed down somewhat for their warm up shows but were in full flight for the festival show with giant silver balloons on their head and jumpsuits which Ron lost almost immediately going into the crowd.
Unfortunately my leg started hurting so much during the set I couldn't enjoy it as much but at least I wasn't getting roughed up in the mosh. Sound was also shit unless you were right near the front, the audience was singing louder than the band!
Special mention to the tradies up the back with a cement mixer building a "TISN" sign (it was on the plans mate, I can't change it!). Those giant letters ended up in the crowd and used for crowd surfing by several intrepid souls before being destroyed.
TISM also decided to hit tennis balls into the crowd, one of which was piffed at the head of the lead singer of NOFX in the middle of him having a whinge in the next set.
I thought the band played fine. If I had known about the secret shows I would have ditched the whole festival malarkey and just gone to one of them.
Went off to get dinner after and sit down properly, maybe I could make it to Regurgitator and go home since no trains from 4pm to 8.05pm so we were stuck there.
Wandering around waiting for Regurgitator a punter wearing a Blood Command t-shirt said he was spewing he was going to miss them, I said, no you are not they are just starting (stage 5 was half an hour behind most of the day).
I ended up staying for most of their set just because there was somewhere to sit down. The lead singer Nikki Brumen is from Melbourne and used to be in the band Pagan in Melbourne but it broke up and now plays with Norwegian metal band Blood Command. Great energy, Nikki was into the crowd by the second song and wanted people to be more energetic. I would say she was the metal Amy Taylor if you could compare her to anyone.
Well I did get to see the start of Regurgitator at least and talk to one of the TISM fans who came over from Adelaide (was going to Sydney the next day). I was pretty much done as my legs were starting to hurt again.
Extra special bonus prize was getting to the train platform and hear people cheering. Train was ready but no driver for at least 20 minutes. I gave up and walked down to Epsom Rd for the tram.
I am done with this sort of bullshit. No more giant festivals for me.
Good Things: Davey Lane from You Am I giving me a wave, TISM, Blood Command, talking to some people during the day, goth and metal fashion parades all day
Bad Things: The trains (both ways), shutting down the trains for 4hrs so you couldn't leave, no shade, couldn't find the sunscreen due to no signs, $13.50 drinks, $6 cans of soft drink, my leg hurting due to the hard ground so I had to go sit down, heatstroke, sunburn, sound too soft for these types of bands, Getting the bonus prize of having to walk 2km to the tram at the end of the night