Films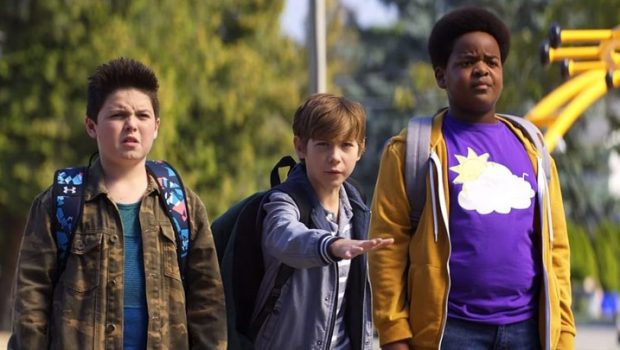 Published on September 19th, 2019 | by Curtis Mayfield
Good Boys – Film Review
Reviewed by Curtis Mayfield M-H on 11th of September 2019
Universal Pictures presents a film by Gene Stupnitsky
Written by Gene Stupnitsky and Lee Eisenberg
Produced by Lee Eisenberg, Evan Goldberg, Seth Rogen, and James Weaver
Starring: Jacob Tremblay, Keith L. Williams, Brady Noon, Will Forte, and Molly Gordon
Music by Lyle Workman
Cinematography: Jonathan Furmanski
Edited by Daniel Gaby
Running Time: 89 minutes
Rating: MA15+
Release Date: 19th of September 2019
Good Boys is rude, obscene, limit-pushing, and, above all else, it is funny. Don't be fooled by the Justin Bieber hairstyle of lead actor Jacob Tremblay (Room, 2015). While this film looks kid-friendly, these little dudes are far from innocent. Tremblay plays Max, a well natured pre-teen kid trying to make it through school life. Max, along with his two best friends Lucas (Keith L. Williams) and Thor (Brady Noon), is part of the endearingly named group The Bean Bag Boys. The three sweet but foul-mouthed kids are about to start their sixth year of school, and, as tight as they have been over the years, tears begin to show in the fabric of their friendship.
All three characters have different ambitions. Thor wants to be in school musicals while sweet innocent Lucas aspires to make the world a friendlier and safer place. Max has nothing else on his mind besides getting his first kiss from a school crush. Director Spike Jonze once that his movie Where the Wild Things Are (2009) was about childhood but unintended for a child audience. Good Boys follows a similar philosophy. It touches on adult ideas about fleeting friendships and directions in life while showcasing a cast of tween actors. It also has several jokes about misidentified sex toys that keeps the movie in its lane. Witnessing the misguided boys stumbling on a parent's sex toys and mistaking a set of anal beads for a necklace is as cringing, yet hilarious, as it sounds.
While a coming of age story about a group of boys, director Gene Stupnitsky and co-writer Lee Eisenberg sidestep every high school movie cliché. The main characters may not be the coolest kids in school but their more popular peers are as clueless as they are. A highlight is witnessing Thor being pressured into breaking the record of how much beer a sixth grader can drink. The achievement of four sips is deemed the maker of men. When Max is invited to a spin the bottle party by stone faced Soren (Izaac Wang), the Bean Bag Boys go into panic mode. None of them have kissed a girl. Armed with a drone owned by Max's dad (an amazing appearance from Will Forte), the young dudes try spying on their older neighbours, Hannah (Molly Gordon, coming off a great performance in Booksmart from earlier this year) and her friend, Lily (a killer Midori Francis), to get tips on kissing.
When their drone is captured and held for ransom by Hannah, the boys even the playing field by stealing her handbag. They want the drone back so they can attend their kissing party. The girls want the bag back so they can do a certain recreational activity at a music festival. 'Who's Molly because she's not with us!' naïve Max yells out. The three lead actors will all be future stars as their onscreen chemistry is so believable it is as though the dialogue was lifted from the transcripts of a real-life teenage hangout.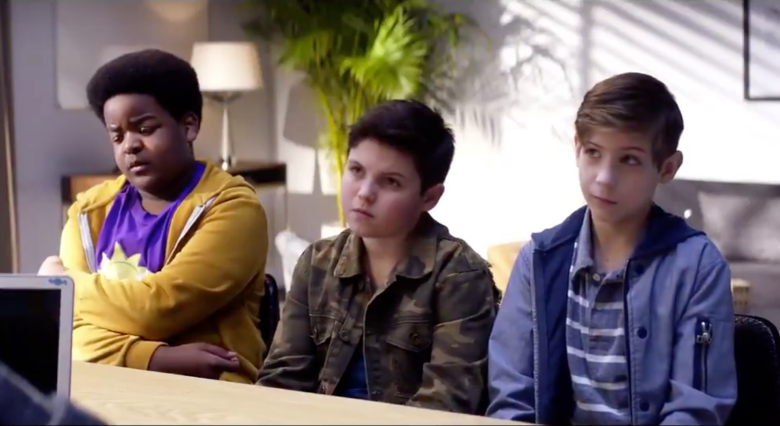 It is unsurprising that producers Seth Rogen and Evan Goldberg would be interested in making a MA15+ rated movie that features children swearing and taking swipes at current real-life porn trends. 'Is what happens when you get a stepmom?!' Lucas cries out after they first discover the horrors of online porn. There's also something extra special about watching a movie that's filled with so much adult content that the leading actors aren't age appropriate to buy a ticket.
Most importantly besides the well-executed toilet humour, Good Boys puts us in the position of a young person, where the world is big, scary, and interesting. Older kids and kissing girls are scary but also something to become familiar with for these characters. Imagine the movie being a less mature Eighth Grade (2019) mixed in with all the good things about Superbad (2007) and you're on the money. Good Boys doesn't shy away from themes that would PC parents squirm in their seats. The ideas of teenage sexuality, fleeting friendships, kids saying four letter words, and growing pains are embraced to create one of the year's best comedies.
Summary: Good Boys is rude, obscene, limit-pushing, and, above all else, it is funny and one of the year's best comedies.