Films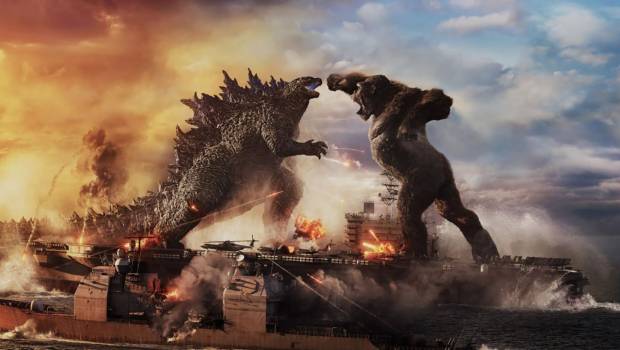 Published on March 25th, 2021 | by Harris Dang
Godzilla vs. Kong – Film Review
Reviewed by Harris Dang on the 25th of March 2021
Universal Pictures presents a film by Adam Wingard
Produced by Thomas Tull, Jon Jashni, Brian Rogers, Mary Parent, Alex Garcia, and Eric McLeod
Screenplay by Eric Pearson and Max Borenstein
Starring Alexander Skarsgard, Millie Bobby Brown, Rebecca Hall, Brian Tyree Henry, Shun Oguri, Eiza Gonzalez, Julian Dennison, Kyle Chandler, and Demian Bichir
Music by Tom Holkenborg
Cinematography Ben Seresin
Edited by Josh Schaeffer
Running Time: 113 minutes
Rating: M
Release Date: the 25th of March 2021
Continuing after the events of Kong: Skull Island (2017) and Godzilla: King of the Monsters (2019), we find Kong has matured into an adult and is on a quest to discover his true origin with the help of human supporters. One of them is Jia, a young orphan girl who has formed a strong, loving bond with Kong.
Their journey is halted when they run into the path of Godzilla, who is causing global destruction without explanation. With the provocation of outside alien forces and the mysterious interventions of a corporation known as Apex Cybernetics (can there be a more obvious name for an evil corporation?), Godzilla and Kong may not be the only problem for humanity's survival. Who will win? Who shall we side with? Will one of them be humanity's saviour or will it spell doom for us all?
If you see a film with a title like Godzilla vs. Kong, you know it is not to be taken seriously. It is an incredibly apt title that promises a showdown between the two titans. The film is directed by genre filmmaker Adam Wingard. He is best known for his transgressive works, such as the slasher flick You're Next (2011) and the genre mash-up The Guest (2014). With his hands on the reins, people will expect him to bring that the same energy to the proceedings. But does that make Godzilla vs. Kong a stellar entry in the kaiju subgenre?
Godzilla vs. Kong is an incredibly illogical yet unashamedly gonzo piece of work. It shows that the filmmakers are truly embracing the Godzilla franchise's origins by injecting out-of-this-world tropes that bring the lore to new heights of ridiculousness and delirium that is truly entertaining.
After the mixed reception of King of the Monsters, the filmmakers have responded to complaints regarding the tone wavering between sincerity and silliness and the obscurity of the battle sequences. In Godzilla vs. Kong, Wingard has laid out more monster battles and stages them with energy and visual clarity. Most are shot in daylight/vibrant lighting and utilise wide angle shots thanks to cinematographer Ben Seresin who is no stranger to lensing titan battles.
The storytelling reaches new heights to the point of intergalactic silliness. The Godzilla franchise is absolutely no stranger to silly story points, including time travel, characters with extrasensory powers, ecological horror, and body horror. Godzilla vs. Kong aptly follows suit. The film makes it clear that it will focus on the story of Kong.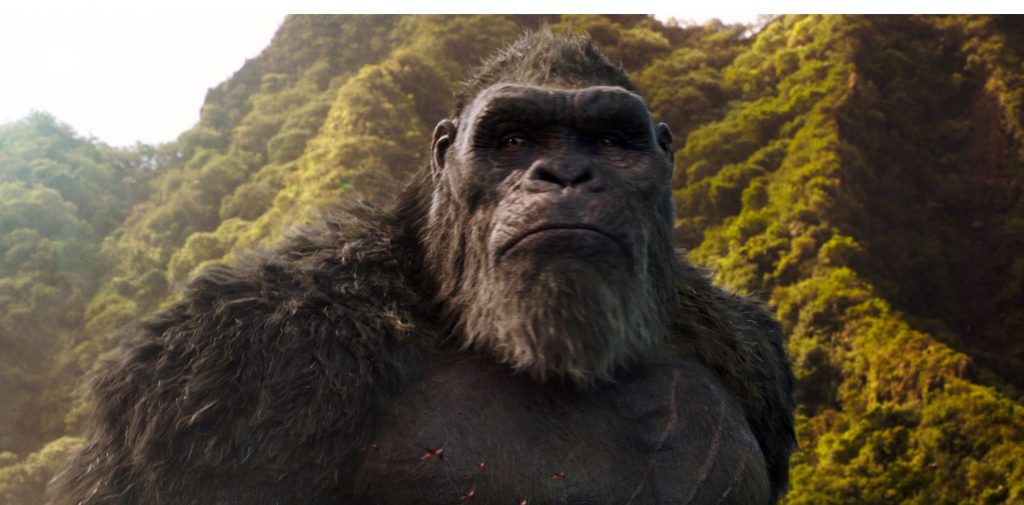 It develops his backstory by introducing science-fiction elements involving space travel and fantasy worlds reminiscent of mythological tales. But Wingard knows the story he is telling and offers an assured hand in navigating the tone. He has solid timing regarding being sincere and tongue-in-cheek with the story. It makes the time spent on the cast increasingly palatable. It also helps that the ensemble cast are more in tune with the tonal proceedings.
As expected in a film like this the characterisations are razor thin. However, they are enjoyably broad enough for the cast to play with and they are all game and know exactly the movie in which they are participating.
From Alexander Skarsgard playing the handsome yet reluctant hero (to the point he literally brands himself a coward and is pushed over by three women), the Dian Fossey-esque role from Rebecca Hall (branded the Kong Whisperer), the rich mogul with the salt-and-pepper hair and exaggerated swagger (relished by Demian Bichir), and the hopped-up conspiracy nut/podcaster played by Brian Tyree Henry, Wingard and the cast know what they are doing in delivering the fun with subtle wit and tongue-in-cheek humour. Jia is the one human who makes the film an emotional, sincere, and rousing spectacle. She is played beautifully by Kaylee Hottle, a deaf-mute actress making her feature film debut. She makes her character with Kong worth caring for and is a good representation for those fluent in American Sign Language.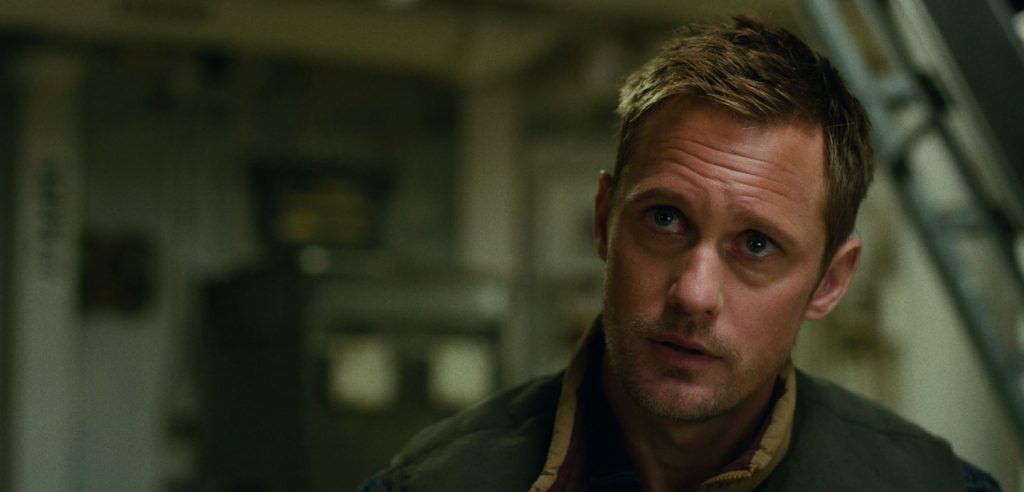 Unlike King of the Monsters, the film avoids dwelling on serious issues. It compensates by throwing in unexpected genre elements to keep the enjoyment fresh. Wingard even resorts to referencing not only prior Godzilla films but action/adventure films from the 1980s to amusing effect, including visual references to Conan the Barbarian (1982) and Die Hard (1988), and even Lethal Weapon (1987).
As for flaws, the film dissolves Godzilla's presence through its allegiance to Kong. To be fair, the former already has two films under its belts. A stronger focus on Kong makes sense in retrospect. However, Godzilla does make his presence known in the third act as he puts the pedal to the metal, so to speak.
Additionally, some cast members are short-changed (particularly Shun Oguri, who has an interesting arc considering the context of his character). Meanwhile, the storyline's silliness might be a deal-breaker for those who appreciated the 2014 iteration's more sombre storytelling.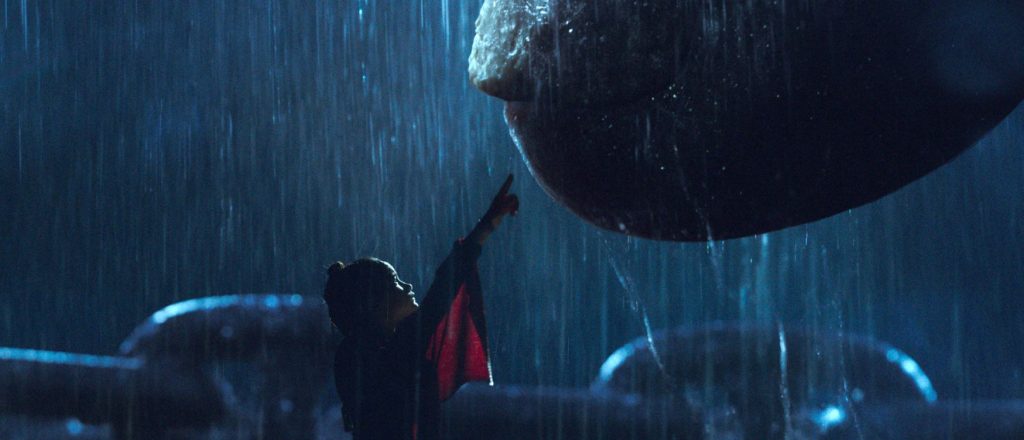 Overall, Godzilla vs. Kong delivers exactly what it promises on the tin. It is brimming energy and enthusiasm and is a brazenly gonzo rock-em sock-em monster mash filled with satisfying visual spectacle.
Summary: Godzilla vs. Kong delivers exactly what it promises on the tin. It is brimming energy and enthusiasm and is a brazenly gonzo rock-em sock-em monster mash filled with satisfying visual spectacle.