Comics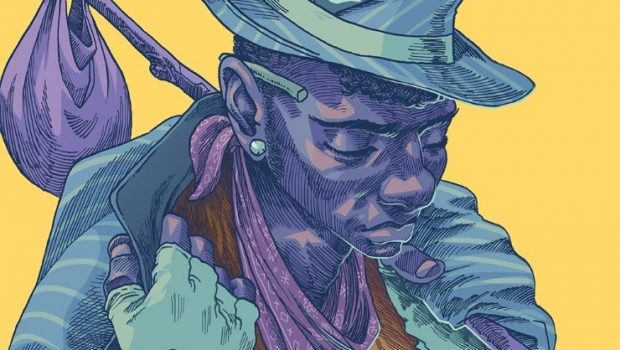 Published on April 12th, 2017 | by Ben Boruff
GODSHAPER REVIEW
Summary: Godshaper is a groundbreaking indie comic that explores privilege and worship.
5
A refreshing experience!
Walk through the aisles of any comic con, and you will likely see a wealth of glossy covers—both indie and mainstream—that feature sinewy, clean-cut men and pale, large-busted women. Though comic culture has trudged its way out of the primordial swamp of subgroup obscurity, it still reeks of tired machismo and clichés. Even indie comics—Neanderthals in a crowd of Heidelberg men—often struggle to shed themselves of the parasitic archetypes of primitive narratives. Evolution, it seems, is a slow process.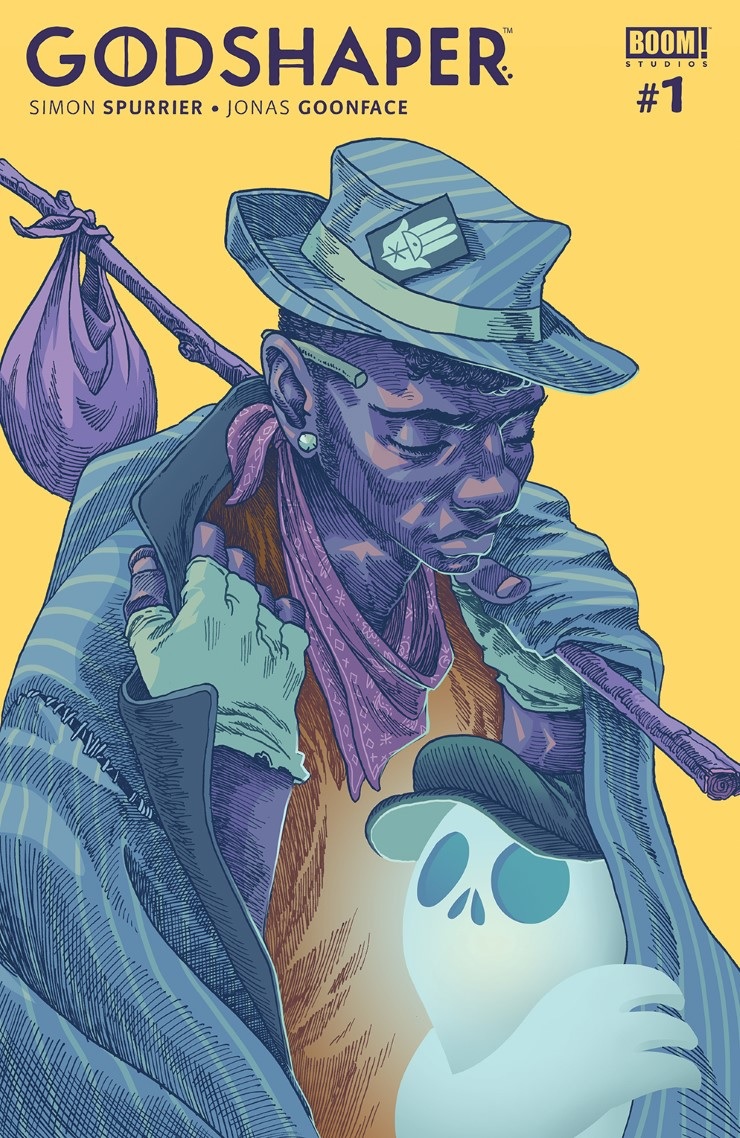 But we are evolving.
Godshaper, a new comic from writer Simon Spurrier and artist Jonas Goonface, is the next stage of graphic storytelling. Both entertaining and thoughtful, Godshaper comments on topics like privilege and worship without sacrificing the flow of the narrative—a narrative that offers one hell of a climax.
Set in a world filled with tangible gods, Godshaper chronicles the actions of Ennay, a socially marginalized vagabond who can "mold godflesh like clay," changing the appearances and abilities of Godshaper's ghostlike gods. In Ennay's world, gods have replaced electricity, and everyone gets a god—everyone except Shapers like Ennay. Shapers, "one in ten thousand," are downtrodden bindle stiffs without gods of their own who are hired to upgrade the gods of the wealthy. Shapers embody the tension between status and skill: "Always hated. Always needed."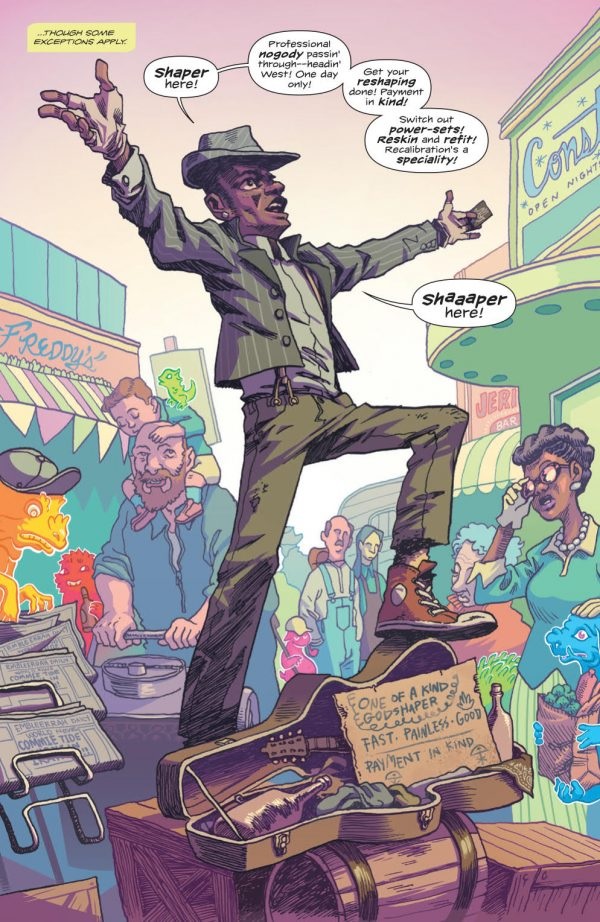 Writing – 5
Simon Spurrier, creator of characters like Harry Kipling and Jack Point, seems to enjoy creating multifaceted, heuristic narratives that explore complex ideologies and subvert popular viewpoints. In Godshaper, this exploration and subsequent subversion of modern ideology is most visible in Ennay's interactions with cantik, "a movement, a manner, a counter-culture crime" that eschews the trappings of mainstream culture but maintains the pulse of pop culture's prejudices. Like Crooks from John Steinbeck's Of Mice and Men, Ennay is one of the most marginalized individuals in a group full of marginalized individuals. Even the other cantik endorsers do not appreciate all aspects of Ennay's lifestyle. This level of narrative complexity is what makes Godshaper such a compelling story.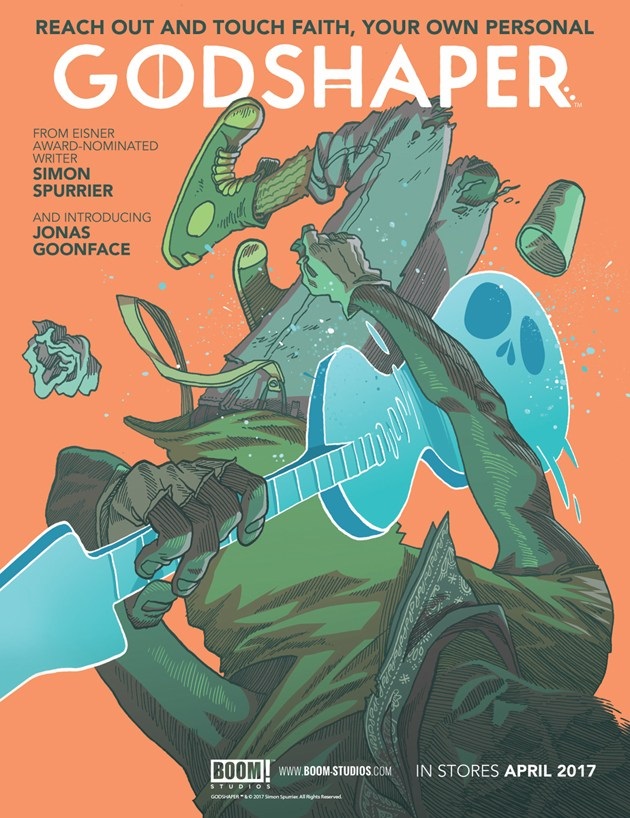 Artwork – 5
Jonas Goonface's artwork is raw and vibrant. Godshaper's color palette is similar to that of Fantasia, Disney's 1940 fanciful visual tribute to the compositions of Leopold Stokowski, which is appropriate given the fantastic nature of Simon Spurrier and Jonas Goonface's god-filled comic. Panel after panel, Goonface's dynamic artwork matches the quick-paced movement of Spurrier's narrative. Bold characters waltz through pools of pastel yellows and reds. A film version of Godshaper would have the swift movements of Guy Ritchie's Snatch and the cinematic visuals of Guillermo Del Toro's entire filmography. The first issue of Godshaper contains a couple double-page spreads, and Goonface fills each with blasts of blue, purple, and orange that sizzle between silhouettes of Herculean characters. Goonface illustrates with the same emotional intensity that Spanish tenor Plácido Domingo sings.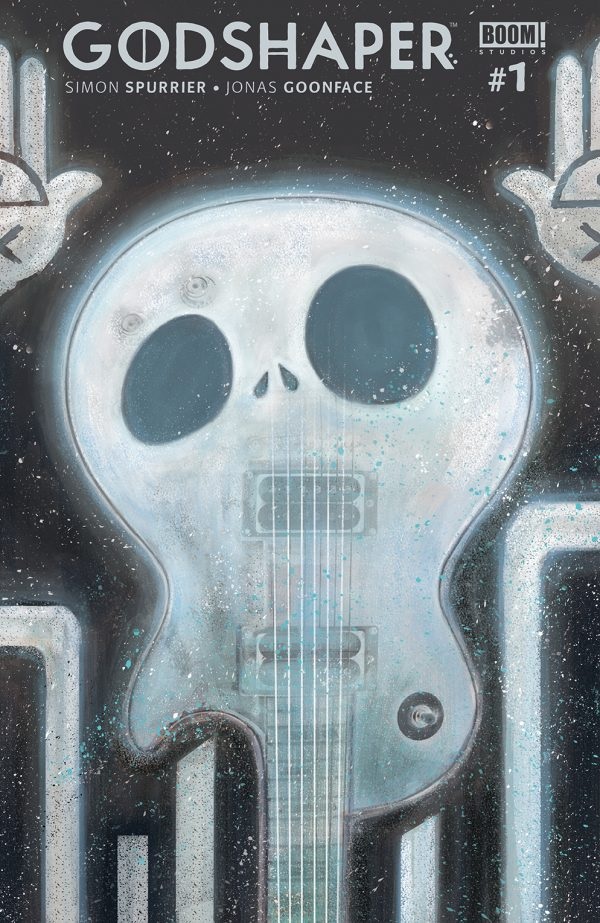 Conclusion
Reading Godshaper is a refreshing experience—notably different than reading the often trite, two-fisted pages of simpler stories. Godshaper is a groundbreaking comic, full of exciting motion and thoughtful commentary. In an animalistic world filled with subpar stories and derivative artwork, Godshaper stands tall as proof that comics can evolve.
Writing: 5 stars
Artwork: 5 stars
Total: 5 stars
Summary: Godshaper is a groundbreaking indie comic that explores privilege and worship.
COMIC DETAILS
WRITER: Simon Spurrier
ARTIST: Geof Jonas Goonface
PUBLISHER: BOOM! Studios
PUBLICATION DATE: April 12, 2017
REVIEWER: Ben Boruff