Games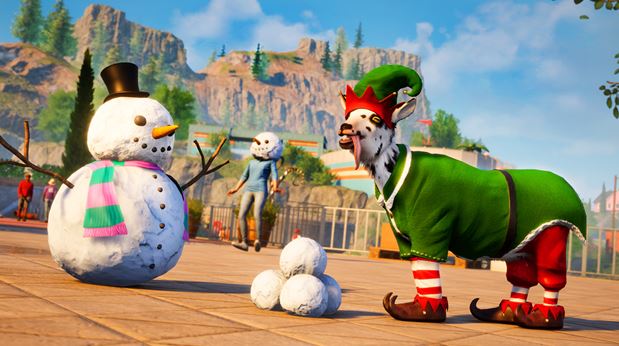 Published on December 9th, 2022 | by Adrian Gunning
GOAT SIMULATOR 3: MERRY GOATMAS
Coffee Stain North, Coffee Stain Publishing and PLAION are pleased to share poetic season's greetings as they release their first content update for Goat Simulator 3, AKA "The Mandatory Holiday Update".
Launched last month on Xbox Series X/S, PlayStation and PC (exclusively on Epic), players can now take to the streets of San Angora with nine new items designed to forcibly spread some holiday 'cheer'.
Watch the latest trailer here
Revealing the new items, arriving in-game today, Santiago Ferrero, Creative Director at Coffee Stain North said:
"'Twas the night before Christmas (or actually a couple weeks prior) and the state of San Angora was a little bit dire. The city was in ruins, the peace had been shaken – all by some goats with chaotic determination.
"In town the four goats stood when all of a sudden, ridiculously festive things started to happen. Upon one's back a sleigh with sacks magically appeared, turning props and people into presents – how weird!
"Out of the sky and just like that, snow started falling on one goat as they put on a red Santa hat.  Equipped with a cannon which shot Christmas lights a-twinkling, each building, tree and hall were decked with wires a-blinking.
"A goat disguised as an elf from head to hoof, threw snowballs which turned into snowmen on each and every roof. Wearing Christmas jumpers, Swedish crowns and even a Menorah on their head, the festive foursome were ready to paint the town red.
"Continuing their mayhem the goats took to the road, the people could only hope they wouldn't visit their abode. With flying snowballs, presents and buildings glistening with light, thanks to the goats of San Angora there would be no silent night."
For those looking for a non-lyrical (aka Baa-h Humbug) lowdown of what's coming to Goat Simulator 3, players can look forward to getting their hooves on:
Santa Hat – Create your own personal flurry. A passive ability which makes snow fall only around the player.
Elf Hat – Give goats the power to throw snowballs! Build snowmen by throwing multiple snowballs on the ground.
Elf Tunic and Elf shoes – Complete the look of Santa's bestest helper.
Sack & Sleigh – Launch festive paper to wrap props and NPCs into presents.
Lights Machine Gun – Deck the halls by placing Christmas lights (almost) anywhere.
Lucia Crown – Celebrate the holiday season the Swedish way!
Christmas Sweater – Because even goats need at least one ugly Christmas jumper.
Menorah Horns – Happy Hanukkah!