Hardware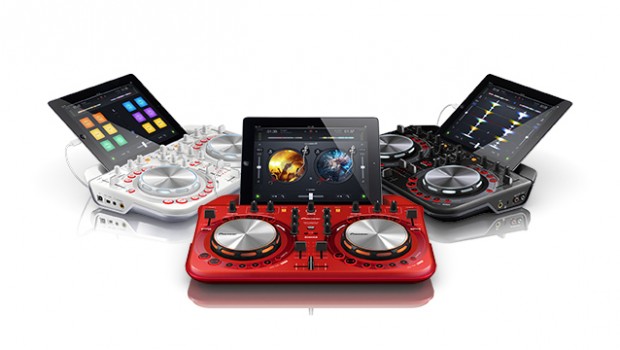 Published on November 7th, 2013 | by admin
Go from average Joe to DJ pro!
Have you always secretly wanted to be a DJ? Love to have a crack at mixing some beats? Well now's your time to shine!
Pioneer's digital DJ WeGO2 console lets aspiring DJs mix on the move. If you're starting out as a hobby DJ or want something easy and portable to take to your next party, the WeGO2 will have you scratching in style.
Whether it's a Mac or PC at home, a MacBook or laptop in the club, or even your iPhone, iPod touch or iPad on the go – the WeGO2 is the most flexible and fun way to mix things up.
The WeGO2 has all the easy-to-use features of the original WeGO, with the added ability to access and mix your own music stored on your iOS device. Just use the provided cable to connect the WeGO2 to your iPhone or iPad and you'll be mixing in no time! An inbuilt ledge for your iPad makes it super easy, giving you a perfect view of your beats during a set.
WeGO2 comes with Virtual DJ Limited Edition software for PC and Mac and Djay LE software for Mac. It also supports the popular djay 2 and Vjay software by Algoriddim. You can also use the console to mix and scratch your favourite tracks straight from iTunes.
Dedicated buttons and dials give DJs intuitive control of scratching and triggering samples, effects and loops.
If you're a beginner there's no need to freak out – learning with the WeGO2 is really easy. Pulse Control lights help guide you through your performance by showing when beats are matched, which effects have been activated, and when tracks are loaded.
There are also plenty of advanced features from Pioneer's pro-DJ products to explore – including Beat Sync, pre-loaded samples, amazing sound effects and loops, and even four-deck mixing.
The multi-coloured LED lights will keep you looking cool through any gig. The jog wheel LEDs can even be customized, with nine awesome colour options to choose from. Talk about personalised!
The WeGO2 is light and compact, easily fitting into a backpack. It has a handle to make transporting simple – you'll be able to get from the party to the after-party in no time!
Like all Pioneer DJ products, the WeGO2 has high quality sound design for clear sound reproduction. It comes with a built-in sound card. If you don't have any speakers around, you can route the audio through your iPhone or iPad speakers – great for an impromptu DJ sesh by the pool!
The WeGO2 is compatible with USB battery packs for those times when you want to play your set outside, or for when you're out of reach of mains power. WeGO2 can also be powered via a USB connection to a PC or Mac.
The WeGO2 is available in black, red or white. You can even get matching coloured headphones so you can look the complete part!
Pioneer WeGO2 is $449. Available from Apple Retail Stores, Apple online (in white only), pioneer.com.au and Pioneer's authorised retailer network (http://www.pioneer.com.au/au/products/shops/page.html).