Games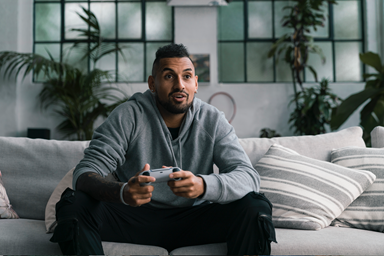 Published on November 20th, 2020 | by Adrian Gunning
GLOBAL TENNIS STAR NICK KYRGIOS SERVES UP HIS FIRST PLAY OF PLAYSTATION 5
It was game, set, match when Aussie tennis star, Nick Kyrgios experienced his first play of PlayStation 5. Sony Interactive Entertainment teamed up with Nick to capture his genuine reactions and excitement playing the highly anticipated next-generation video game console for the first time in Australia.
In the video, Nick gets a closer look at PlayStation 5 and its exciting new features, while sharing insights into his passion for gaming and his competitive nature on and off the tennis court. He takes viewers through his experience of playing Call of Duty: Black Ops Cold War and Devil May Cry 5 showing first-hand how the DualSense wireless controller delivers a new feeling of immersion to players while gaming. 
Watch Nick Kyrgios' First Play video here. 
PS5 represents a significant leap to deliver a truly new generation of transformative play experiences that will redefine expectations for what games can be. The PS5 enters an exciting new era of gaming with breathtaking immersion, lighting speed and stunning gaming proving that Play Has No Limits. PS5 Digital Edition launched on 12 November for a recommended retail price (RRP) of $599.95 AUD, and PS5 with an Ultra HD Blu-ray™ disc drive for an RRP of $749.95 AUD.
Both PS5 models use the same custom processor with integrated CPU and GPU for high-fidelity graphics up to 4K, as well as the same ultra-high speed SSD with integrated I/O that will deliver lightning-fast loading. Both PS5 models also offer a deepened sense of immersion through the DualSense wireless controller and 3D audio capabilities, so players will enjoy the same transformative gameplay experiences regardless of which PS5 they choose.
For the latest PlayStation news, follow PlayStation Australia. On Facebook, Twitter, YouTube and Instagram.