Events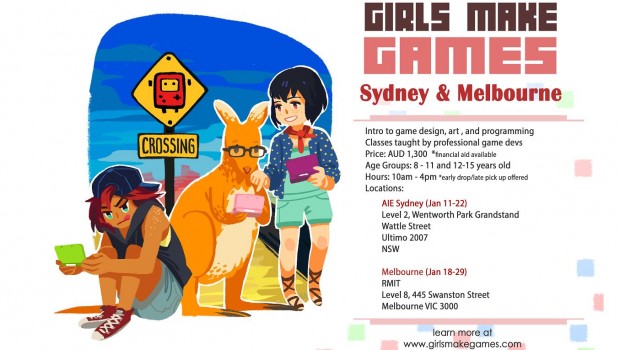 Published on September 25th, 2015 | by admin
Girls Make Games returns to Sydney and Melbourne for early 2016!
Girls Make Games is a series of international summer camps, workshops and game jams designed to encourage girls to explore the world of video games. It is run by LearnDistrict, an educational company based in San Jose, CA, who are committed to providing students with access to knowledge through our games and programs like Girls Make Games workshops.
The 2014 winners of the Girls Make Games Demo Day grand prize were The Negatives, with their game The Hole Story (now out on Steam!): "When an unsuspecting young girl finds herself transported to a mystical world, she must rely on her trusty shovel and quick wits to find her way home."
The 2015 winners of the Girls Make Games Demo Day grand prize are Team Who Must Not Be Named with their game Interfectorem (murderer in Latin). Check out their Demo Day pitch onKickstarter:"You play as Alis, a young sheriff in training who has to solve a series of puzzling murders in her town. And the only way to crack the case is by getting close with everyone in town, so you can expect some serious chatting"
The dates and addresses are listed below. LearnDistrict will be offering up to 100% financial aid, so cost should not prohibit anyone from attending. (Information is on the attached flyer.)
This is a great school holiday activity, perfect for girls to tuck into during those free days in January!
Camp Hours: Day camp (no lodging), 10am – 4pm
Sydney (January 11th to 22th 2016)
AIE Level 2, Wentworth Park Grandstand Wattle St Ultimo NSW 2007
Melbourne (January 18th to 29th 2016)
RMIT Level 8 445 Swanston St Melbourne VIC 3000