Interviews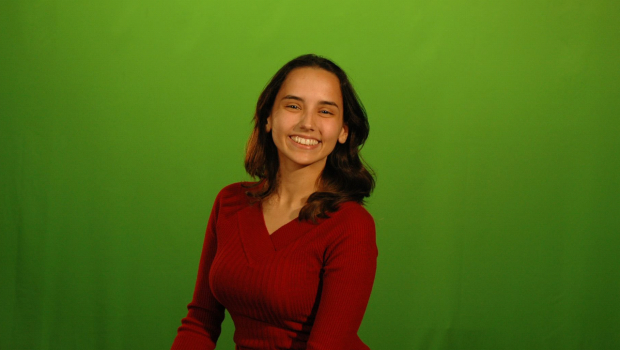 Published on January 6th, 2017 | by Alayna Cole
Gio Coutinho Interview (Rooster Teeth)
I recently had the privilege of chatting with Gio Coutinho about her work as a rigging artist on RWBY Chibi, Red vs. Blue 14, and RWBY at Rooster Teeth.
Impulse Gamer: For the uninitiated, who are you and what do you do?
Gio: I'm Gio and I'm a rigging artist at Rooster Teeth. As a rigging artist, I am responsible for giving characters and props the ability to move (or as we refer to it, deform) as required for animation. This can involve a number of techniques, but generally it means adding a skeleton to a model and controls, which allow animators to bring the originally rigid, static figures to life. This goes on behind the scenes in 3D animation, and is largely responsible for the aesthetic look and feel of a show since the performances seen on screen are very dependent on the quality of a rig.
IG: That seems like a really specific type of artist; how did you get into rigging?
Gio: When I went to university for animation, I actually had very little idea of what I was getting myself into. I was convinced I'd end up as a 2D animator, but that quickly changed when I was introduced to 3D, which was part of our core curriculum and therefore unavoidable. To my surprise, 3D felt a lot more intuitive, and when I took my first rigging class, I was thrilled that I was able to combine aesthetic art and technical art in one single area of animation. I'd say things just "clicked" when I took that class—it wasn't necessarily easy, but I constantly found myself trying to be ahead of the class syllabus because I was so excited about the possibilities in rigging. So I chose to focus on rigging courses for my electives, and also learned a lot from online resources.
IG: Sounds like it worked out for you, since you're working at Rooster Teeth now! What projects have you been involved in there?
Gio: So far I've worked on RWBY Chibi, RWBY 4 and Red vs. Blue 14.
RWBY Chibi is a new production, which started this year and targets a younger audience than other Rooster Teeth shows. It's a light-hearted version of the RWBY series, and was my first ever project at RT. My first assignment was actually Ruby herself!
For Red vs. Blue 14 I worked mainly on the "Mercs" episodes. Since RWBY Chibi and Mercs were in production at around the same time, it was interesting to juggle between the two highly different styles. The characters and props in the latter required more lifelike, realistic rigging and movement, so they required completely different sets of skills and techniques.
And as for RWBY—it's probably RT's biggest show, and it currently has over 150 million views on YouTube. We started rigging for that months ago due to the amount of assets we've needed this season. This year RT chose to switch 3D packages, migrating the rigging, animation and render portion of the pipeline from Smith-Micro's Poser to Autodesk's Maya, which meant that all assets had to be remade from scratch. Since I spent so much time learning rigging in Maya at university, this was the perfect opportunity for me to join Rooster Teeth as a rigging artist.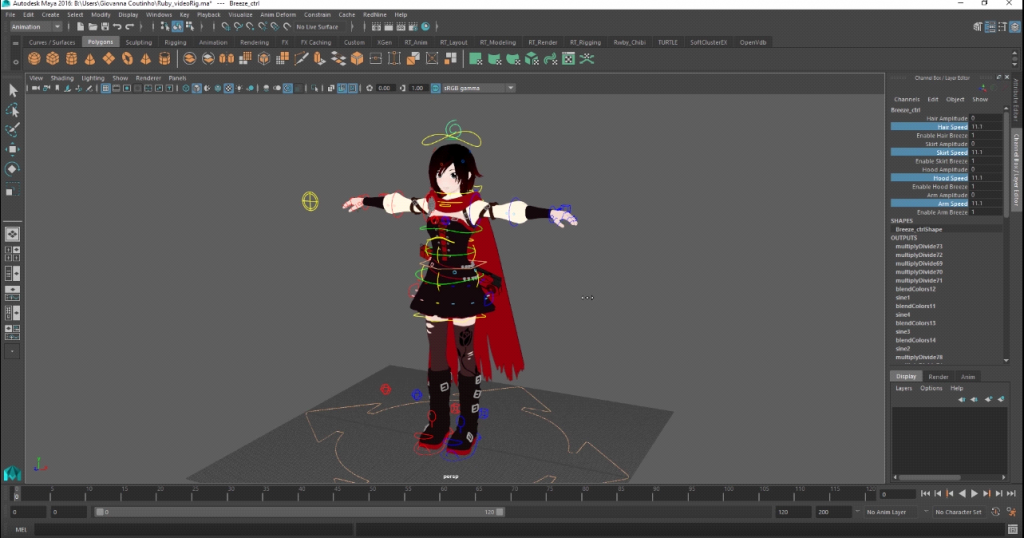 IG: You definitely seem to know your way around the program, since you have a series of tutorials on Autodesk about the rigging techniques you use. Why is sharing your knowledge important to you (and how do you find the time)?
Gio: Like I said before, when I first started rigging, I was frequently ahead of my syllabus in college, which meant many times I had to turn to the internet for help outside the classroom. There are many wonderful rigging resources online, and I wanted to help contribute to that with my own tutorials since I have reached a level of rigging knowledge where I feel confident in sharing my techniques with a public audience. I took initiative for this project on my own, and after watching a couple of my videos Autodesk requested me to make a few more which have been shared on their website and YouTube channel. Finding the time for them was a small issue since I had to carefully balance these videos with my work at Rooster Teeth, but for the most part it wasn't too difficult since I had specific goals and content I wanted to cover in mind.
IG: You're making a lot of great content, so your goal-oriented approach looks like it's working for you. Is there anything you can share about what's coming up at Rooster Teeth?
Gio: The 3D animation department at Rooster Teeth has done a lot over the past year, and plans for 2017 are no different. We are expecting to tackle multiple productions, all of which we're very excited about!