Comics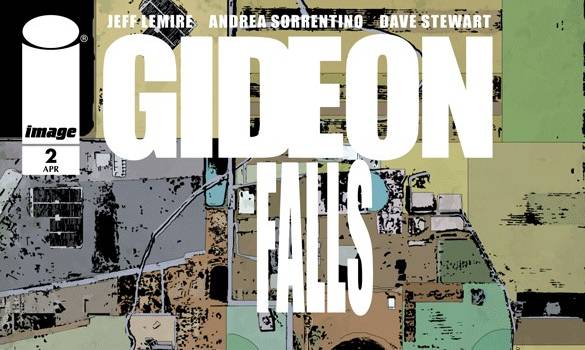 Published on April 10th, 2018 | by Dana Folkard
GIDEON FALLS #2 REVIEW
Summary: The mysteries surrounding the Black Barn continue to grow.
Suspicions are high as Father Quinn is questioned about the murder of Gene Tremblay. Meanwhile, Norton struggles to convince Dr. Xu that the garbage he collects are important pieces to a puzzle that holds a message about the mysterious Black Barn.
We begin this issue with Norton as he walks along with Dr. Xu, talking about his urge to rifle through garbage and the importance it has to him. He is reluctant to explain why the pieces he collects are vital, for fear that something bad will happen to her. Dr. Xu is clearly worried about Norton, but after she reassures and encourages him, gains his trust. Later that night, Norton arrives at his apartment to find that it has been broken into, with all of his collections stolen. Desperate and fearful of what might become of this, Norton rushes to Dr. Xu seeking her help and advice but talk of the Black Barn and his prized garbage troubles her, forcing her to make a hard decision for his personal welfare.
Meanwhile, Father Fred is in custody at the police station as he is being questioned about the horrific murder of Gene Tremblay. The police are suspicious and doubtful as he explains his unusual story about dead Father Tom visiting him and the appearance of the Black Barn. He proclaims his innocence, however, one of the cops reveals their knowledge about his troubled past, throwing a shadow of doubt over his innocence. Things then take a dramatic and unexpected turn with the arrival of some more unsettling news.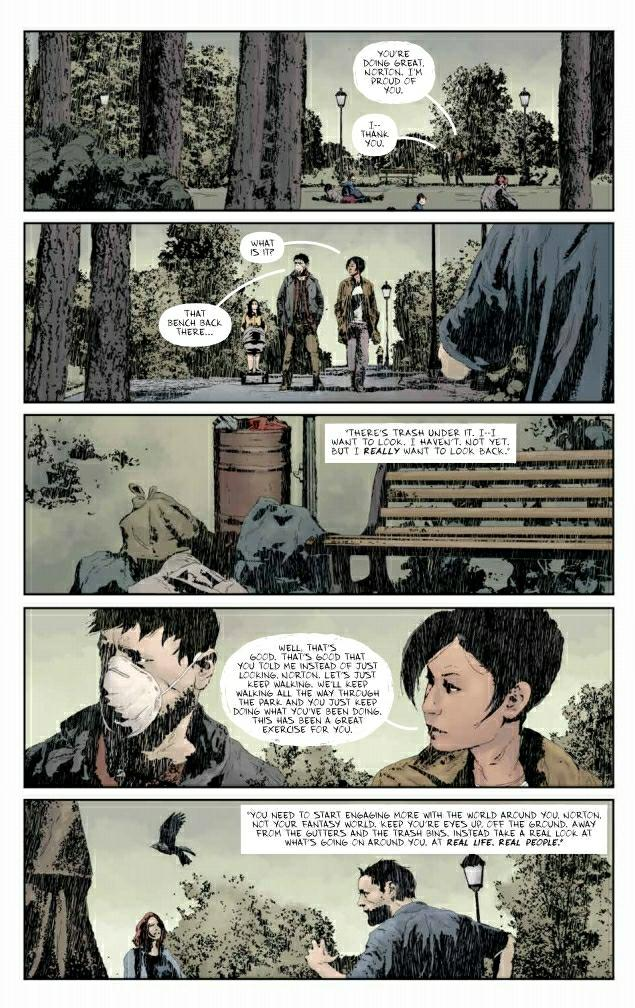 We are venturing deep into the unknown, as the ominous Black Barn once again remains a mysterious enigma lurking in the periphery. I'm intrigued by this structure and what it symbolises and I'm equally curious about the connection that Father Fred and Norton share with the barn. It feels like Norton understands the most about what the Black Barn is, however, because of the stigma surrounding mental illness, he is shrugged off and dismissed with no one believing his strange conspiracies. For me, a lot of the unease and anxiety that is driving the narrative forward comes from Norton, the isolation he experiences and his paralysing fear relating to his compulsive urges. We also see the story take an interesting development as we embark on a murder mystery. The dynamic of the narrative shifts as an investigation begins and we are embark on the hunt for the murderer. Strange clues begin to crop up, allowing us to speculate, however, there is a veil of mystery shrouding everything as none of the pieces seem to fit together. It's beginning to feel like we are piecing together a broken puzzle that is missing pieces and is a little messed up and not of this world.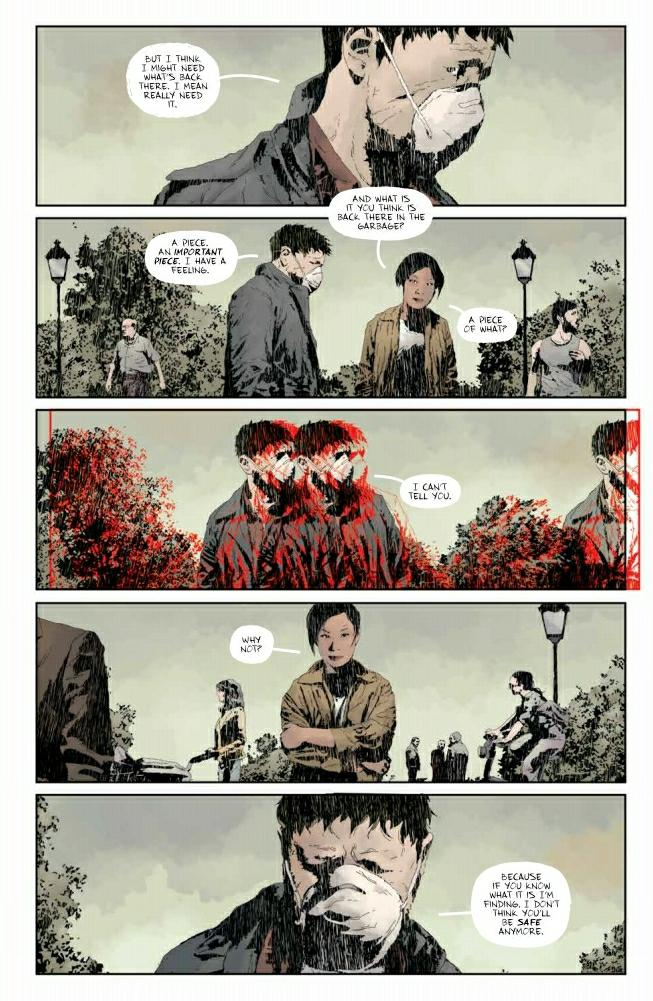 Andrea Sorrentino's art offers some visually complex layouts that I found to be quite compelling. I really enjoyed the arrangement of the pages during Norton's scenes, finding that the strange orientation of the panels allowed for me to feel a sense of confusion as Norton experiences his deepest anxiety. It's clever and reflects the inner turmoil that he is experiencing at the time. Sorrentino's scratchy and grainy linework brings some interesting textures, making each page have an unusual tarnished and coarse appearance. Dave Stewart's colouring works well with helping to foster the ominous and sinister tone of the story through a muted and understated colour palette. I also thought that Stewart's colouring was very effective during certain scenes of panic, where we see vibrant flashes of red that feel almost like a warning.
Overall, I'm really enjoying this story and the mysterious complexities it brings. Little has been revealed to us, but what has been revealed is compelling and has piqued by curiosity. The story and art come together to form a wonderfully complex and clever chapter.
I'm giving this issue 5 out of 5 stars!
---
COMIC DETAILS
CREATIVE TEAM: Jeff Lemire, Andrea Sorrentino and Dave Stewart
PUBLISHER: Image Comics
PUBLICATION DATE: April 11, 2018
REVIEWER: Dana Folkard