Films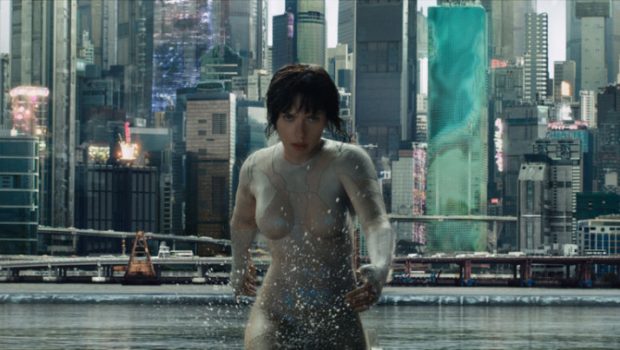 Published on April 4th, 2017 | by Damien Straker
Ghost in the Shell (3D) – Film Review
Reviewed by Damien Straker on the 4th of April 2017
Paramount presents a film by Rupert Sanders
Produced by Avi Arad, Ari Arad, Steven Paul and Michael Costigan
Screenplay by Jamie Moss, William Wheeler, Ehren Kruger, based on Ghost in the Shell by Masamune Shirow
Starring Scarlett Johansson, Michael Pitt, Pilou Asbæk, Chin Han and Juliette Binoche
Music by Clint Mansell and Lorne Balfe
Cinematography Jess Hall
Edited by Neil Smith and Billy Rich
Rating: M
Running Time: 106 minutes
Release Date: the 30th of March 2017
Scarlett Johansson is simply too talented for subpar crud like Ghost in the Shell. While still only thirty-two years old, a huge staple of her career to date is the volume of heavyweight filmmakers with whom she has worked, including Woody Allen, the Coen brothers, Christopher Nolan, Brian De Palma, Sofia Coppola, Spike Jonze and Jon Favreau.
The enormity of her early oeuvre is complemented by her best films, which have been small-scale, oddball gems like Ghost World (2001) and the unforgettable Under the Skin (2015), which is one of the most unique films I've ever seen. Ironically, one of her best films dispenses with her onscreen presence entirely; instead, Her (2013) employs Johansson as a voice actress and makes strong use of her husky vocals.
Her voice is one of her most underrated traits because she's also ventured into music, having recorded two albums, and was awarded a Tony award for her work on the Arthur Miller stage play "A View from the Bridge", which as with any stage work requires a strong vocal performance.
These achievements are overshadowed by her popular but blasé mainstream work where she's been unfortunately typecast as a fighting machine in movies like The Avengers (2012) and Lucy (2014). These films have given her a global profile, which saw her named last year as the world's highest paid actor off the back of Captain America: Civil War (2016).
Typecasting her as a fighting machine makes her role in Ghost, a Hollywood remake of the 1995 Japanese anime, seem fitting. Johansson is a woman named Major who's told her body was destroyed in a terrorist attack and replaced by a cyborg. It's about a person's individuality being diluted by being turned into a weapon by a corporation solely interested in technology not humanity—a plot allegorical for parts of Johansson's career trajectory.
This dreadful movie, directed by the Snow White and the Huntsman (2012) helmer Rupert Sanders, is sometimes as confusing as the challenging anime film but also a perfect relaxant for the sleep deprived. If you've already seen the original there's nothing useful to gain here because the concept of a woman turning against her employers and learning about her past is unoriginal and told without a feel for pacing or intensity.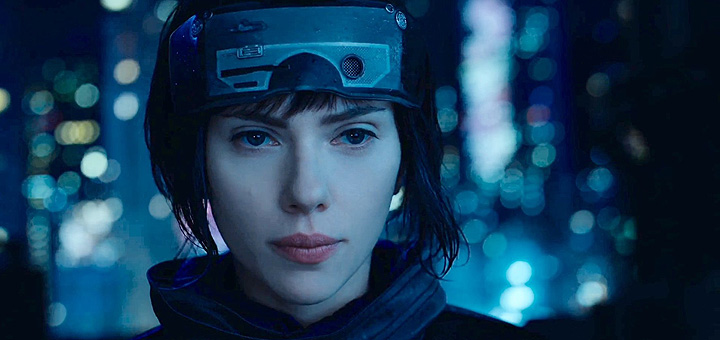 Key sequences from the anime are copied frame for frame and the thematic through-line about "what it means to be human" (now a cliché staple of the cyberpunk genre) is a pretentious aim given how generically the film's action rhythms play out. What did an actress like Juliette Binoche, playing one of Major's few allies, see in the material to be roped into this?
The film's narrative and combat are painfully dull. Obvious digital camerawork establishes an overhead shot of futuristic Tokyo, which is then followed by an interchange of dialogue— framed without flair in sterile, dreary interiors—and then the sequence climaxes with cartoon-like action set pieces that host Johansson's forgettable, monotone turn as Major.
The controversy about casting a White actor in the lead role over a Japanese one would be less concerning if the character was entirely a cyborg but in this version the Hollywood treatment is that Major must reunite with her Asian family, which means the filmmakers are giving themselves up.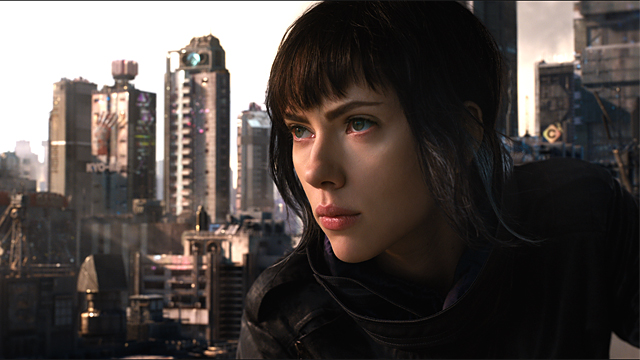 In terms of its style, some early reviews have praised the film for its visual design, tiredly comparing the film to the usual hallmarks of science fiction cinema such Blade Runner (1982) and Metropolis (1927). The anime version of Ghost cleverly fused together its animation with photorealism so that we could barely separate fiction and reality.
This version does not have that stylistic camouflage or the advantage of predating video games and digital filmmaking, meaning the artifice of its cityscape, including the holographic advertisements on the skyscrapers, seems too apparent. The film is also competing against works that the original film inspired including The Matrix series and videos games such as Deus Ex: Mankind Divided (2016), which were by comparison smarter and more ambitious projects than this utterly forgettable pretender.
Summary: Scarlett Johansson is simply too talented for subpar crud like Ghost in the Shell.