Events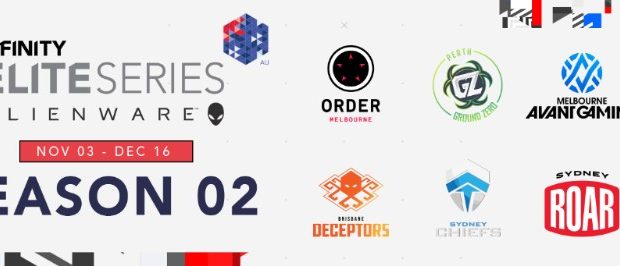 Published on October 15th, 2018 | by Admin
Gfinity announces Elite Series Season 2 launch date!
The Gfinity Elite Series Australia, presented by Alienware, returns for its second season of 2018, kicking off Saturday 3 November. Season 2 follows the successful inaugural series, which concluded in July with dominant Melbourne ORDER victories across all three titles – Counter Strike: Global Offensive, Rocket League, and Street Fighter V. Achieving a record 4.8 million broadcast views across Twitch and One on national television across the season, the stage is set for an upset. Which of the five returning city-based clubs can stop a repeat performance this November in Season 2 will be answered by the series final, this December 15 and 16.
Season 1 awarded $225,000 in prize money as professional and drafted players battled it out on Australia's first custom esports broadcast arena, at HOYTS Entertainment Quarter, Moore Park. Season 2 will bring that same level of competition to the arena and will see the return of presenting partner Alienware, as well as series partners Logitech and Dare Iced Coffee.
Check the video at https://www.youtube.com/watch?v=YkiIoYYPjHQ&feature=youtu.be
The competition displayed in season 1 was well received by local esports fans, who tuned in regularly to barrack for their favourite clubs. Gfinity Elite Series Season 1 delivered higher average viewership and average minutes watched per broadcast than League of Legends OPL at the same time of year. Audiences are embracing the multi-game format, and Dominic Remond, Chief Executive Officer for Gfinity Esports Australia is confident the popularity will continue.
"Melbourne ORDER's dominant victory last season has set the tone for Season 2", said Dominic Remond, Gfinity Esports Australia's CEO. "We expect to see old rivalries reignited, Melbourne ORDER have a target on their back, and with roster changes across the clubs, fans are in for our most competitive season yet. Aussies love a dark horse, and now we have five."
Returning city-based clubs Sydney Chiefs, Sydney Roar, Melbourne Avant, Melbourne ORDER, Brisbane Deceptors and Perth Ground Zero have all drafted their rosters for Season 2, drawing the pool of talented draftees from the recent Gfinity Challenger Series. More than half of players are draftees, joining rosters of established professional players, helping pave the way for upcoming Australian and New Zealand esports talent.
"The Challenger Series injected plenty of new blood into the Australian esports community, and it's inspiring to see these players returning for Season 2," said Dominic Remond. "The performance of draftees like Doom and Syo were integral to the performance of their clubs, and their continued involvement speaks volumes to the system we've built."
The results of this pathway to pro gaming will be on display straight from the get go with Season 2's first games on Saturday November 3 as Clubs go head to head in CS:GO from 3:00pm AEDT. Rocket League and Street Fighter V will kick off on Sunday November 4, finishing off the opening round.
All of Season 2's games will once again be played live in the HOYTS Gfinity Esports Arena in the Entertainment Quarter, Moore Park Sydney. Tickets for all matches will be available in the coming weeks at www.gfinityesports.com.au. All the live action action will be streamed at twitch.tv/GfinityAU, with video on demand available afterwards.
For more information on Gfinity Esports Australia, or the Challenger and Elite Series, head to www.gfinityesports.com.au