Uncategorized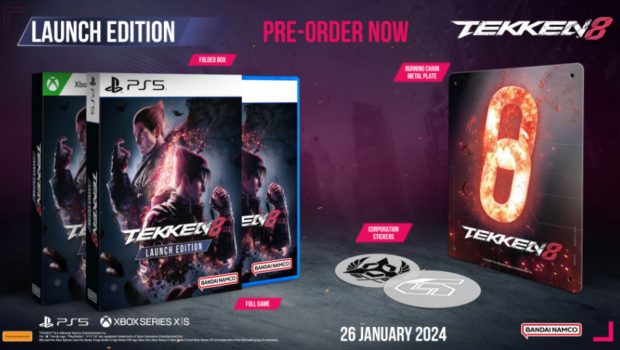 Published on August 23rd, 2023 | by Andrew Bistak
GET READY FOR THE NEXT BATTLE, TEKKEN 8 ARRIVES JANUARY 26th, 2024
Leading video game publisher and developer Bandai Namco Europe. today announced that TEKKEN 8, the upcoming entry in the legendary fighting franchise, is releasing on January 26th , 2024. The game is coming exclusively to PlayStation®5, Xbox Series X|S, and PC via Steam®. Developed by Bandai Namco Studios Inc., TEKKEN 8 will harness the power of current hardware to make it the most visually stunning game in the series yet. The title also promises a new approach to playing fighting games, with a new aggressive combat system that rewards offense-first tactics and delivers spectacular fights. TEKKEN 8 is now available for pre-order in Standard, Deluxe, and Ultimate Edition.
Watch the date announcement trailer here: https://youtu.be/jt8fFQpMCL8
The reveal showcased the Arcade Quest a completely new mode coming to TEKKEN 8. The Arcade Quest is a new single player mode that will prove the ultimate training ground, tapping into the franchise's roots to introduce a new way to play and polish skills. In this mode, players can create and customize their own avatar and "visit" different arcades to participate in matches designed to improve their play and teach new techniques. As players progress through the story, they will continue to develop and grow stronger along with their avatar and hone their skills against tougher and tougher opponents in a story not too different of how some real players got into esports.
Continuing the regular cadence of TEKKEN 8 character reveals, the trailer announced returning favourites joining the 32-character roster, with Kuma, Leo, Shaheen, Steve, Dragunov, and Yoshimitsu showcasing their updated looks and moves. All the characters in TEKKEN 8 will have deep customization choices, including completely new options, with the possibility to change each parts colours as well as the size and position of accessorties, letting players really show their style and bring personal flair to their favorite characters.
TEKKEN 8 is now available for preorder in Standard, Deluxe, and Ultimate Edition. Preorders for Standard Edition includes the base game, once available, and grants players the Paul Phoenix set as Avatar Costume. PlayStation 5 players will receive the Mokujin and Testujin Avatar skins. The Deluxe Edition includes all standard items along with the Playable Character Year 1 Pass, which unlocks four characters, released after the game's launch, as well as Kinjin Avatar skin. It also includes the Gold Suit Pack of playable character costumes for all 32 characters, letting players bring bling to their battles. The Ultimate Edition includes all content and bonuses of the Deluxe edition, along with Avatar skins for Kazuya, Jin, and Jun as well as 32 patterns of classic TEKKEN T-shirt sets for players to personalize their avatars and perhaps relive past memories from this legendary franchise.
For more information about TEKKEN 8 and other titles from Bandai Namco Europe please visit: https://www.bandainamcoent.eu, or follow us on Facebook at https://www.facebook.com/BandaiNamcoEU. Join the conversation on Twitter at https://www.twitter.com/BandaiNamcoEU.