Films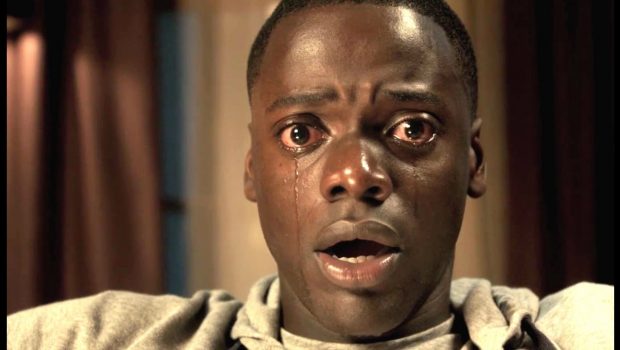 Published on May 3rd, 2017 | by Damien Straker
Get Out – Film Review
Reviewed by Damien Straker on the 3rd of May 2017
Universal presents a film by Jordan Peele
Produced by Sean McKittrick, Jason Blum, Edward H. Hamm Jr. and Jordan Peele
Written by Jordan Peele
Starring Daniel Kaluuya, Allison Williams, Lil Rel Howery, Catherine Keener, Bradley Whitford, Caleb Landry Jones and Stephen Root
Music by Michael Abels
Cinematography Toby Oliver
Edited by Gregory Plotkin
Running Time: 103 minutes
Rating: MA15+
Release Date: the 4th of May 2017
What might surprise you about Get Out's success, both as a critically acclaimed and financially successful project, is how much experience its director brought to the horror-comedy project. Born to a black father and a white mother, Jordan Peele is an African American comedian who is being hailed for making an extraordinarily confident directorial debt; however, he also has an extensive history of working in comedy.
He has worked with improvisation comedy sketch groups, on podcasts, television shows such as MADtv and Fargo, and has also appeared in feature films and parody music videos. The depth of his oeuvre undoubtedly swayed Blumhouse Productions, a company that specialises in low-budget horror movies, to raise a meagre US$4.5m to fund Get Out. It debuted at the top of the US box office and has now earned nearly US$200m dollars worldwide.
The film is about a young African American man named Chris (Daniel Kaluuya;  Sicario) who is preparing to meet the parents of his girlfriend Rose (Girls' Allison Williams) for the first time but is weary about whether she's told them that he's black. "Do they know?" he asks. She insists it won't be a factor but strange behaviour by a road cop on the drive to the family property and then the supposedly liberal parents themselves suggests otherwise.
Her father Dean (The West Wing's Bradley Whitford), mother Missy (Catherine Keener, Capote) and brother Jeremy (Caleb Landry Jones) all act strangely around Chris, either talking jive or being passive aggressive in overt and subtle ways.
Equally disturbing is the strange behaviour of the household's black servants, including its maid Georgina (Betty Gabriel) and gardener Walter (Marcus Henderson). These two characters could be viewed as a parody of the Uncle Tom archetype. Fortunately, Chris has Rod (Lil Rel Howery), a friend in Transportation Security Administration, of whom he calls; he provides him with advice and some hilariously weird conspiracy theories.
Although Get Out is a horror movie laced with hysterical comedy, the most distinguishing facet is how forthright and unflinching its politics is. Every scene in the film uses racism as a powerful thematic through-line and consequently an enabler of conflict between the characters. The narrative underlines Chris' inner fear, his sense of being treated differently by an undeniably prejudice white family, and then bridges this paranoia into tense conversations of unease with Rose. The conflict, built by racism, exists on several levels.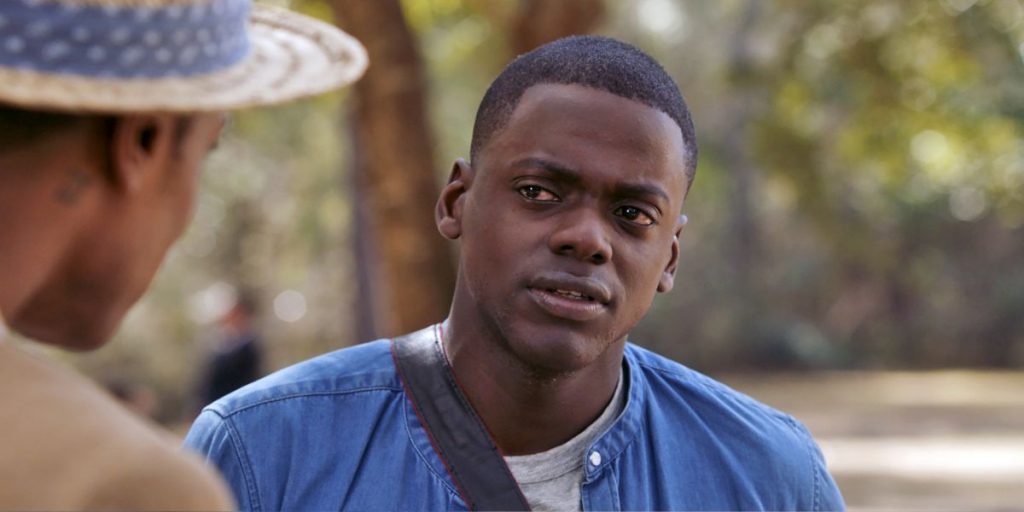 The first half of the movie is delicately littered with dialogue entrenched with double-meaning, such as a chilling remark Dean makes about killing deer and then a story about a relative being beaten by Jesse Owens in the 1936 Olympics where Hitler appeared. The direction of the story is the racism's increasing transparency followed by a diabolical scheme for extreme submissiveness.
The height of the film's ugliness and political viewpoint is undoubtedly a stunning sequence where extra house guests arrive, almost all white, and make some of the most disparaging and condescending remarks in an American movie in recent memory. The bravery of the filmmaking is using the foundations of a genre film as a platform for attacking bigotry and enslavement.
The topicality is matched by Jordan Peele's unique stylistic imprint, which is undeniably balancing horror and comedy. He understands the unique bond between the two contrasting genres and then sows them together with suspense; the terrible things the white characters in this movie say are awkwardly funny but also loaded with danger and risk for Chris. Both horror and comedy are collectively about timing and the film excels with its suspense, jump scares and its framing. A long shot of the house highlights the emotional distance of Chris but then pulls back so far that a man suddenly appears in the frame and is watching the house.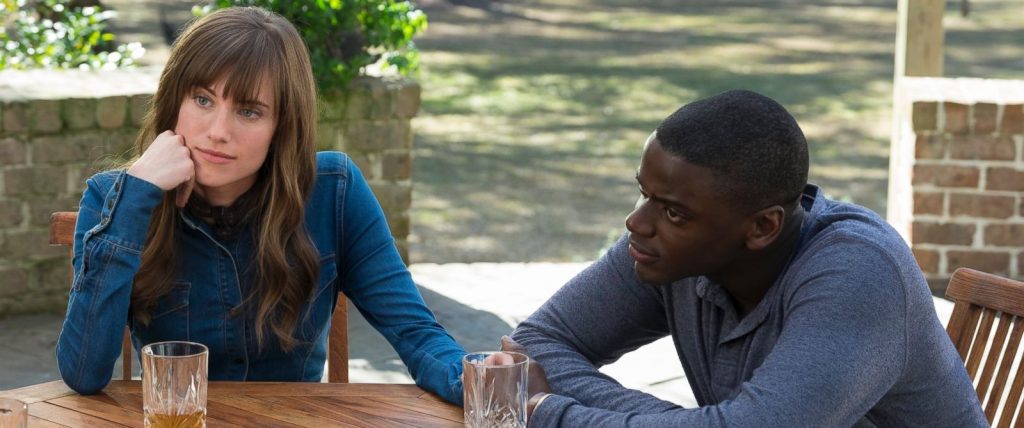 The performances show humanity and fear but also great comic timing as well. Daniel Kaluuya plays Chris as a polite young man who is rarely angry but tries brushing aside the family's nastiness—that is until things grow seriously weird and he is forced to become an active hero. Lil Rel Howery as Chris' friend Rod runs away with the entire film by delivering big laughs from his crazed rants and advice on conspiracy theories. Allison Williams could also be interpreted as parodying some of the traits of her Girls character, showing strength and protection for Chris but then growing sinister with the flow of the story.
Get Out is apparently an ode to an older generation of cinema such as The Stepford Wives (1975) and Guess Who's Coming to Dinner? (1967). As a political satire, the film probably peaks around the time those extra guests arrive. The final quarter of the film is so bizarre and slightly muddy about its conspiracy, while also playing like a traditional horror and escape film. An earlier sequence involving hypnotic therapy hints at something seriously unique and otherworldly but falls aside.
However, Get Out is still terrific entertainment, gloriously violent, tense and sadistically funny, and continues to drive home its ideas about white families who are racist and expectant of people of colour to politely bow their heads in the company of extreme privilege. Through this film's clear political line, Jordan Peele has taken a flamethrower to the submissiveness of his characters to announce himself as a filmmaker transcending the limitations of modern entertainment by upholding one clear principle: he has something important to say.
Summary: Although Get Out is a horror movie laced with hysterical comedy, the most distinguishing facet is how forthright and unflinching its politics is.