Uncategorized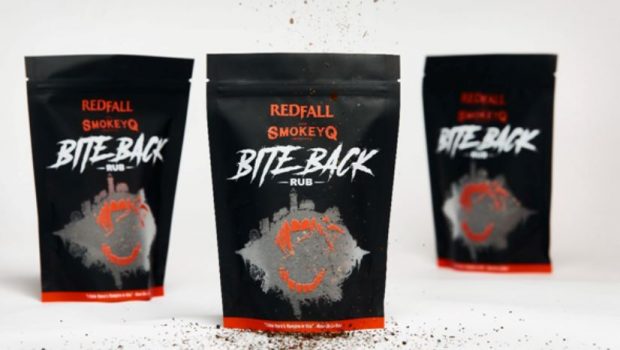 Published on May 1st, 2023 | by Admin
Get a taste of Redfall's Vampires with Bethesda ANZ and Smokey Q's "Bite Back" BBQ Spice Rub
Are you ready to bite back? Bethesda ANZ has partnered with the Australian BBQ and spice experts at Smokey Q for the launch of Arkane Austin's Redfall, creating the brand new 'Bite Back Spice Rub'. Taste your victories as you join the game's heroes in taking the fight to the vampire legion laying siege to the island town of Redfall.
The 'Bite Back Spice Rub' brings the taste of slain vampires to your table in a 100% natural, gluten free and vegan friendly spice mix. The delectable spice rub comes with a bit of heat and a whole lot of flavour, and while there are no actual vampires in it, the Bite Back Spice Rub includes charcoal powder for that signature Smokey Q taste. The perfect flavour combination whether you're squadding up and cooking a feast for your teammates, preparing a roasted snack, or slaying alone while adding an ashen flair to your fries.
Smokey Q has quickly developed a reputation for high quality products with bold flavours and perfectly balanced profiles, winning a variety of honours at The Perth Royal Food Awards. Founder Paul Lange's passion for creating premium spice blends has built a flourishing business, utilising high-quality Australian ingredients.
"At Bethesda ANZ we've developed quite a taste for creating new and unique ways for fans to experience our award-winning worlds," said Simon Alty, VP and Managing Director, Bethesda APAC. "Partnering with Smokey Q allows us to do this in a new way, packing the spice and punch of Arkane's Redfall into a sachet perfect for gaming sessions after your next weekend barbecue."
"We were delighted to bring our BBQ expertise to this partnership to create something wholly unique for fans in Australia and New Zealand – whom we know absolutely love their BBQ's," said Founder Paul Lange. "Making vampire ash, not only edible but also delicious, was a fantastic challenge, mixing in a variety of spices that'll ensure anything you add it to tastes more fang-tastic than before."
Redfall fans hungry for a taste of this limited edition collaboration should keep an eye on Bethesda ANZ's social media channels to learn more about how they can win their own pack of Bite Back Rub or for a limited time, order directly from Smokey Q, with all net proceeds to be donated by Smokey Q to support Cure Cancer's blood cancer research.
Redfall will be available on Xbox Series X|S and PC on May 2, 2023. Players can pre-order now or play day one with Game Pass. For more information on the game, please visit bethesda.net/en/game/redfall.