Comics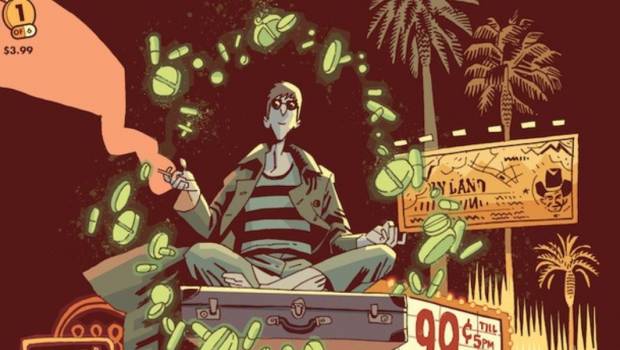 Published on February 22nd, 2020 | by Andrew Bistak
Gerard Way, Gabriel Bá, Shaun Simon, and I.N.J Culbard Expand the World of The Umbrella Academy
Dark Horse Comics presents the first Umbrella Academy spin-off series: You Look Like Death! Written by series co-creator Gerard Way with Shaun Simon (The True Lives of the Fabulous Killjoys, Neverboy), illustrated by I.N.J. Culbard (Everything, The New Deadwardians), lettered by Nate Piekos (The Umbrella Academy: Hotel Oblivion, Fight Club 3),You Look Like Death explores the trials and tribulations of a young Séance as he navigates the world by himself.
Roughly ten years before the events of Apocalypse Suite, 18-year-old Séance gets himself kicked out of the Umbrella Academy. With his allowance discontinued by Hargreeves, he takes to a place where his ghoulish talents will be appreciated––Hollywood. After a magical high on a vampire-drug-lord's stash, Klaus needs help, and doesn't have his siblings there to save him.
"The sky is the limit to where we can expand the Umbrella Academy universe. This series will be a surprise to readers, and Ian's distinct artwork will help with establishing Klaus' past and building its own personal symbology." — Gabriel Bá
"For a long time, I had wanted to tell the story of Klaus Hargreeves' life after the Umbrella Academy disbanded and before the events of Apocalypse Suite. I imagined a pretty wild decade for Klaus– full of ups and downs, seedy places, supernatural excursions, and internal battles within himself. I am thrilled to finally be able to tell this story with my co-writer Shaun Simon, who sees the world of the UA as clearly as I do. Also thrilled to work with such an amazing art and lettering team in I.N.J. Culbard and Nate Piekos"— Gerard Way
You Look Like Death #1 (of six) goes on sale June 17, 2020. Each issue features covers by Gabriel Bá, I.N.J. Culbard, and a third cover by guest artists including Leo Romero, Jenny Frison, and more, available for pre-order at your local comic shop. In the meantime, be sure to pick up The Umbrella Academy Library Edition Volume 1: Apocalypse Suite HC and The Umbrella Academy Library Edition Volume 2: Dallas HC, both available now wherever books are sold.
Praise for The Umbrella Academy: Hotel Oblivion:

"It's jam-packed with everything people have wanted and waited for: The Children, adventure, crazy super-heroics, villains, a hidden secret. All adding up to be a sure-fire foray into the familiar world of the Hargreeves family."–PopCultHQ
"The return of Gerard Way and Gabriel Bá's Umbrella Academy has been nothing short of surreal."–Den of Geek
"Hotel Oblivion #1 is an intricately crafted, welcome return to not only this universe, but for genre books of this nature."–Multiversity Comics