Kids Stuff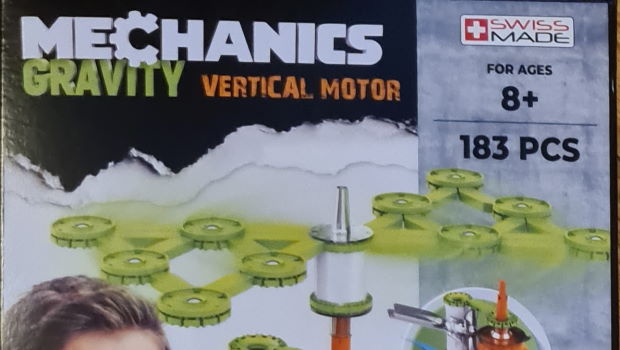 Published on February 28th, 2022 | by Chris O'Connor
Geomag Mechanics Gravity Vertical Motor Review
Summary: Environmentally conscious STEM learning at home with a fun construction to play with time and again.
I have to start this review by stating that my son is very thankful we got to review this kit!
Geomag is a Swiss company that have been making magnetic construction toys since around 1998. Their concept is basically to get children to learn while they play (adults are of course allowed to play and learn). In 2020 they released a green range in which all new lines are made of recycled plastic (it was one of the first things I noticed on the box and it put a smile on my, semi hippy, face). All of that and official STEM approval is a pretty good starting point… but what of the products? Well I got to have a look at the Geomag Mechanics Gravity Vertical Motor and as my son was very keen to have a look (and being nearly 12 is a pretty decent age given the 8+ recommendation on the box) I left him to open it all up and get to building while I watched.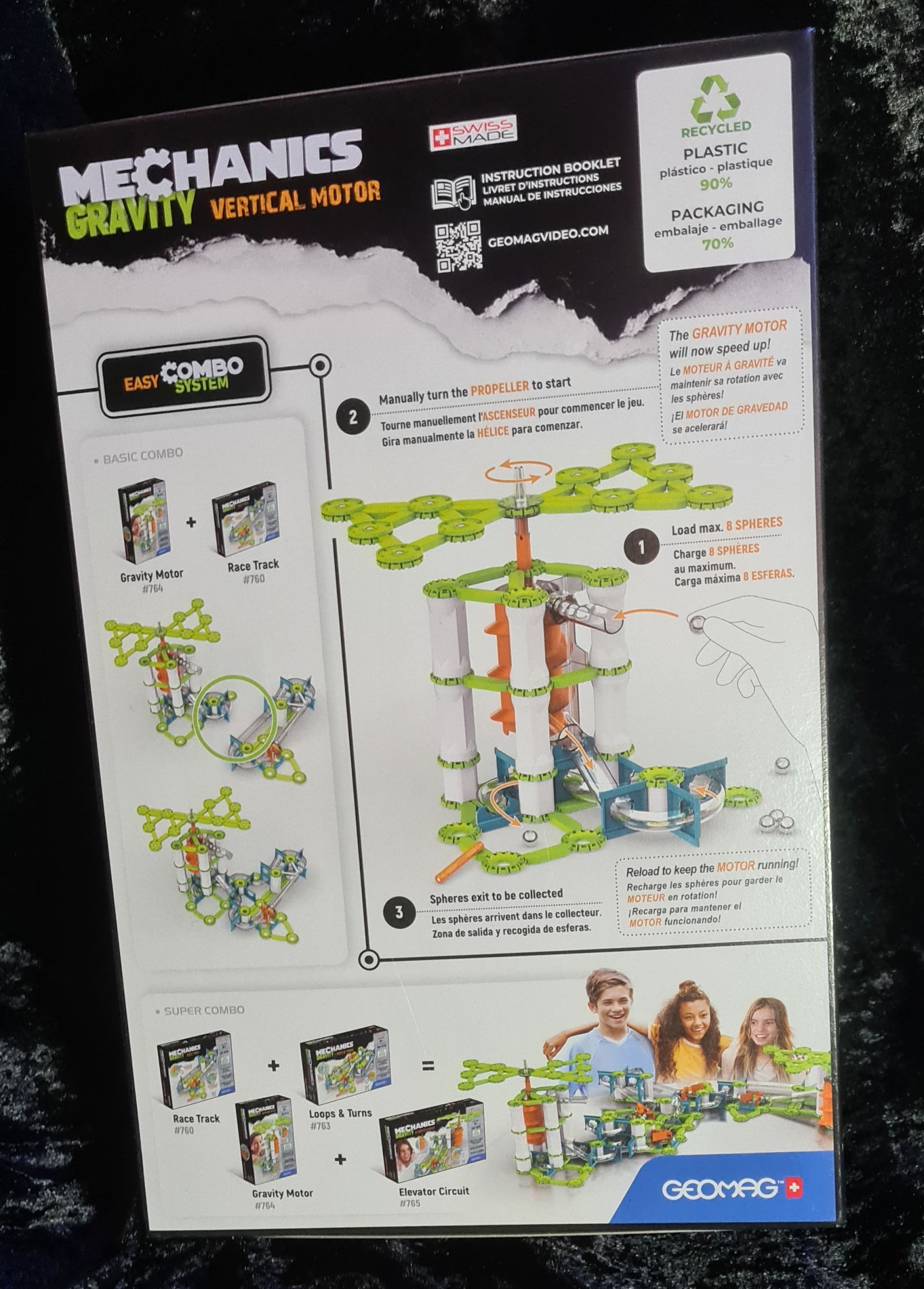 Opening the box revealed a number of packs with an assortment of pieces (essentially sorted by colour). The instructions were nice and easy to understand, the first few pages simply give you a run down of how the different parts fit together. Parts of the instructions show you both an orthographic image and a top down image, this is really handy for getting a good baring on where you are supposed to be placing the current piece/s. Most of the pieces slot together nice and simply but there are some that require a little more finesse to get correctly in place, but I am pleased to say my son managed it all without any help from me (well ok I did help press fit some pieces in… but that's just fiddly stuff, not technical skill).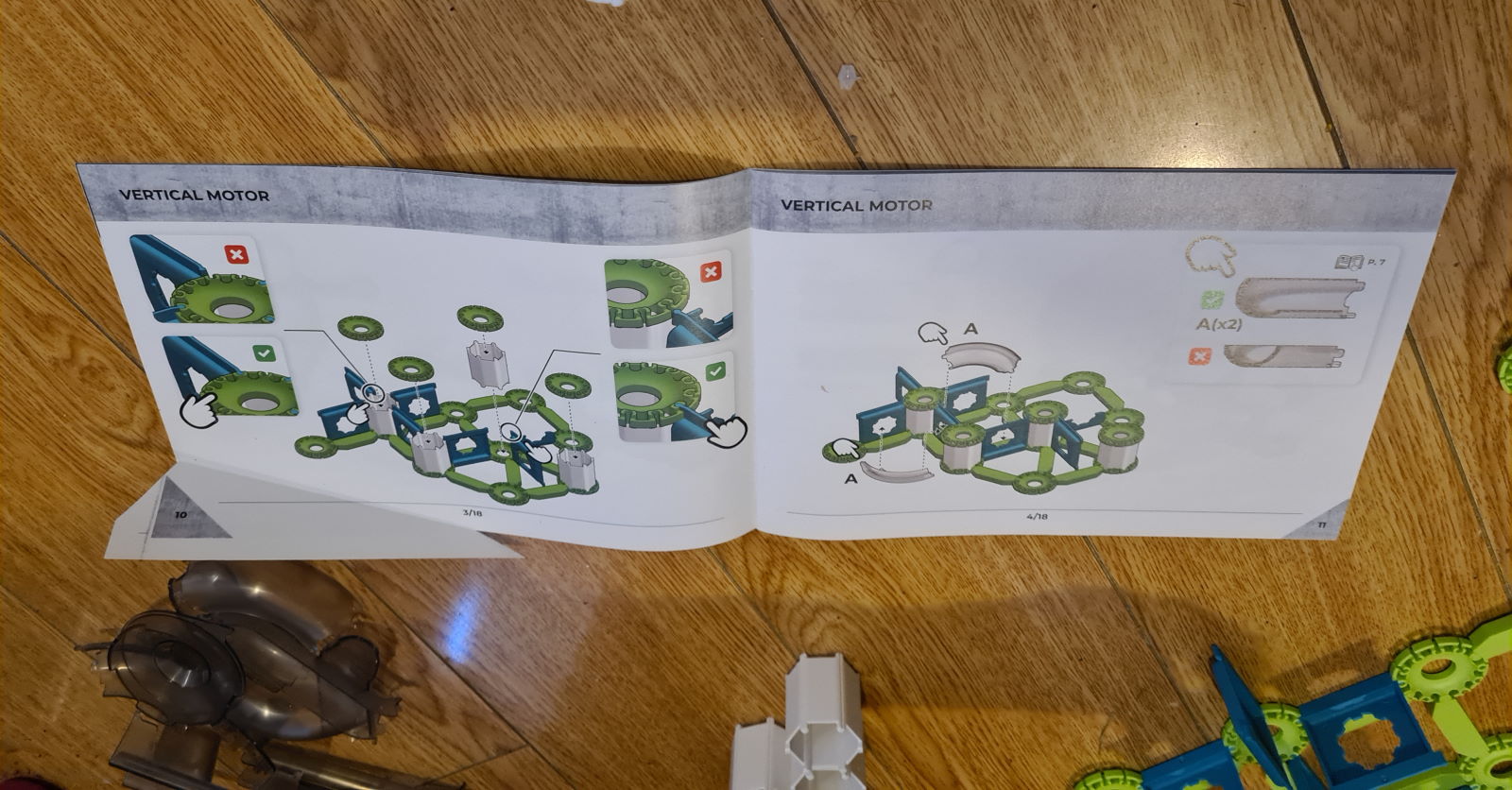 All in all I think it took him about 30 or so minutes to put the whole kit together (after completing the set there will be pieces "left over" these are basically so you can join different sets together to create even larger, more complex designs). Once it was all together he gathered all the remaining metal balls, placed them on the top ramp and watched as they slowly fed into the main spiral column and worked their way down to the bottom as the top spun.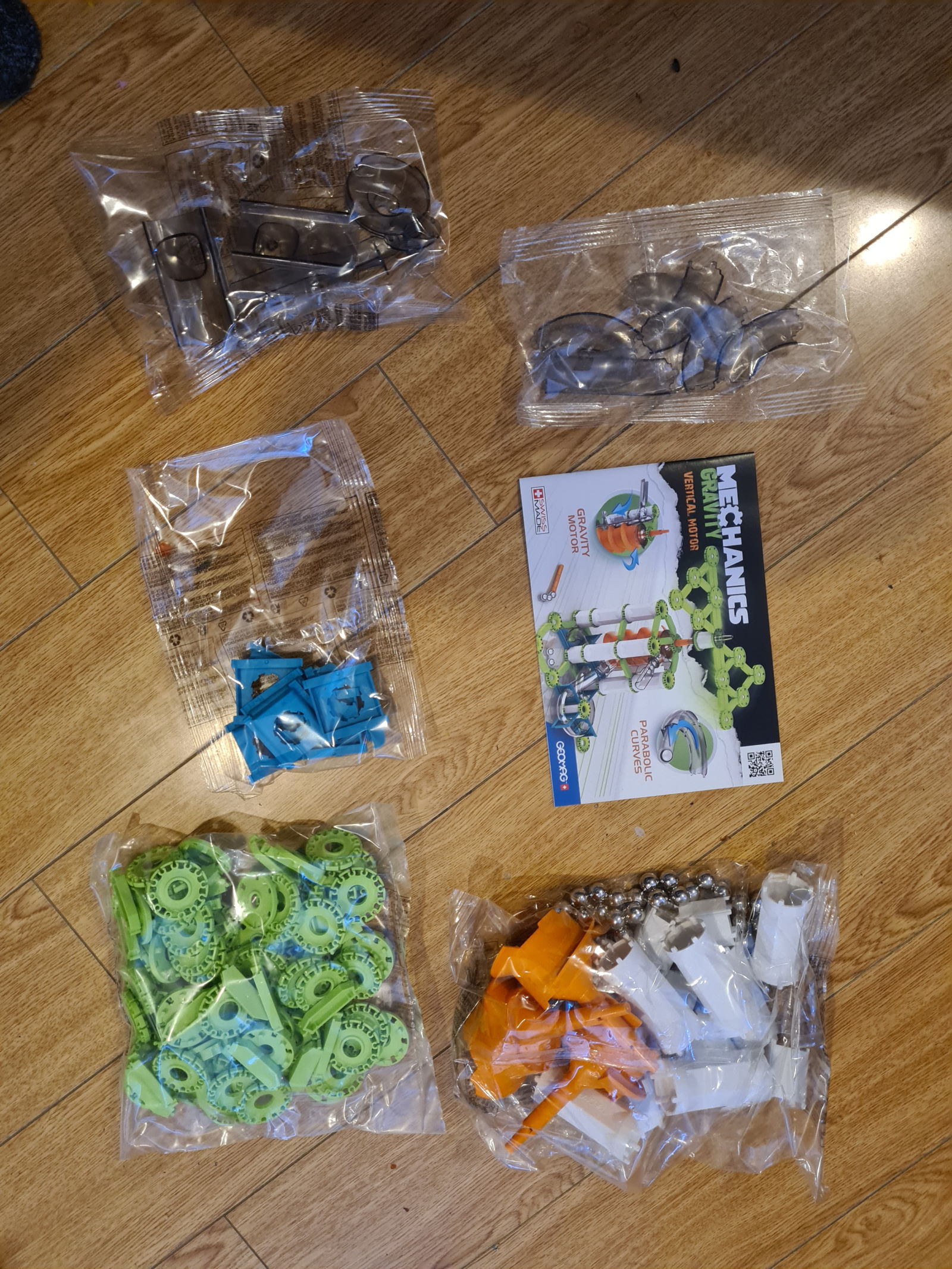 My favourite moment though was when he looked at the mechanism and without any prompting exclaimed "oh I see how it works… that's really cool." This proving quite handily that the toy has fulfilled arguably it's two main goals "entertain and educate". What he had realised is how the central column "holds" the balls while it turns around, lowering it to the next stage before eventually making it to the bottom ramp where it can escape again and exit the machine.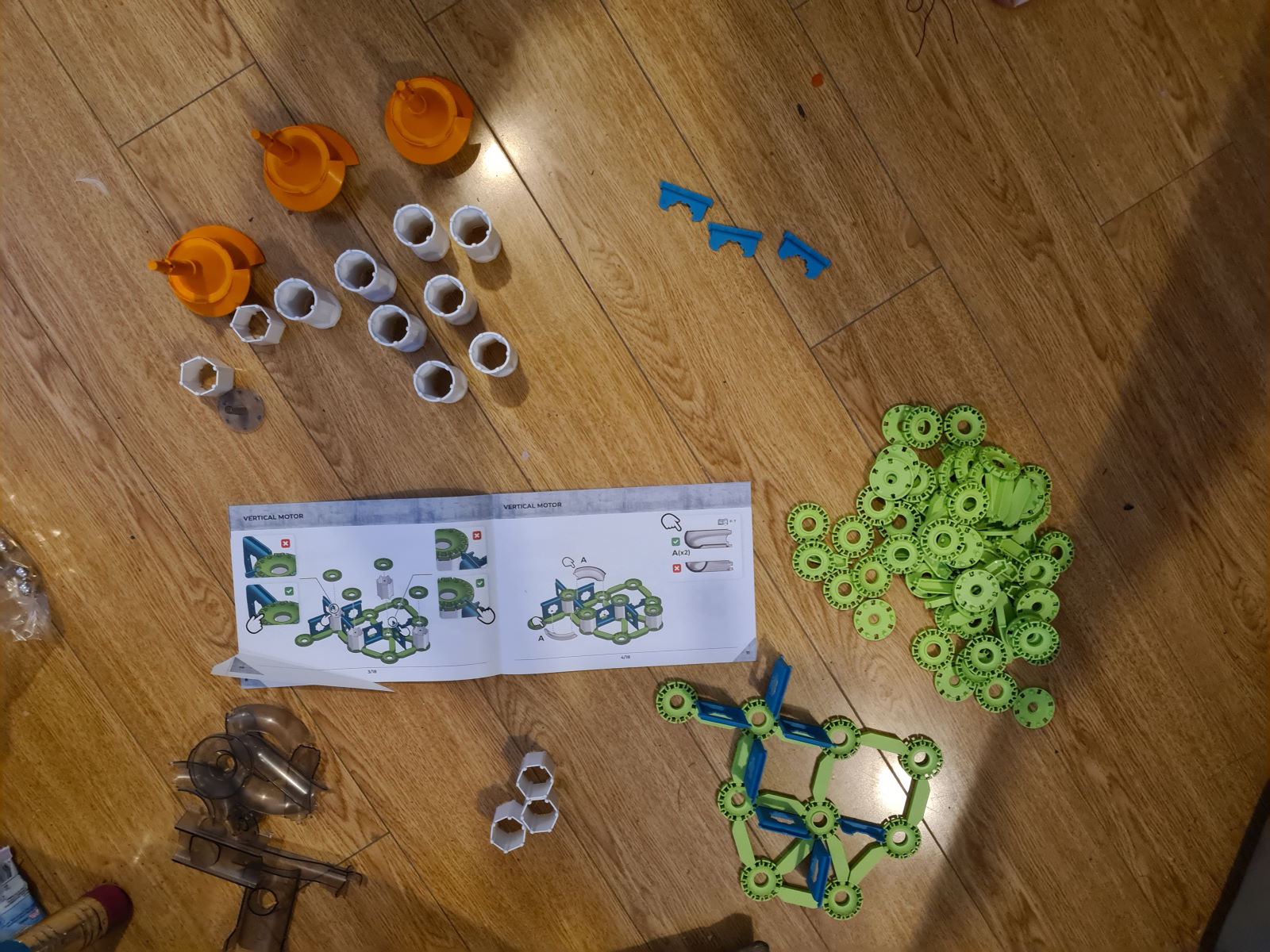 There is no question this is an easy product to recommend. First for being a company that shows they do care about the globe and is doing at least a small part to reduce their impact on the world by using recycled materials. Secondly for being a construction set that is fun to build and thirdly for being a lot of fun and educational. It now sits on my children's desk near their computer and everynow and then I can hear the roll of the balls as they work their way down the system to their pen at the bottom (oh yeah… that's a great thing too. When the balls exit at the bottom, they don't just roll off over the floor or where ever you have it set up… the set has a little "pen" that they exit into, thus containing them neatly ready to be put back up the top to start the process again.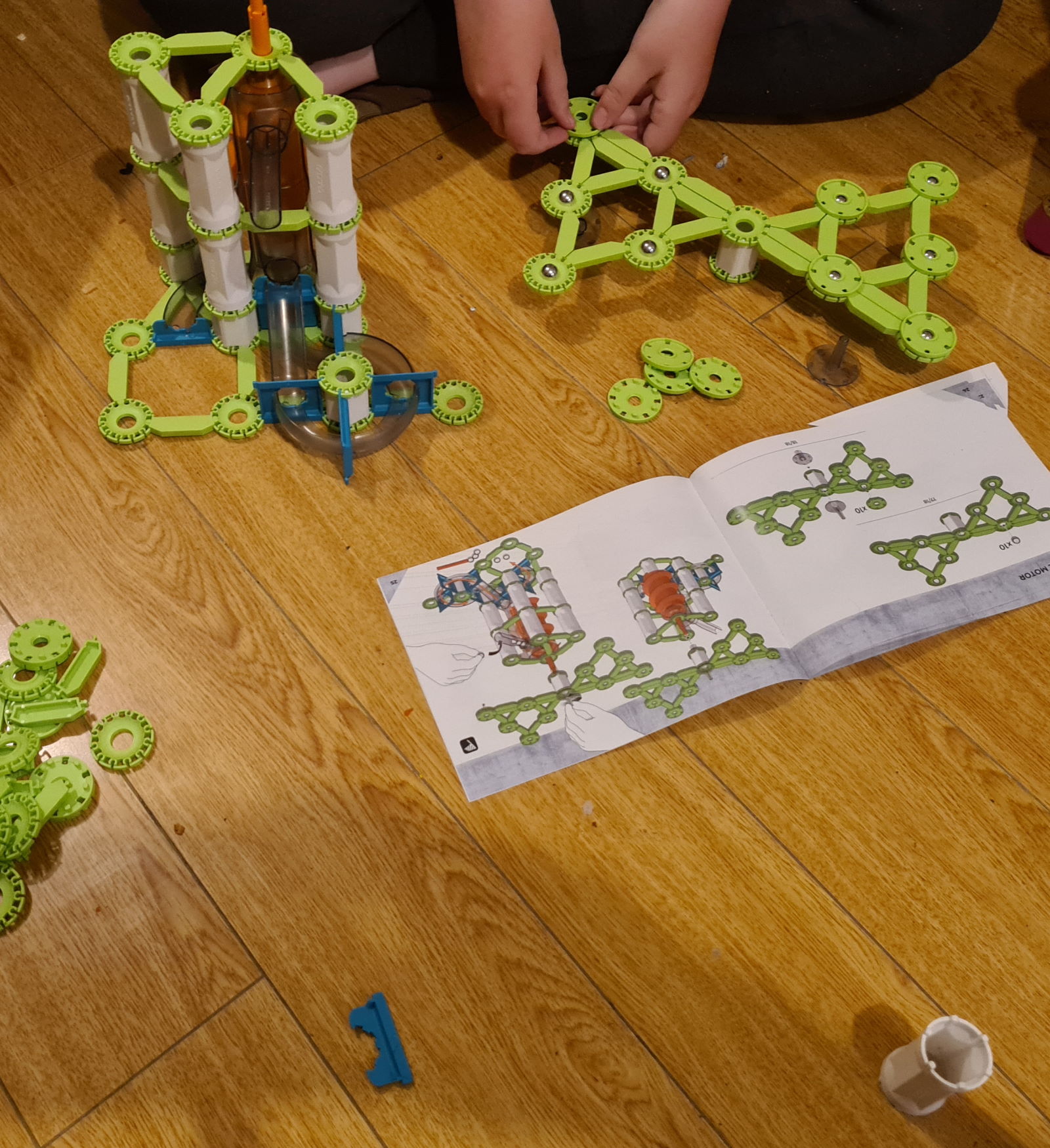 Excellent toy, lot's of fun to build and a great learning tool. Have a look at the entire range to see what might be best for you… but my son certainly enjoyed this set!