Events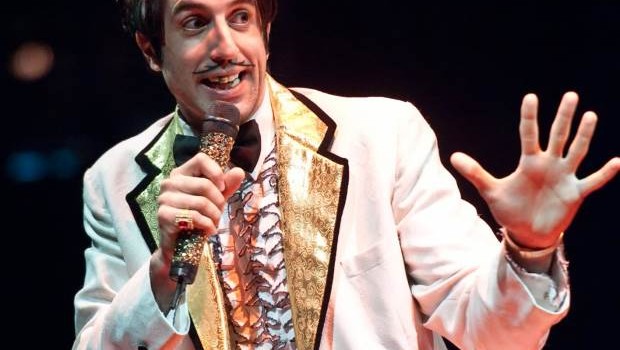 Published on September 16th, 2015 | by admin
GAZILLIONAIRE EXTENDS SYDNEY SEASON OF ABSINTHE TO OCTOBER 25 2015 CAST MEMBERS PROMISE TO SHOW MORE ABS TO SECURE SYDNEY WIVES
The Gazillionaire, producer and host of the hit Las Vegas show ABSINTHE, today announced that the Sydney season, currently playing under the spiegeltent in Hyde Park, has been extended until October 25 2015.
The Gazillionaire said today, "The season extension has nothing to do with the show's unrivalled popularity or the rave reviews. The male acrobats in my horny troupe from Poland, Belarus and Ukraine actually pleaded with me to bring the show to Sydney. The beautiful beach babes of Sydney are renowned the world over and my fitness focused acrobats were hoping to find themselves wives while they were here. Marrying them off would certainly help with some of the immigration visa issues we've been having. And as none of the poor lads have been successful in finding a Sydney girl yet, I have agreed to keep the show here a little longer if they promise to show even more flesh on stage."
Tickets for the three new and final weeks of shows in October are now on sale through www.Ticketek.com.au
Since arriving in Australia earlier this year, ABSINTHE has been hailed by audiences and critics alike. The Australian said, "ABSINTHE is an extraordinarily polished, dynamic, bullet-train of a show… There are the most extraordinary bodies doing the most extraordinary things."
Australian Stage commented, "The close proximity to the performers means you get to see every muscle and hear every breath. This is a terrific production and another triumph for the Spiegelworld team." While the Herald Sun said, "ABSINTHE is still the rudest circus to hit town… performers are top notch."
Inspired by the absinthe-drenched cabarets of late 19th century Europe, ABSINTHE is an adult-themed cocktail of circus, comedy, burlesque and vaudeville for a 21st century audience. In Las Vegas, the show has been playing to sold-out audiences at the world's most famous casino, Caesars Palace, since 2011. Celebrities regularly flock to join the audience and have recently included Britney Spears, James Franco, Neil Patrick Harris and Olivia Newton-John.
Last month during a performance at the Las Vegas production, Channing Tatum was inspired to jump up on stage to perform an impromptu lap dance.
ABSINTHE is hosted by the filthy rich and just plain filthy Gazillionaire and his loyal assistant Abby Bobbins. The Gazillionaire has become one of the most acclaimed and subversive comedy forces in Las Vegas in recent years. Intoxicating songs are performed live by the seductive sylph, The Green Fairy, who is played by Australia's own Karla Tonkich.
ABSINTHE is a follow-up to Spiegelworld's record-breaking spiegeltent show, EMPIRE, which was seen by an incredible 200,000 Australians last year.
For information on the ABSINTHE Australian tour please visit www.absintheaustralia.com
ABSINTHE by Spiegelworld
Sydney: Now playing until 25 October 2015
Under the spiegeltent
Hyde Park, corner of Park and College Streets, Sydney
Performance Schedule:
Tuesday / Wednesday – 8:00pm
Thursday / Friday / Saturday – 7:30pm and 9:30pm
Sunday – 5:00pm & 7:00pm
*Performance schedule subject to change. Please refer to the website.
Tickets:
Tuesday/Wednesday/Thursday: $54.00-$134.00**
Friday/Saturday/Sunday: $64.00- $154.00**
*VIP Ringside Tickets are available and include a seat in the front 2 rows, priority entry and a complimentary beverage.
**transaction fees and charges may apply
Bookings: www.ticketek.com.au
Group Bookings are available to groups of 6 or more.
Contact the Ticketek Group Bookings Department on 1300 364 001 or email groupbookings@ticketek.com.au
Show duration: 90 minutes with no interval