Blu-ray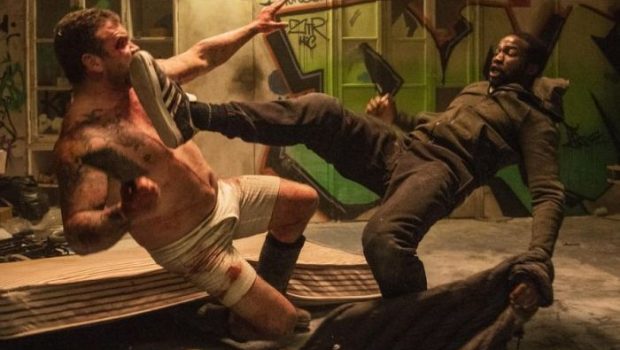 Published on May 11th, 2021 | by Tim Chuma
Gangs of London Season One (2020) Blu-ray Review
Summary: This might impress people who have not seen that many crime or action movies but if you are a big fan of the genre maybe go look elsewhere first.
When crime boss Finn Wallace (Colm Meaney) gets taken out by a couple of kids in a hit the entire network of gangs across London is shaken especially since the Wallace empire is now a front to wash dirty money and put it into real estate. His son Sean (Joe Cole) wants to find the killers but the investors want to maintain the status quo. In the middle of everything is lowly grunt Elliot (Sope Dirisu) who is actually an undercover officer several years into his posting and only just gets into the inner circle after the funeral. The plot gets to complex to explain much more after this so you will have to watch it.
I must say that I am disappointed with this series. Writing has never been Gareth Evans strong point and it suffers from the same thing the Raid 2 did when he has too many resources it is not as good as it is trying to do too many things at once and be bigger than it needs to be.
Also the fact that they are already recycling things from the Raid like the removing the bullet scene with the knife and not even having the joke that they could only find a butter knife.
This series actively punishes you for trying to "binge" it by introducing too many characters in episodes if you try to watch more than one episode at a time so you can't really keep track of them all and you don't really care as much when they get bumped off as you never really knew who they were.
There were some impressive set pieces like the fight in the pub and the shootout at the safe house and the stunt crew and second unit work is solid. The story it is in service of is not up to task however and it seems all to be in service of something that is not that worthy.
This is a series that would have been better handled by a more experienced writer and director as there is no range in the writing as it is all histrionics rather than actual drama. Some things just seem to come out of nowhere and the final episode is 100% "it was all a dream" level bullshit.
I can't deny the effect the stunt work in the Raid movies has had on the industry and movies like the Night Comes For Us took it to another level as that director actually specialises in horror, but Gareth Evans needs to go and make a lot more stuff before he tries something like this again.
People who have not really seen that many action or crime movies may think this series is impressive, but there are better ones than this I would recommend checking out Battles Without Honour or Humanity to see a movie series that does this right.
I would not rush out to buy this but if you are a fan of some of the actors in it and crime dramas and have watched everything else maybe watch it when it comes on streaming.
Trailer
Series details:
Directors: Corin Hardy, Gareth Evans, Xavier Gens
Writers: Gareth Evans, Matt Flannery, Peter Berry, Claire Wilson, Carl Joos, Joe Murtagh, Lauren Sequeira
Starring: Joe Cole, Lucian Msamati, Sope Dirisu, Michelle Fairley, Pippa Bennett-Warner, Ray Panthaki, Paapa Essiedu, Brian Vernel, Narges Rashidi, Jing Lusi, Orli Shuka, Asif Raza Mir, Parth Thakerar, Taye Matthew, Colm Meaney