Games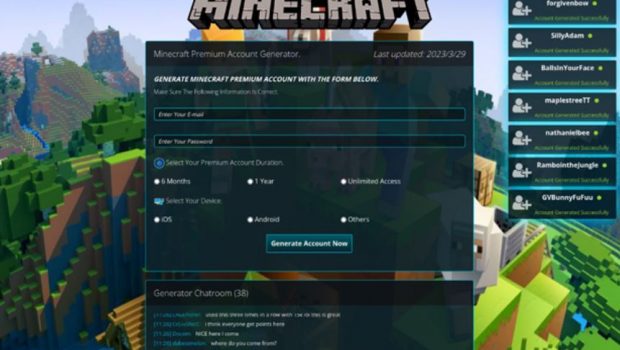 Published on August 29th, 2023 | by Adrian Gunning
Gamers Beware! Improper gaming leads to cyber attacks!
Gamers are known to be thrill-chasers, and we know some will stop at nothing to gain a competitive edge. Unfortunately, improper gaming habits can lead to malware and viruses, account takeover, identity theft, swatting and doxing, spyware, data breaches, DDoS attacks and more.
Researchers from Norton have uncovered some real-world examples of how gamers get hacked on their quest for glory along with a list of the "most attacked" games.
Threat Example: Fake Premium Accounts
Premium accounts often offer increased gameplay. The below screenshot shows a service that claims to grant a premium account and asks for the gamer's username and password. The service closely mimics the game's brand style and identity, fooling users into entering their information. Once their username and passwords are shared, threat actors can not only hack their games but likely utilise their passwords to crack into other digital accounts if passwords are reused.
Tip: Whenever you're using a premium service, make sure it's offered directly by the game provider from their direct URL. Additionally, practice good password hygiene – use unique, complex passwords and consider a password manager to help you keep track of them.
Threat Example: Cheat Code Malware
Just a slight advantage over the opponent can help gamers, which is why cheat codes have become a lucrative online business. Unfortunately, a user is much more likely to be offered malware rather than an authentic cheat code when they do a search online. The below example shows a search for cheat codes for popular multi-player survival game Day Z – the search results download a RedLine Stealer malware.
Tip: Typically, you will enjoy the game more when you play it as it was created for and without cheating. This approach will also help you to not get infected by malware.
Threat Example: Lure YouTube Videos
Another example of malicious link sharing occurs in lure YouTube videos which show tips and tricks. The below shows an example of a link within a video showing a hack for popular game Call of Duty: Vanguard. When clicking the link, the user is prompted to download a Raccoon Stealer malware.
The download link leads to:
Tip: Whenever you're asked to disable or uninstall your security software – beware! Any time you disable your digital security, you are automatically setting yourself up for threat potential.
Most-Abused Games
Based on data from 2022, the below games have been most-used by threat actors to lure gamers into committing dangerous actions that ultimately result in online scams. This list comes as no surprise perhaps, as it's dominated by some of the most popular (and profitable) titles in gaming—precisely what makes the games such attractive targets for scammers.
Minecraft
Dota 2
DayZ
Grand Theft Auto
PUBG
Pokemon franchise
Call of Duty franchise
Counter Strike franchise
Fortnite
World of Tanks